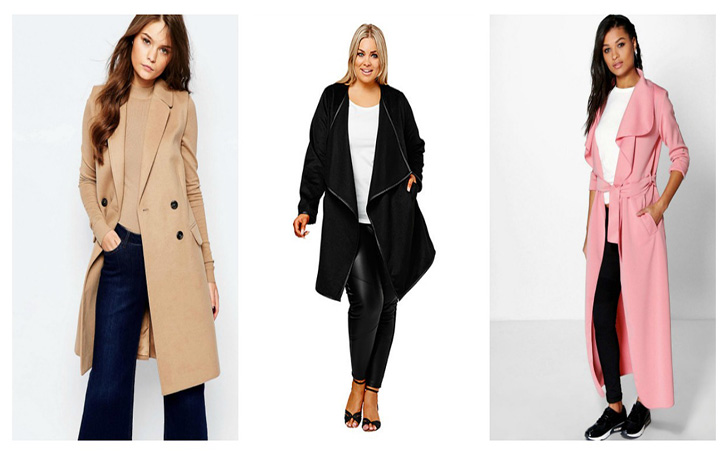 When it comes to the winter wears collection in your closet, everyone surely possesses numerous and different stylish warm coats and jacket. But unfortunately, the cons that everyone faces with the jacket and coats in winter is that they are super expensive to buy.
You want to buy another pair of jackets, you go to the store but sadly, you have to come home empty-handed when you get a glimpse of the price tags. How depressing is that? We can truly imagine that situation.
As a matter of fact, some people even wait until the end of the cold season to buy the jackets only when most of them are available on sale in order to wear them next year.
If you're reading this, then you've come to the right place. We are here you to guide you on the best affordable and durable warm jackets that are just under $100. Check them out below.
10. Yozai Mens Winter Military Warm Jacket Fleece Coat with Fur Hood
SOURCE: Pinterest
The Yozai Winter Military Warm Coat with fur has warm fleece fur inside and includes two side entry pockets to keep your hand warm. This jacket is even suitable for outdoor activities such as camping, skiing, climbing, horse riding, and even fishing.
The price can vary from just $79.21 - $88.76.
You May Also Like: Amazon Best Selling Winter Jacket Which Keep You Warm
9. Ultra Light Down Compact Coat For Women
SOURCE: Uniqlo
The ultra-light down jacket compact for women is a two-way design that can be worn as a V-neck. This jacket helps to keep out the rain and snow. The jacket is suitable to work both as an inner or outer layer.
The price of this jacket is only $80.
8. Guess Belted Wool Blend Coat
SOURCE: GUESS Belted Wool Blend Coat
The belted wool-blend coat featured a long sleeve, belted waist, notch collar jacket that is very stylish. This coat is available in three different colors; grey, navy, and cranberry.
You can get this jacket in just only $75.
7. Weekender Puffer Jacket
SOURCE: Free People
The Weekender Puffer Jacket is a slouchy silhouette hip pockets jacket that includes tonal snap closures down the front. The jacket is not just stylish looking but also very thick that will help you keep warm. Furthermore, the jacket is available in lilac and black color.
It costs only $98.
Also Read: 10 Best Lipstick Shades That Suits Everyone
6. Daisy Street Padded Jacket
SOURCE: ASOS
Girls, the daisy street padded jacket in rainbow colors and check designs is so pretty as you can clearly see in the picture above. Its features include a zip fastening with functional pockets. The jacket is also available in multi-colors.
The jacket is available at just $72.
5. Reversible Teddy Jacket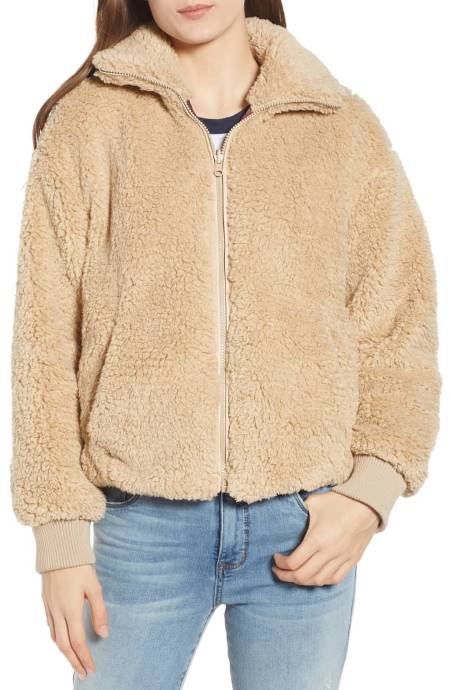 SOURCE: Nordstrom
This reversible teddy jacket is a smooth, satiny bomber which can be flipped inside and out to show off the ultra plush faux fur lining. Its other features are; it has spread collar, long sleeves with ribbed cuffs, and are 100% polyester.
Its price is $85
4. Orolay Women's Thickened Down Jacket
SOURCE: Orolay
The Orolay Women's thickened down jacket available in five different colors is a zipper closure jacket. It has the feature of eiderdown coat. It has an excellent windproof and warm-keeping quality.
The price is just $99.
3. Caracilia Women Luxury Faux Fur Coat Jackets
SOURCE: Amazon
The Caracilia Women luxury faux coat jackets are very stylish. The classy jacket is super furry, cute and warm. You can wear this jacket in any formal and casual events.
Go get the stylish furry jacket at just $49.99.
2. Haven Outerwear Women's Maxi Pillow Collar Puffer Jacket
SOURCE: Amazon
The haven maxi pillow collar puffer jacket is a 100% Polyester with snap placket that helps to keep the body out the wind. The heavyweight jacket is alternative to gain maximum warmth for the body.
The cost of this super jacket is $34.00.
1. Mordenmiss Women Loose One-Chinese Frog Button Wool Coat
SOURCE: Amazon
The bell-shaped wool coat is a hand washable and dry cleanable jacket that is 100% polyester. It has features of front two pockets with a casual loose overcoat with lining. The jacket is available in five different colors.
Its price varies from $45.00 - $62.00.
Now we're done helping you out, go and buy any of these and add them to your winter collection. We know you guys will rock in these jackets and coats.
-->