Tamela Mann's Incredible Weight Loss Story Months after the Knee Surgery!
Published Fri Jan 10 2020 By Sea
Singer Tamela Mann will take inspiration from anything she can. To lead her to a weight loss path, her husband's Type 3 Diabetes diagnosis was what she carried on to inspire herself to go to a truly inspirational journey. And no it took no weight loss surgery to set herself to the greatest shape she could. It was all about a change in lifestyle.
American gospel singer, Tamela Mann married her husband David Mann back in 1988, and they've been together in every path the other one takes. If something needs to be done, they'll do it together. David is himself a singer and an actor like his wife, but the immense support is everything she could ask for.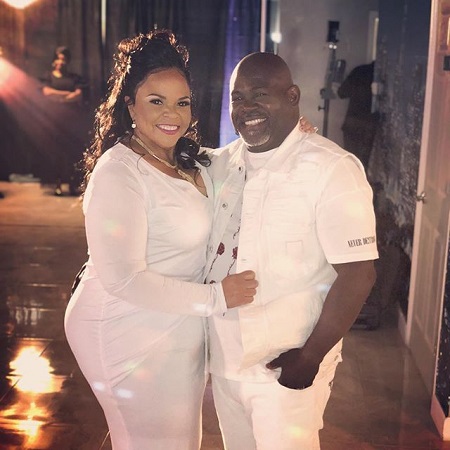 "Don't regret getting older, it's a privilege denied to many." - The Manns
Source: David and Tamela Mann, Instagram
2019 was an amazing year for the couple after all. Even with the double knee surgery, the recovery process made it all the more worthwhile. Compared to how she was 10 years ago, her body is nothing short of amazing. And it takes quite an inspirational weight loss story for that.
Tamela Mann Declared Her 40 Lbs Weight Loss Following Knee Surgery
Back in early September of 2019, the singer posted a video on Instagram to announce and celebrate her drastic weight loss of 40 pounds. She lost 12 lbs until late-April 2019, and eight more of those pounds in until early June. She also expects people to join her in the weight loss journey if they need to.
Back in mid-July, she had her double knee replacement surgery and was asking fans to send her their prayers for a successful one. Before that and even after the surgery, she'd been continuously giving her followers updates on her progress to literally get back up on her feet, with visits to the hospital and doctor's appointment, and the transition from cane to without any support and furthermore.
Tamela Mann Credits 'Weight Watchers' for Every Ounce of Her Weight Lost
In April 2019, via another social media post, Mann announced her partnership with 'Weight Watchers' to help her reduce weight as an ambassador. She did it for her family, and sure enough, they also joined in on her quest. Especially, her oldest daughter, Tiffany, 31, was motivating her throughout the process with her own journey.
Even through the knee operation and after that, she took the same healthier lifestyle on. But she could not go the gym immediately after the surgery in July. It was difficult for her body to continue any strenuous physical activity. So, she just focused on her mental and nutritional health at the time.
And after one month of the surgery, she was able to walk without a cane. In the announcement in September, she claimed WW changed her life for the better.
Mann Blew 50 Balloons in the Sky after 10 More Pounds on New Year
For a regular update on her weight loss journey with WW, she had another celebration for her 10 more pounds she lost since September. With a total of 50 lbs weight loss with 'Weight Watchers', she tied 50 balloons together, one for each of those pounds lost, and let them in the sky. Although funnily, it did take some screaming for the balloons to leave her compound.
As the year ended, she still persists on continuing her weight loss journey, not just for her family, but for herself as well. She credits none other than her fellow sisters in weight loss and the fans, who've been continuously cheering her on for the motivation. She even asked for the fans' testimonials on their own WW journey, whether there be a progress or not.
What's the Weight Loss Plan of Weight Watchers
'Weight Watcher' has set her up with a coach with a similar battles as her and even similar personalities. They've also enforced a new plan for her, "no food is off-limits". The app has a 24/7 access to a virtual coach and also features the "science-based SmartPoints system" that's personalized for your age, height, weight, and sex.
The breakfast consists of an egg, toast, and bacon, while eating the eggs without cheese to save SmartPoints. Her favorites are from ZeroPoint™ foods which has a list of variety of fruits to choose from.
In between meals, Tamela has a separate cabinet in the pantry so as to separate her snacks from the ones for her five kids and eight grandkids.
On the topic of not leaving out certain foods to jail, she says she still eats Turkey Sandwiches, which of course, is her most tracked food on the WW app. In order to escape from the track, she now cuts it in half and eats each in separate meals of the day.
Reportedly Lost Over 100 Lbs Weight Back in 2013/14
Around 2010, Mann confessed she was eating about three starches every meal compared to one protein. It seems she'd gained some significant weight it a short period of time. But since then, she changed her meal plan. She stunned the red carpet in 2014 with an alluring figure.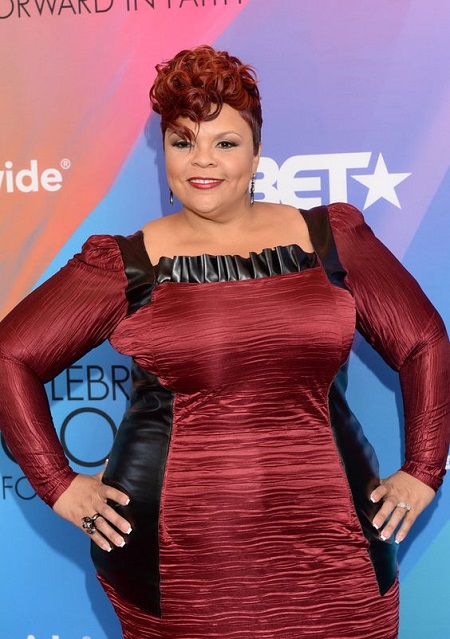 Tamela had already lost a lot of weight until 2014.
Source: Getty Images
In a Diabetes Forecast report of April 2014, the Grammy-winning singer expressed her desire to set her mind and body straight. It was after David was diagnosed with his diabetes, and she had no issues with such. However, in order for any of that to not even happen to her, she wanted to be done right by her husband. She also became David's "sugar manager".
During an interview on the 'Tom Joyner Morning Show' in July 2014, she talked of her weight loss and the size-target she set. "I've lost over 140 pounds. I used to be a 30/32 and now I'm at an 18/20," she told the host. "I just want to be able to go any place and find something. My goal is a size 14." She'd already given away her oversized clothes away too.
Looking back before the last decade, you can see the drastic change in Mann. And it's not because of her age; it's her dedication to her target. From "always been good enough to be heard but not seen" to being an inspiring personality for weight loss, she knows what the journey means to herself as well. Don't expect her to stop it just yet.
Stay tuned and connected to GlamourFame for more updates. There are more weight loss stories waiting to be heard.
-->