Who is Tamera Mowry? Know About Tamera's Husband and Net Worth!
Exploring Tamera Mowry's spouse and her net worth!
Tamera Mowry is a talented American actress, model, and television personality who has captured the hearts of audiences worldwide. Born on July 6, 1978, in Gelnhausen, West Germany, Tamera rose to prominence alongside her twin sister Tia Mowry, starring in the hit '90s sitcom "Sister, Sister."
With her infectious smile, charismatic presence, and undeniable acting skills, Tamera has since established herself as a versatile entertainer. She has graced both the big and small screens, taking on diverse roles and captivating audiences with her natural talent. With her impressive career and unwavering passion, Tamera continues to leave an indelible mark on the entertainment industry.
When Did Tamera Mowry Start Dating Her Husband, Adam Housle?
The gorgeous American actress is currently bounded in nuptial vows. She accepted, Adam Housley as her lifelong partner. Taking a glimpse into their love journey. The duo began dating in 2005.
Their relationship blossomed after they were introduced by a mutual friend. They quickly formed a deep connection and realized their compatibility.
Despite their busy schedules and demanding careers, Adam and Tamera made time for each other, nurturing their bond and building a strong foundation of love and trust. Their dating phase allowed them to get to know each other intimately and laid the groundwork for their beautiful journey as a couple.
Wedding Details
Adam Housley and Tamera Mowry's wedding was a momentous occasion filled with love, elegance, and personal touches. The couple exchanged vows on May 15, 2011, in a stunning ceremony that reflected their unique style and shared commitment.
For her special day, Tamera chose a breathtaking wedding dress that perfectly captured her beauty and radiance. She wore a form-fitting gown with a strapless sweetheart neckline and intricate lace detailing.
The dress flowed into a romantic, voluminous skirt adorned with delicate embellishments, creating a timeless and ethereal look. Tamera's dress accentuated her figure flawlessly and exuded a sense of sophistication.
Recommended: Jeannie Mai of The Real and Jeezy Are Officially Dating Ladies and Gentlemen!
As for Adam, he looked dashing in a classic black tuxedo, complementing Tamera's elegance with his own debonair style. The couple's attire harmonized effortlessly, showcasing their impeccable taste and harmonious union.
Beautiful Event Held in Napa Valley
The wedding ceremony itself was a cherished affair, held in Napa Valley, California. The venue was adorned with exquisite floral arrangements and enchanting decor, creating a romantic and intimate atmosphere for the couple's exchange of vows.
Family and friends gathered to witness the union of Adam and Tamera, celebrating their love and commitment. The wedding was a testament to their deep connection and shared values, as they embarked on their journey together as husband and wife.
Mother of Two Children
Tamera Mowry and Adam Housley are blessed with two beautiful children who have brought immense joy and love into their lives. Their first child, a son named Aden John Tanner Housley, was born on November 12, 2012. Aden's arrival marked a significant milestone for the couple, filling their hearts with overwhelming happiness.
A few years later, on July 1, 2015, Tamera and Adam welcomed their second child, a daughter named Ariah Talea Housley. Ariah's birth further enriched their family and created a special bond between the siblings.
Tamera and Adam have shared heartwarming moments and cherished milestones with their children, documenting their journey as parents on social media and in interviews.
They strive to provide a nurturing and loving environment for their kids, emphasizing the importance of family values and creating lasting memories together. The couple's dedication to their children is evident in their commitment to balancing their careers with quality family time.
Who is Tamera Mowry's Husband, Adam Housely?
Adam Housley is a versatile American journalist, former professional baseball player, and entrepreneur who has made significant contributions in various fields. Born on August 13, 1972, in Napa, California, Adam has established himself as a respected figure in the world of journalism.
He began his career as a baseball player, playing for the Milwaukee Brewers organization before transitioning to the field of broadcasting. Adam's journalistic endeavors have led him to cover major news events globally, showcasing his dedication and passion for storytelling.
With his charismatic presence and extensive knowledge, he has earned recognition for his work in television news reporting. Beyond his career, Adam is also an entrepreneur, having ventured into the wine industry with his own brand. With his diverse talents and unwavering commitment, Adam Housley continues to make a lasting impact in his professional pursuits.
Twin Sister, Tia Mowry is Divorced
Tia Mowry and Cory Hardrict have recently reached a divorce settlement, finalizing their separation that was announced six months ago. The former couple, known for their respective careers in the entertainment industry, have come to an agreement on important matters such as child custody and property division.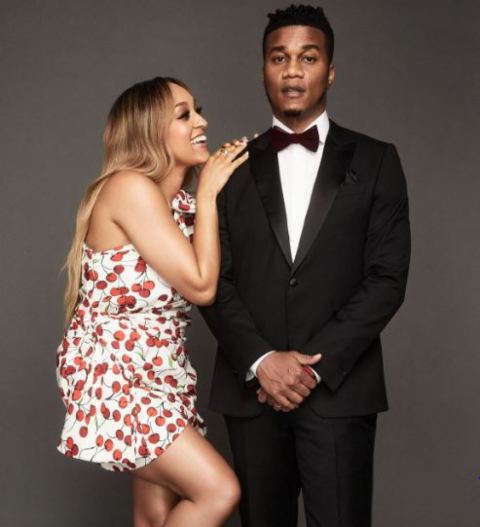 In their agreement, Tia and Cory have agreed to continue their previous arrangement for sharing both legal and physical custody of their two children. This means that they will jointly make decisions concerning their 11-year-old son Cree and 4-year-old daughter Cairo.
Additionally, the couple has requested the court to terminate its ability to award spousal support, as stated in their premarital agreement.
Net Worth Tamera Mowry in 2023
As of my knowledge cutoff in September 2021, Tamera Mowry's net worth is estimated to be around $4 million. Throughout her successful career in acting, modeling, and television hosting, Tamera has garnered considerable earnings.
Her income comes from various sources, including her roles in TV shows and movies, brand endorsements, and business ventures. As estimated, the actress makes over $150,000 per year through her participation.
Also not to forget, she and her sister, Tia has started a company Need Brad, and are also the author of two books. Furthermore, the Strong Medicine actress owns several properties in the United States. In 2014, she bought an empty lot for $1.4 Million in Playa del Rey. Also bought Napa Valley home in 2011.
Stay Attached To Glamour Fame!
-->