Tamra Judge Responds to Viewers Discussion That She Might Be Fired from 'RHOC', "People Look Too Deeply into Things."
Published Tue Jan 07 2020 By Sea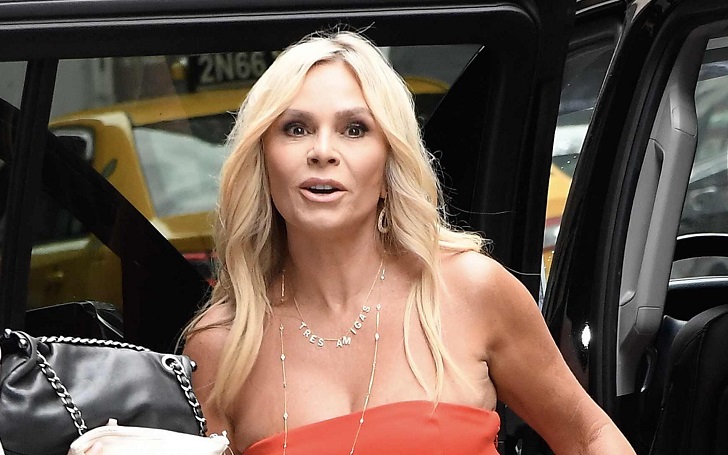 Don't read too deep into things. Tamra Judge responded after numerous rumors that she might be fired from 'The Real Housewives of Orange County'.
Tamra Judge has been with 'The Real Housewives of Orange County' cast since the third season in 2007, and no one can take that away from her. But since the demotion of Vicki Gunvalson to a "friend" last season, nothing is sure for her future either.
Of course, Gunvalson got demoted after that incident with Kelly Dodd. But let's face it, ever since Andy Cohen announced there would be a lot of reshuffling in the cast of the show, we are all freaking out about whether our favorite housewife will remain with the show.
In the midst of uncertainties, Judge removed the orange emoji from her Instagram bio, the emoji that indicates the full-time status on 'RHOC'. It's mysteriously disappeared, and fans are losing their minds.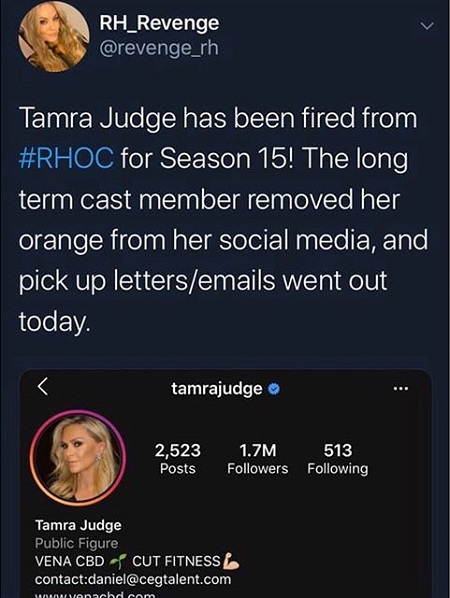 The Orange emoji was removed from Judge's Instagram profile only temporarily.
Source: All About the Real Housewives, Instagram
While Judge and her latest husband, Eddie Judge, are enjoying a week-long trip, just the two of them, fans started questioning if she would still remain with the show.
"Where'd the orange go?" one fan asked in the comment section of her clip from January 6 of supplements she advertised on Instagram. "Is it true your leaving housewives?" another wrote. In the former comment, another one added, "There's speculation that you're leaving the housewives bc apparently you removed it from your insta bio.. hope this isn't true, love you on the show!"

These comments are now apparently removed.
Source: Tamra Judge, Instagram
Judge was not the one to just stay put. She immediately replied to the doubters and speculations, "People look too deeply into things," and put it all to rest. As of now, the orange is back on her Insta bio.
The Orange emoji is back, y'all.
Source: Tamra Judge, Instagram
There've been talks that the housewives were told they would be "notified in a few weeks" if they would be on the show next season. Cohen's interview on Sirius XM's Jeff Lewis Live on Dec. 17 also followed up the buzz, as he admitted, "The casting for next season is some of the best casting we've had. I have not been this excited about casting in a long time."
Apparently, the cast was told awhile before that a cast shake-up was coming. New couples were also being interviewed, allegedly. But all the ladies are saying they are confident of returning for the next season. But at this point, no one is sure what will happen next.
Stay tuned and connected to GlamourFame for more Entertainment content.
-->