'The Dr. of Thugonamics' John Cena Says WrestleMania 35 Proves WWE Doesn't Need Him
Published Tue Apr 09 2019 By Bryan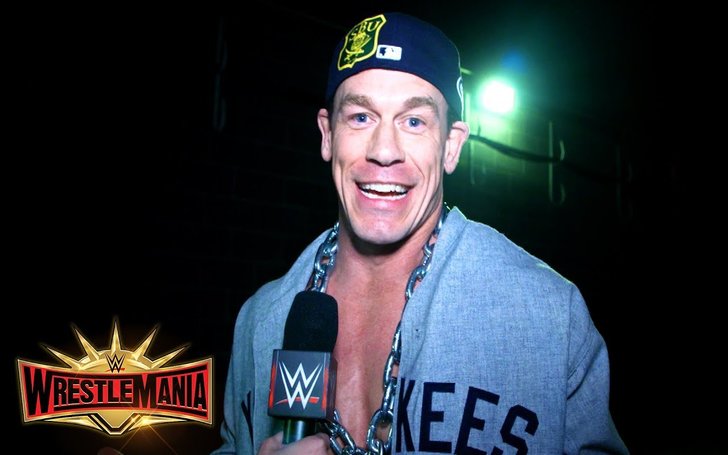 John Cena says the WWE is fine without him and actually they don't even need him!
sixteen-times WWE world champion, John Cena somehow managed to appear at the Wrestlemania 35 but he said that the WWE did not need him anymore.
After his brief in-ring appearance and a short feud with Elias, Cathy Kelly caught him backstage and he revealed he felt quite ridiculous in the form of Dr. of Thuganomics. He mentioned that the company wanted to experiment if the fans still loved to see him jump in the "2004 way-back machine."
Going quite back in time, he asserted that his contributions to WWE helped the company to sell tickets. As far as the current scenario is concerned, after witnessing the performances by other new talents and the applause they received, he finds that the wrestling business does not need him now. He claimed:
"I've said this since the day I walked in the door - the WWE does not need me or any one individual. It needs the fans. So I'm at a very good perspective with the fact that they don't need me. They're just fine without me. And I'm very grateful to be asked to be even a small part."
He also took the opportunity to express his happiness over the fact that the tickets were completely sold out even if he was out of the official competition. In fact, it seems that keeping John Cena's appearance at the grandest stage of them all a secret beforehand was another Vince McMahon strategy.
Also, Read: John Cena Set To Star in Netflix Action Comedy Directed by Jason Bateman
Cena did not have any official match in the WWE since January this year. Lately, he has been busy mostly doing films. His most recent work is an American fantasy The Voyage of Doctor Dolittle which had its initial release in the UK on 5 April.
There are also speculations that he might be following the footsteps of Dwayne "The Rock" Johnson and seeking a spotlight in Hollywood. What is at stake for him, the future knows! Nevertheless, WWE will definitely miss a man of his caliber who spent his whole life putting on smiles on the faces people from all walks of life with his signature "Never Give Up".
-->