The Love That Transcends: The Endearing Relationship of Jon Stewart and Tracey McShane
Jon Stewart is a popular name in the world of entertainment. He is a successful writer, comedian, and TV host. Born on November 28, 1962, in New York City, Stewart rose to prominence as the host of "The Daily Show," a satirical news program that became a cultural phenomenon. Known for his sharp wit, insightful commentary, and biting humor, Stewart became a trusted voice in American media.
He received numerous accolades for his work, including multiple Primetime Emmy Awards. In addition to his television career, Stewart has also appeared in films and actively engaged in political and social activism. His influence on political satire and late-night television remains significant.
Jon Stewart and Wife, Tracey McShane Early Romance
In Several interviews, Jon Stewart has shared that, he met his love of life, Tracey McShane a blind date. A crew member working with Stewart mentioned her roommate, describing her as someone he thought Stewart would like.
Intrigued by the description, Stewart decided to reach out to McShane. He wrote her number on a dollar bill but unfortunately lost it while buying cigarettes. However, he eventually managed to retrieve the number and called her.
Upon meeting McShane, Stewart admitted to feeling nervous but was immediately taken with her. Despite their contrasting personalities, with Stewart being talkative and McShane more reserved, the couple expressed their desire to start a family together.
Wonderful Proposal and Two Decades-Long Marital Journey
Four years after they began dating, Jon Stewart decided it was time to ask Tracey McShane for her hand in marriage. Determined to make the proposal memorable, he came up with a unique and creative idea.
Stewart enlisted the help of Will Shortz, the renowned crossword puzzle editor for The New York Times, often referred to as the Wizard of Oz by crossword puzzle enthusiasts. Together, they crafted a special crossword puzzle that included clues leading to the marriage proposal.
This inventive gesture mirrored the "fantastic" proposal of fellow Hollywood star Brad Pitt. Stewart and McShane exchanged vows in May 2000 and have been happily married for over two decades.
Blessed With Two Kids
In addition to their passion for animal rescue, Jon Stewart and Tracey McShane are proud parents of two children. However, their journey to parenthood was not without obstacles. In an October 2015 interview, McShane opened up about their struggles with conception and their decision to undergo In Vitro Fertilization (IVF).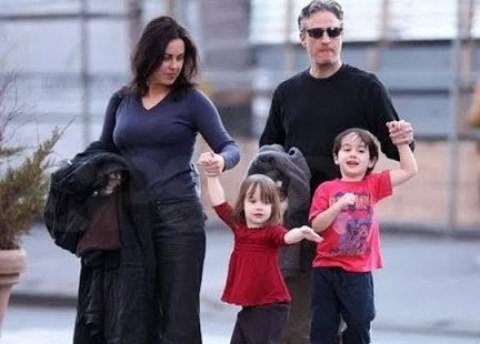 During the IVF process, Stewart played a supportive role, administering injections and providing emotional support. Their perseverance paid off when they welcomed their first child, son Nathan, in July 2004, four years after their wedding.
Nathan, now a teenager, remains relatively private but has made appearances on his mother's social media accounts, particularly during his pre-teen years.
Welcoming The Second Child Daughter, Maggie
In October 2005, the duo announced the world about Tracey's second pregnancy through their respective social media accounts. Later in February 2006, the pair welcomed their second child, Maggie.
As a director and comedian, Stewart expressed both excitement and nervousness about raising a daughter. He admitted his limited knowledge about women but embraced the unique bond he would share with his daughter.
Despite his initial concerns, Stewart and Maggie have formed a strong father-daughter relationship, as evident in a heartfelt photo posted by McShane on Instagram in September 2016. Their children, Nathan and Maggie, continue to bring joy to their lives, and the family cherishes the special moments they share together.
Tracey McShane and Jon Stewart Are Animal Lovers
Tracey and Jon share a deep love for animals, and this passion led them to co-found the Hey Friend Foundation, an animal sanctuary located in New Jersey. Through their foundation, they aim to provide a safe haven for animals and promote their well-being.
In addition to their work with animals, the Hey Friend Foundation is also dedicated to addressing community-based needs, particularly in the realm of nutrition. The foundation seeks to unite community leaders and like-minded organizations to address food insecurity and promote access to healthy and sustainable food options.
Their mission is to foster interest in and facilitate access to nutritious and compassionate food choices for communities in need. Through their philanthropic efforts, Tracey and Jon strive to make a positive impact on both animal welfare and community well-being.
A Quick Look at Jon Stewart's Career
Jon Stewart's career has been diverse and impactful. He gained recognition as the host of "The Jon Stewart Show" in the '90s. However, his most significant career highlight came as the host of "The Daily Show" on Comedy Central, where he revolutionized political satire and commentary.
Under his leadership, the show won numerous awards and became a trusted source of news for many. Stewart's advocacy work has also been notable, particularly his efforts on behalf of 9/11 first responders and veterans.
He has authored books, directed films like "Rosewater," and organized the Rally to Restore Sanity and/or Fear in 2010. Stewart's wit, intelligence, and passion have made him a respected figure in the world of comedy and political activism, leaving a lasting impact on both entertainment and public discourse.
For More Updates on Different Celebrities Visit Glamour Fame
-->