This is Not a Drill - It Turns Out Heinz's Creme Egg Mayonnaise Is Real!
Published Mon Apr 08 2019 By Jessica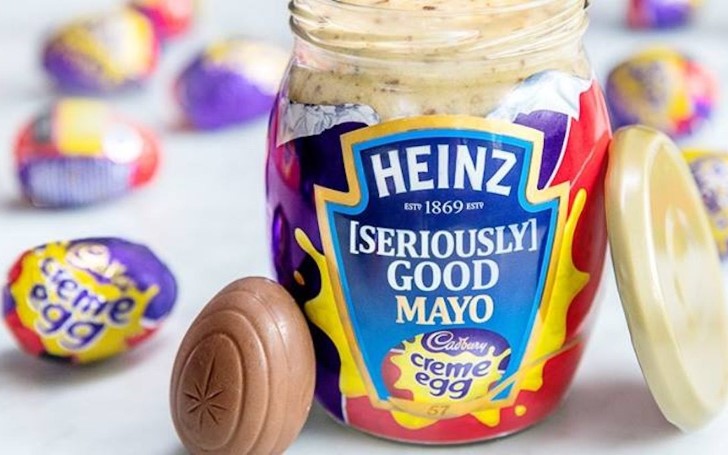 Heinz teamed up with Cadbury to produce creme egg mayonnaise.
Remember a week ago, when Heinz tweeted they came up with a new silly idea claiming they were producing a weird combination of a product made with egg mayonnaise and creme? But, luckily it was an April's Fools day and we thought it was a joke.
Well, apparently it looks like the company was, in fact, being serious. Yup, Heinz is actually producing a Creme egg mayonnaise, (and we utterly don't know how to feel about it like Ew!).
Recommended: Irish Village Residents Complain Men and Dogs Have Been Walking Around With 'Hard-ons' Thanks To Viagra Plant Fumes
Heinz teamed up with Cadbury for the new Seriously Good Mayo made with the mixture of a creme egg and milk chocolate with mayonnaise to celebrate Heinz's 150th anniversary ahead of this year's Easter.
SOURCE: Heinz
However, to be able to taste them, you shall anticipate until 11 April to find out its good taste which is claimed to be perfect for waffles and crumpets by Heinz.
As confirmed by their official Twitter handle, you can lick a spoonful of the creme egg mayonnaise at the upcoming event arriving at Ely's Yard, Truman Brewery in London from 11th-13th April until its stocks last.
Upon the news, Raphael Capitani, Creme Egg brand manager said: "We're excited to finally announce our partnership with Heinz to create this gloriously gooey, crazy combination and dream collaboration for so many Cadbury Creme Egg lovers. We couldn't think of a better partner to make this spread. The surprising taste is so, so delicious!"
Likewise, Heinz Brand Manager Matina Davis also shed some of the company's idea on the new product, announcing: "In Heinz's 150th anniversary year, we want to take every opportunity to celebrate and Easter has always been one of our favorite times of the year."
Don't miss: Michelle Duggar Provides Marriage Advice for Newlyweds
Davis continued: "So we set out to create the most Easter-y mayo we could. And who better to partner with than Cadbury Creme Egg – the kings and queens of Easter and another of the nation's most loved brands!"
"We're delighted to launch the world's first-ever Creme Egg Mayo, just in time for Easter. And very happy to report that it's absolutely DELICIOUS. A real taste adventure. The only question we're asking ourselves is why we haven't done it sooner?!" he added.
Although we're yet to taste the Seriously Good Mayo, people are already expressing their disgust at the weird combo product.
One person on Twitter replied to Heinz saying: "I love @CadburyUK but Creme Egg is the worst thing they make so no thanks..not for me"
Whilst another one added: "I'm terrified of what I just saw."
Likewise, a third one said: "If Satan was a condiment. This is it."
Also see: Fans Believe "Aftermath" Poster of Game Of Thrones Reveals Who Will Die in Season 8
But, uh, would we know what they taste like until we try? Nope. Nevertheless, if you're on a London trip next week, or strolling around the Truman Brewery area, then know that you're absolutely in luck. So do try them and let us know what you think.
-->