Tony Lanez Yelled at Megan Thee Stallion Before Shooting Her in the Foot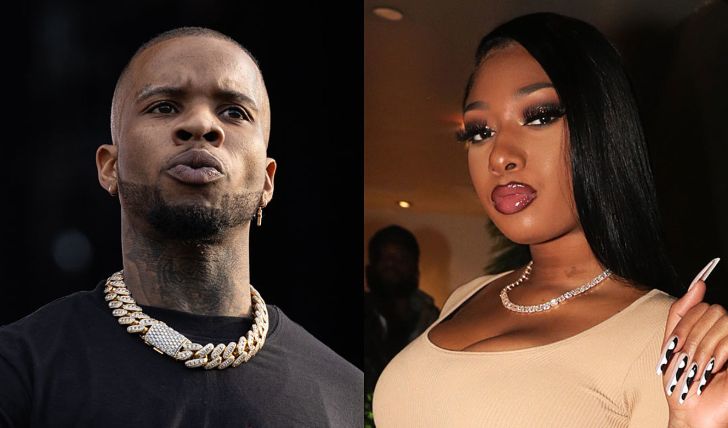 Megan Thee Stallion says Tony Lanez yelled "dance, b***h," at her before the alleged shooting: Complete Story here!
Some Interesting pieces from Megan Thee Stallion vs. Tony Lanez, whose legal name is Daystar Peterson, have popped after the recent hearing. LAPD detective Ryan Stogner testified that Stallion, real name Megan Jovon Ruth Pete, was shouted at by Lanez, who yelled "Dance, bit**, dance" before shooting in her foot. Stallion, who was bleeding profusely at that point, fell to the ground and dragged herself to a nearby driveby.
For those missing the context, an alleged shooting occurred between the two-party in July 2020. The incident happened following a pool party at Kylie Jenner's house. Megan claimed that she was in Lanez's car with him, his bodyguard, and her friend when the four got into some argument. Megan left the car, and Tony shot her through the car's window.
Stallion initially claimed she cut her foot on glass.
Photo Source: Hype Gist
The Grammy-winning rapper didn't reveal Tony's name initially. She told the cops that she had cut her foot on glass. The WAP singer came with details a month later in August, accusing Lanez of shooting her. "I didn't tell the police what happened immediately right there because I didn't want to die," Stallion said. Lanez, on the other hand, has denied all accusations and has called out Megan and her team for framing him.
Don't Miss: Khloé Kardashian Upset Over Tristan Thompson's Third Child.
While on the stand, detective Stogner also testified that a drunk Tony apologized to Megan after the alleged shooting. He reportedly "offered her money and begged her to please not say anything and made a reference to the fact he was already on probation."
Lanez faces a maximum sentence of 22 years.
Source: ABC7
During some investigation earlier, Megan's attorney, Alex Spiro, has claimed that Lanez's team has attempted to launch a smear campaign against Stallion. In October, Lanez was charged with shooting Megan. He was later released on $35,000 bail. A trial has been set to begin on January 13, 2022. If convicted, Tony may face a maximum sentence of 22 years.
For more information and news on your favorite stars, stay connected to Glamour fame.
-->