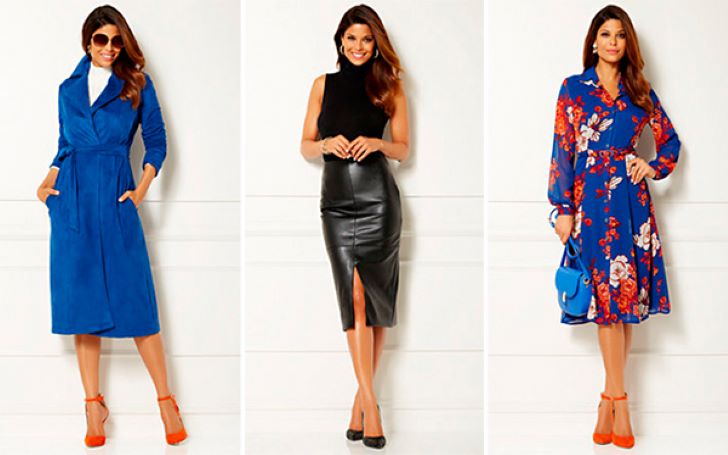 If you are into fashion and style then you surely have heard about the Eva Mendes clothing collection. Eva, who is one of the most aspiring actresses and businesswomen, has now ruled over the fashion industry as a designer.
Her clothing comprises a wide variety of fashionable clothes including chic and feminine style that can be worn by women of any age. Here are the top 5 facts you need to know about Eva Mendes clothing collection which will make you fall in love with this clothing line.
5. Eva Mendes' Sisters are the Inspiration behind her Clothing Line
Eva Mendes' sisters and mother are the inspiration behind her clothing line.
Source: US Hola
Eva Mendes considers her sisters as guinea pigs for her fashion line. Though she did not have any interest in her younger days, she became a very comfortable and confident designer with the help of her sisters and mothers.
Whenever Eva needs inspiration for her designs she looks up to the women in her family which involves lover Ryan Gosling's sister and mother as well. Moreover, she is inspired by vintage items worn by her mother when she's thinking up new designs.
4. Eva Mendes Clothing Collection Comprises Dresses for All Shapes and Sizes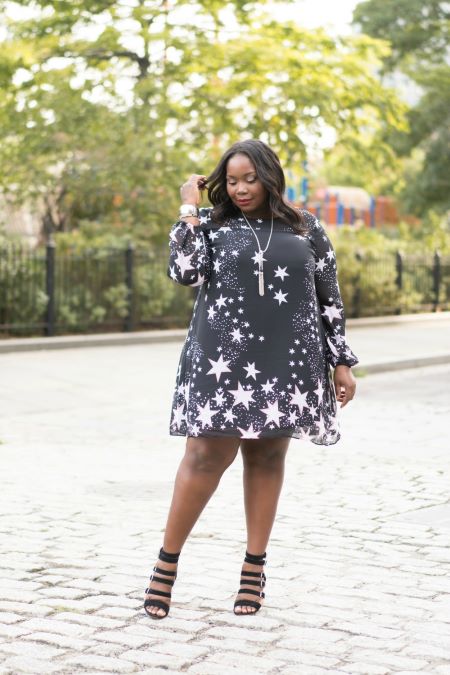 Dresses for any sizes can be found in Eva Mendes clothing collection.
Source: Stylish Curves
Being the mother herself, Eva has designed the clothes which can be worn by women of any age. Even though the collection only offered from size 0-20, now plus size women can also shop in sizes 16+-24+, 1X-3X and XS-XXL.
Even the plus size women can wear Krysta Velvet Military Trend jacket, sleek and chic Ani velvet faux wrap dress and so on. These dresses are comfortable to wear and can be worn on any occasion.
3. Eva Mendes Collection Took Over NY&Co. in 2013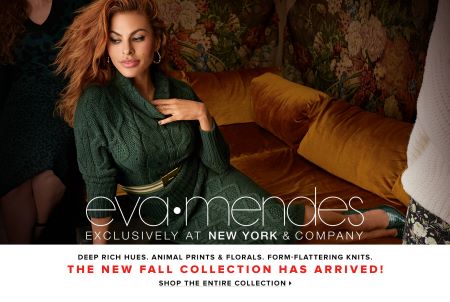 Eva Mendes started working with NY&Co since 2013.
Source: New York & Company
Eva Mendes first started designing for NY&Co. back in the year 2013. With the massive success, the brand has now established itself as the most popular clothing collection.
Eva Mendes clothing collection has gained huge popularity with each passing year. Likewise, this clothing collection has become the favorite clothing line of many celebrities including Georgina Rodriguez.
2. Eva Mendes Clothing Collection Price Range is Quite Affordable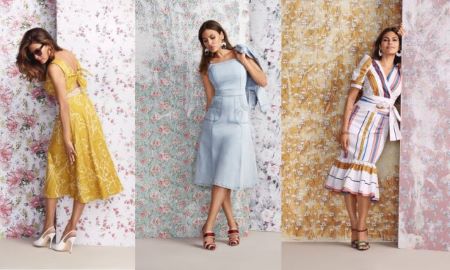 Stylish dresses with affordable price can be found in Eva Mendes clothing collection.
Source: Yahoo
While designing the dresses of different styles and design, Eva Mendes has always made sure to keep the price range of her dresses to be affordable even to the commoners.
Furthermore, Eva's lastest spring collection retails for $100 and her Mother's day collection retails for only $39.95. If you want to look fashionable without spending a huge sum, then Eva Mendes clothing collection will be a perfect choice.
1. Eva Mendes Clothing Collection Highly Requests Their Customer to Send Feedback
Eva Mendes clothing collection appreciates the feedback from its costumers.
Source: US Hola
The 'Hitch' actress Eva highly appreciates the feedback from her customers and followers. Likewise, she always for support and tips to sell her clothes through her social media. Besides, she tries to apply the feedback given by her followers.
Stay tuned with GlamourFame for more Fashion related content...
-->