Top 5 Facts About Iris Weinshall
Published Sun Nov 10 2019 By Alice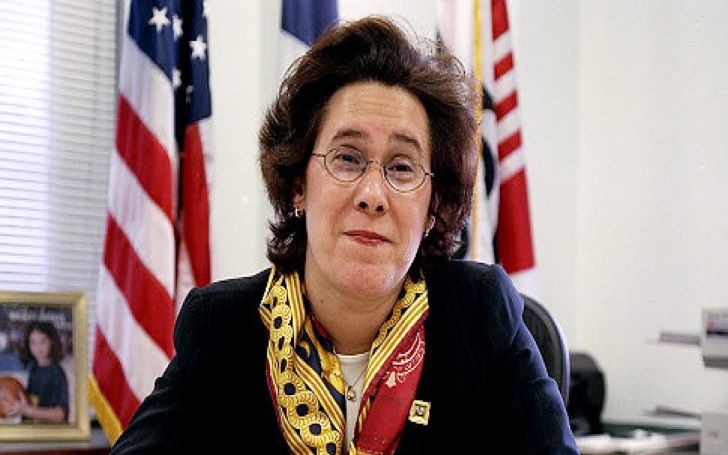 Well, who does not know the senior United States Senator, Chuck Schumer? He is one of the great leaders who have been voted in consecutively and the only way he got away from that seat was by retiring.
But how many of you know about his wife who has been supporting him through thick and thin. Chuck is happily married to Iris Weinshall and sharing this marital relationship since 1980.
5. Iris Weinshall Met The Love Of Her Life In A Political Event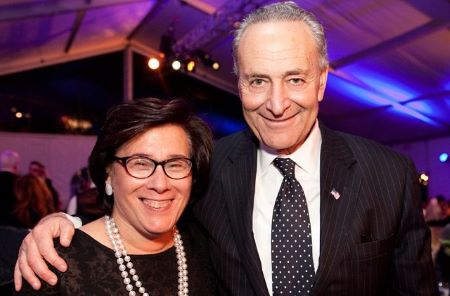 Iris and Chuck had known one another for over four decades now.
Source: Answersafrica
You will be surprised to know Iris Weinshall actually met her husband, Chuck Schumer during a political event. The couple first met a Mid-Bay Independent Democrats meeting in Midwood, Brooklyn.
At the time Iris was working on a local election and had gone to the event to drum up an endorsement while Chuck was already a state assemblyman.
What's more, the pair even started their conversation for business purposes. Weinshall was charmed by his personality and even let him go first in a row.
4. Iris Weinshall Is A Sister In Law Of Famous Actress Amy Schumer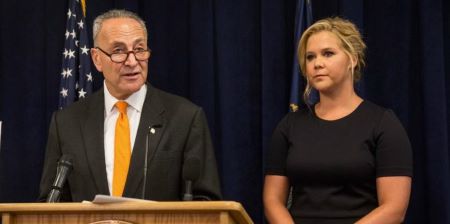 Amy Schumer is the cousin of Weinshall's man Chuck.
Source: YourTango
Well, many of you don't know but Iris Weinshall shares a good relationship with actress-comedian Amy Schumer. Talking precisely, Amy is actually the cousin of Iris' husband, Chuck.
Furthermore, Amy even supports and stands up for Chuck during various events. The cousins share quite a strong bond even after having vast difference in their career.
3. Iris Weinshall Both Daughters Graduated From Harvard University
Iris' daughter Alison is married to Elizabeth Weiland.
Source: New York Post
Iris Weinshall shares two daughter's Alison Schumer and Jessica Schumer with Chuck. Both of Iris' daughters graduated from Harvard University.
Moreover, Alison currently works as a public affairs manager at Airbnb and was hired as a policy and communication associate by Facebook back in 2011.
Additionally, she was an associate manager from 2013 to 2015 in policy and communications on Instagram.
Moreover, their daughter Alison belongs to the LGBTQ community and is married to a girl named Elizabeth Weiland.
On the other hand, their younger daughter Jessica is chief of staff at The Robin Hood Foundation. Talking about Weinshall's education, she received a Masters in Public Administration from New York University and a B.A. from Brooklyn College.
2. Iris Weinshall Served As The Vice-Chancellor For The City University of New York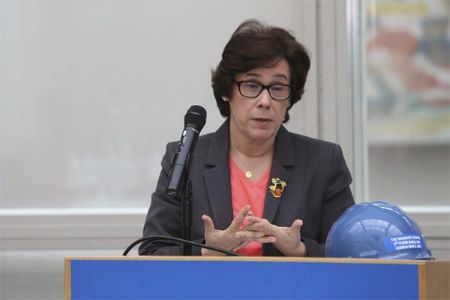 Iris Weinshall currently working as the Chief Operating Officer of the New York Public Library.
Source: Superbhub
Iris Weinshall served as Vice-Chancellor of the City University of New York after resigning from DOT where her duty was to oversee the planning, building, and maintenance of physical structures on behalf of the university.
Meanwhile, she is working as the Chief Operating Officer of the New York Public Library since 2014 where she keeps the eye on the venerable institution's budget and its $1 billion endowments.
1. NTSB Criticized Weinshall's Department Following Staten Island Ferry Crash Killed 11 People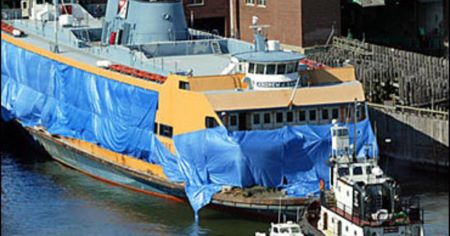 NTSB critisized Iris Weinshall for her work.
Source: CBS News
Unfortunately, Iris Weinshall's tenure as Commissioner got involved in a controversy. Under her leadership, the DOT faced criticism for its oversight of the Staten Island Ferry after a crash on October 15, 2003, killed 11 people.
As per NTSB investigation, the crash was caused by the failure of the New York City Department of Transportation to implement and oversee safe and effective operating procedures.
Stay updated and visit Glamour Fame for more stories on your favourite celebrities!!!
-->