Top 5 Facts About Zack Greinke's Wife Emily Greinke
Published Thu Oct 24 2019 By Sea
Zack Greinke is a successful MLB baseball player, currently playing for the Houston Astros after he was traded by the Arizona Diamondbacks, with a $24 million payout of his remaining $77 million, for four minor league prospects.
Behind his success, there is a woman, alright. The household is handled by his wife, Emily Greinke (née Kuchar). The two got married in November of 2009 after Zack won the AL Cy Young Award earlier that year. She is his rock. She helped him all through his social anxiety disorders and convinced him to keep playing baseball when he wanted to quit.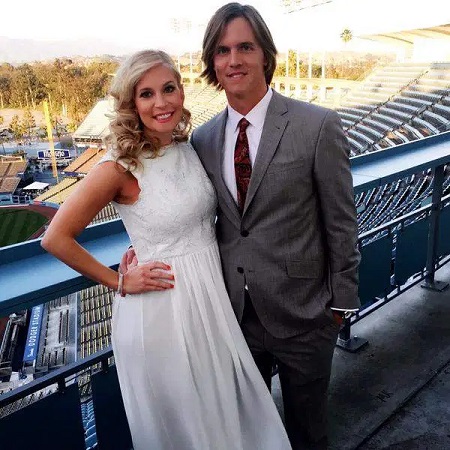 The actual time they got married was in November 2019.
Source: Getty
The 35-year-old Florida-native is not just a housewife but much more if you get to know her. Zack is not fond of social media, but she is. And there are tons of things she shares with the world. But there are some facts that are lesser-known by the couple's fans.
5. Emily Was a Library Assistant When She Met Zack Working for His Homework
Emily was raised in Florida and attended Apopka High School in Apopka. She was working as a library assistant when she met Zack. He was coming into the library to have more of his homework done.
The couple is high school sweethearts.
Source: Fabwags
Emily was, of course, on duty at the moment, and she took notice of him. And just like that, it began; the rest is a story as depicted in their life. Zack loves being married to the wonderful lady, and she is always there for him. "Just her always being there. You look in her eyes, and it just makes you feel good," he told ESPN in 2010.
4. The Camera Loves Her! She Was a Cheerleader and Model Before Marriage
While Zack moved on to pursue his passion for baseball, Emily stayed in the sidelines. But she did get her time in the pitch, at least at the side. She was a cheerleader for the Dallas Cowboys (American) football squad for two seasons. Despite being a teenager (18 in 2002), she tried out for the squad and made it. For the 2003 and '04 seasons, she cheered the team on at home games and also traveled the world as part of the USO Tours for the US Troops. She was on the cover of the swimsuit calendar in 2004 as well.
The cheerleading stint also was an immense success.
Source: FanPix
Following her (after the cheerleading stint that is), she went to try modeling. She was named Miss Daytona Beach USA 2009 in 2008 when she was attending the University of Central Florida for majoring in communications. She eventually lost the Miss Florida USA competition.
Watch: Emily Was Moving on to Compete for the Miss Florida USA competition
As she said above, she wanted to be an entertainment news anchor, but family life caught up, and she's been devoted to it ever since. Although she was not limited from entering the screen. Though uncredited, she appeared in the 2007 movie, 'Sydney White'. She's also appeared on 'Larry King Live', 'The View', and 'The Today Show'.
3. They Have Two Sons and Their Brother-Cat Together
In April 2015, Emily announced on her now-deleted Twitter account, Wilsysmommy, that a new member was going to be added to the Greinke family. On July 23, 2015, their first child, a son Bode Nicholas Greinke, was born as a healthy baby.
Then in June 2017, Bode became an older brother to the couple's second baby boy, Griffin. According to Emily, being a mommy for the two kids is the most rewarding experience for her yet.
In addition to the boys, she also takes care of the family at Wilsy. The more interesting thing is, Wilsy is much older than (what Emily calls) he baby brothers. The couple found the cat some 14 years ago on the tennis court they were playing in Wichita, Kansas and took it in. They celebrate his birthday on October 10 year, and he turned 14 this year.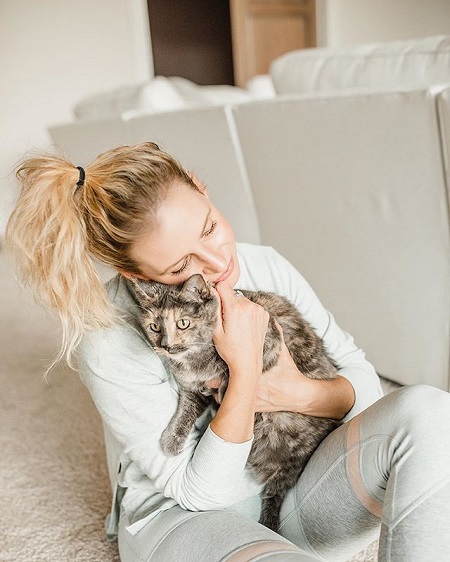 Wilsy gets a birthday tribute every year from his family.
Source: Emily Greinke, Instagram
Emily's love for cats is well-observable. "Yes, I love cats and no I'm not crazy," she says.
Whenever they get the chance to, they go to all kinds of places to vacate - the zoo, swimming pool and revisiting the baseball diamond once in a while at the break.
2. She Has No Problem Moving Around with Zack Following Her Career
Of course, being a wag can be a little stressful when having to handle the house by themselves. But it's not a big deal for Emily. In fact, she cooks so well that they rarely go out to eat. Their go-to dinner is steak and white sweet potatoes. The potatoes are Zack's favorite. Also, Chicken Pot-Pie.
Another thing the wives have to deal with is the places their husbands' careers take them. Zack has been with five other teams before the Astros, and they had to move from Kansas City to Milwaukee to Los Angeles to Arizona. But what she calls home is wherever she is with him. After they had to move from Arizona to Houston, she commemorated the time they had in Arizona since the kids were born there.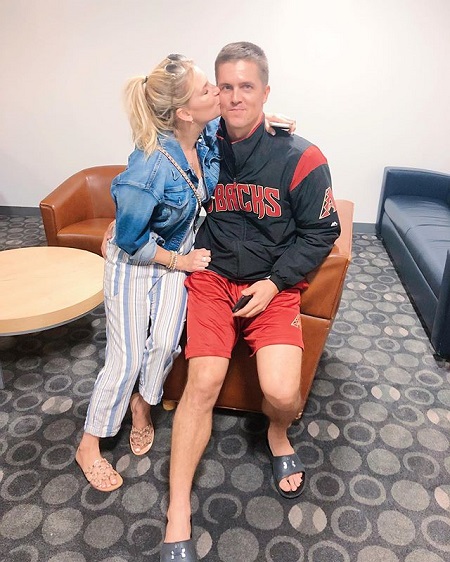 "Home is wherever I'm with you!"
Source: Emily Greinke, Instagram
Houston is not treating him all that bad either. She's attending his games every time with the kids.
1. Stylish Emily Has a Fashion Blog for Style Recommendations While Reflecting Her Past
One look at Emily's Instagram page will tell you how much she loves fashion. Of course, she mentioned it before, and it is evident from her past too. Her handle is also named appropriately 'Styled by Em' on both Instagram and Twitter.
The mom-of-two does not represent any modeling or clothing company, nor has she collaborated with any of them. She just likes the idea of helping others find what they're looking for and find what they would feel comfortable about. She has her own fashion blog, Styled by Em, that'll give you great tips to look the best and feel the same.
The commitment for doing better for others is inspired by her own story when she was in the 7th grade. She was going to a girl's birthday party looking her best. She was absolutely comfortable and was feeling really good until she entered the party and found herself overdressed. She was uncomfortable all night, but after years, she convinced herself no one's opinions matter if you're feeling the best.
Don't wear something just because it's trendy, but rather let the trends inspire you to wear something that suits you! If the clothes don't empower you then it's not the right choice for you.
Probably the best thing ever that's happened to her related to fashion is that she received a custom-made Denim jacket with the words 'Mrs. Greinke' written on the back. The 'Mrs.' is engraved inside the collar, hidden when folded, and 'Greinke' written over Zack's jersey number 21 (he chose it because his birthday falls on the 21st). Stars accompany the number on the back.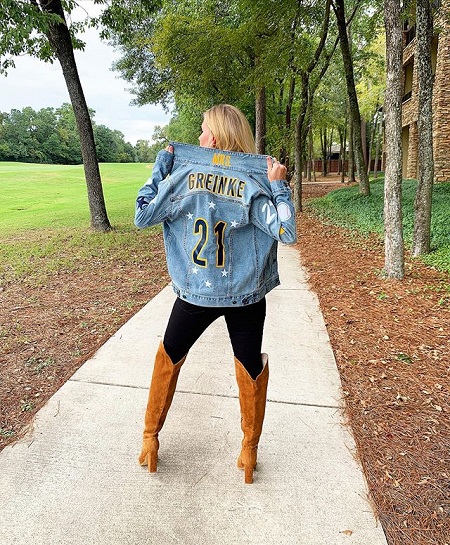 Emily wears it during her trip to Zack's games.
Source: Emily Greinke, Instagram
Zack has really got the gem for his partner in life. They seem to be one of the most unbreakable couples in the country where the divorce rate seems to be quite high.
Stay tuned and connected to Glamoufame for more Entertainment news on your favorite celebrities.
-->