Victoria Pedretti's Partner: Learn About Her Relationship Status
Is Victoria Pedretti Single or Dating in 2021? Find All the Details Here!
Most were introduced to Victoria Pedretti in season 2 of the gripping thriller You as Love Quinn. Her role has brought a fresh twist to the mega-hit show. Pedretti claimed season 3 is going to be a mind-boggler. The actress is best known to play supernormal characters. Netflix anthology series, The Haunting is her best-known.
Victoria was born on March 23, 1995, in Philadelphia, Pennsylvania. After obtaining a degree in fine arts from Carnegie Mellon School of Drama in 2017, Pedretti dived right into her endeavor. Since then, she's gained success in acting and has also made huge bucks. Her earliest credits are two short films, Sole and Uncovering Eden. Her absolute reticence on her romantic life has sparked curiosities. Fans questioned if the actress is indeed single.
Victoria Pedretti's Relationship Status!
Victoria Pedretti is always ecstatic and quick to talk about her character and significance, but her personal life is something the star has kept off-limits. Fans have been exclaiming how in the world Pedretti is still single. You can pry on her social media pages, but the actress hasn't left any clue.
Pedretti isn't keen on discussing her private life with the media.
Photo source: Creeto
Pedretti's relationship status remains single in 2021, as per the official record at least. In an interview with Bustle after her breakout role in Haunting of Bly Manore, she was asked, "what was the most romantic thing she's ever done," to which Pedretti gave a no comments look.
Check Out: Who is Hannah Waddingham's Husband? Learn About Her Married Life Here.
The actress might be dating or even in a committed relationship in real life; hence we can only hope Victoria will let her guards down someday and give her fans some insights into her personal life. Till then, Pedretti's romantic side is limited to screens. In You, she has stunning intimate scenes with Penn Badgley, and in Haunting of Bly Manor, she played a queer character.
Victoria Pedretti Calls Love-Scenes with Badgley Disturbing!
"If we're choosing to portray sex, I think we should do it responsibly, or at least somewhat realistically. And so I found that a little disturbing," said Pedretti in her interview with Harper's Bazar. Even though the series follows Joe Goldberg (Badgley) committing and getting away with nasty crimes, Pedretti found their five-second sex scene unsettling.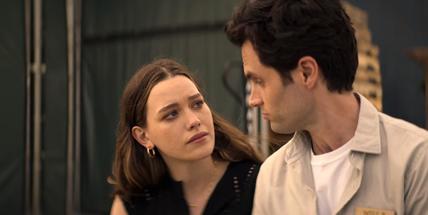 Pedretti thought the love scenes were unrealistic and disturbing.
Photo source: IMDB
A season 3 for the psychological thriller was ordered in January 2020. Season 2 had left things not exactly on a cliffhanger but on an interesting note. The production season 3 was delayed due to covid, but it is now anticipated to premiere later this year.
Recommended: Who is Ariana Greenblatt's Boyfriend? Learn About Her Relationship Status Here
Badgley and Victoria are set to reprise their roles. And new cast members include Shalita Grant, Travis Van Winkle, Dylan Arnold, and Tati Gabrielle. Pedretti tells, fans can look up to a shocking season. Looking at the hype around the upcoming, it's safe to say there will be many shudderings scenes again.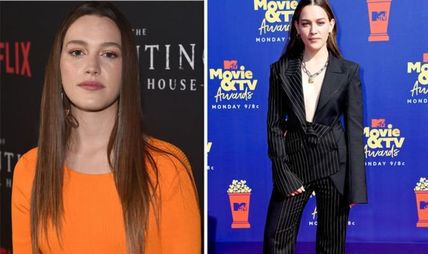 Pedretti to portray a tortured soul yet again in the upcoming Lucky.
Photo Source: Express
You can also look forward to seeing Pedretti headlining the upcoming Lucky. As per Variety, she will play the American author Alice Sebold in the movie. Based on Sebold's 1999 memoir "Lucky," the movie will picture Sebold's life after a traumatic experience.
For more information and stories on your favorite stars, stay connected to Glamour Fame.
-->