Who is Alexis Ren? Detail About Alexis Ren & Alan Bersten Relationship and Past Affairs
Published Wed Feb 06 2019 By David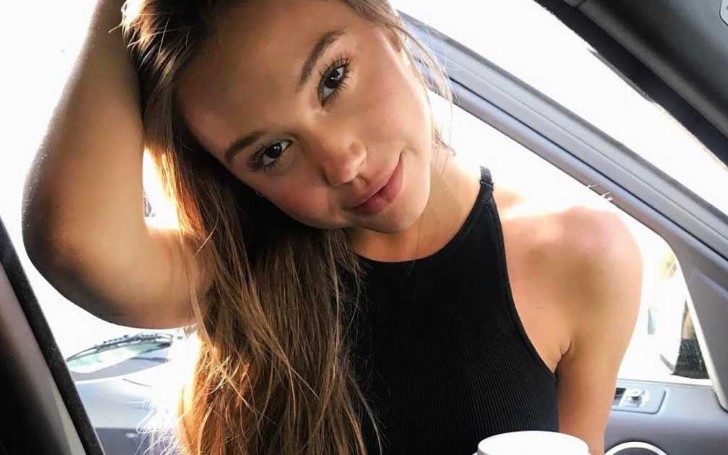 Alexis Ren is arguably one of the most famous Instagram models on the cloud media platform.
Ren's prominence was launched when she and her super famous ex-boyfriend, Jay Alvarez began posting exotic travel-worthy photos all over Instagram and YouTube.
After a very long and highly dramatized relationship, the famous love-birds eventually split up. Beside that Ren is also known for her profligated love life. Often time she is seen with a new man every now and then. But as of now, the 21-year-old internet beauty seems like she is still a bit raw from her last break-up. So to know who the guy and yes, what the ballyhoo was, let's delve into the article below.
Alan Bersten
The very last man that daunt to hold Alex was a fellow-dancer from the DWTS, Alan Bersten. Many rumors were flying around since the beginning of the newest season of the show when Ren and her pro dance partner Alan Bersten teamed up for the first time ever. The duo even had fantastic chemistry together when dancing. And on Halloween Night, Ren confessed 'the elephant in the room' and admitted she had feelings for her dance partner.
However, Bersten at the time said that he needed to think about this divulgence of Ren. While everyone was busy betting their odds on this alleged hook-up, Ren and Bersten, on the other hand, had already become each other's beau and mistress.
Though Alan being overtly shy in the beginning, later came saying, he too was falling in love. Alan told Ren:
"I know that you put yourself out there last weekend, and I do have feelings for you, And I really feel like I am falling for you."
And while Alexis was just about to embark on her dancing endeavors with a boyfriend by the side, the source came out of nowhere saying,
"they were already on the outs,"
This ultimately hinted at their breakup just after a few weeks of their DWTS season.
It doesn't sound like it's the right time, Alexis says ...
And even though neither has outright said that they're really done, Golden Derby has noted that Alexis's response to an Instagram follower is pretty clear substantiation of where they stand. When one user straight up asked if Alan and Alexis are really over each other, the sports illustrated rookie, made it sound like the two have gone their separate ways.
"Feelings aren't black and white and neither is life. We're focused on our careers and growing as individuals. He's an amazing person and I'm grateful he came into my life. He is on his own journey and I respect that," she wrote.
So, What Went Wrong?
Well, that's the thing about the stars. Construing who they are dating at one time has always been extremely hard for the people to figure out, let alone their partition cause. So, it's still pretty much unclear about Ren and Alan's too, but the theory has been pointing out their crazy-hectic schedules might have something to do with it. Meanwhile, Alexis has been spending a lot of time overseas, in Japan. And as for the guy, Alan too has been plenty busy himself rehearsing for all that Dancing With the Stars Live! Tour.
Alexis Ren's Past Affairs
Speaking of split up, the fact here can't be missed is that Bersten is in no way the only guy to have knocked romance in Ren's life. In fact, she has been previously been linked up with some or two Instagram's male heartthrobs. So who goes on the list, let's dig it out.
Jay Alvarez
Ren was quite a thing with Jay Alvarez. Ren and Alvarez who is also an internet star and model were dating from 2015 to 2017.
Alvarez with Ren

SOURCE: We heart it
The couple was also a wide sensation over the internet. In fact, some even claims that if it wasn't for Alvarez who inspired Alexis to pose for the Instagram, she would have just been a typical Californian girl or so as they.
Their relationship, however, winded up in a messy breakup on social media, with Ren and Alvarrez both taking their feud on Twitter to say all about their split.
Sky Bear
Unlike her relationship with Jay Alvarrez, Ren kept her relationship with Sky Bear very private in every manner. Not even Bear's real name has surfaced once till date other than the fact hee goes by the Instagram name 'Sky Bear' and runs a fitness company. Back then it seemed the two started dating in April 2018, showed very much by a photo Bear posted on his Instagram of Ren with a loving poem in the caption.
Under one photo, Sky wrote a long poem for Alexis that said,
Have I told you that I love you, that I see your mother in your eyes? Have I told you that I love you, for I wish it was a lie and yet because I love you I would happily burn in desires very fires? Have I told you that I love you, the way you giggle in my arms, the way squirm, the way you pout, the way you kill me with your charm?
Obviously, they looked like very much in love.
Yet, not so long after that, Ren and Bear also went rough, and hence eventually disbanding their togetherness. But, it is still unknown if and when the couple called it quits since quickly after Ren dated bear, she was already pouring out yesses to the rumor about her and alan bersten being in love.
The last public photo of Ren and Bear, though seem to have been posted on October 1, 2018.
-->