Who Is Anton Danyluk? Get All The Details Of This Scottish Love Island Contestant!
Published Wed Jun 26 2019 By Travis
Get to know the hunk from Scotland, Anton Danyluk.
The fifth season of Love Island is in full swing as the drama and romance are finally taking hold inside the Villa in Majorca.
With 12 contestants to start the series, Anton Danyluk was one of those characters who entered first in the villa. The Scottish born gym owner feels as though he is going to make it to the finals in the show because Scottish villa entries have gone pretty far in the show.
Anton talked about the previous Scottish participants on the show, "Laura Anderson and Camilla Thurlow both got to the final. Hopefully, I'll get further than them and win it!" Jokingly mentioning he is going to win, Anton seems to be a funny guy.
Like everyone in the villa, Anton says he wants to find the "one" inside the villa, someone he can connect with and who understands him.
Anton talked in length about his habits, best and worst traits;
I'm funny, I'm very hardworking, and I'm really motivated, and I love to encourage and motivate people. My worst traits? I can be moody, and I'm definitely an over-thinker. Sometimes I can be a bit selfish. My best feature is my eyes. I'm quite dark, but I've got light eyes, so they stand out. I would rate myself an eight on looks alone, but when you start putting everything together, you can bump it up a little bit.
Anton spared no time when it comes to coupling in the show, He started with Anna Vakili and tried his luck a little with Molly-Mae Hague, but as soon as the new girl Elma Pazar entered the villa, he coupled with her in a re-coupling ceremony.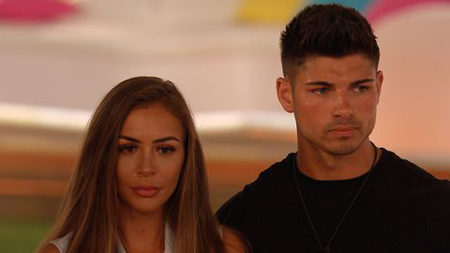 Like everyone else Anton has a preference when it comes to ladies, a fan of Margot Robbie (Duh!!!), he said he prefers blonde ladies. "She has to be hardworking and good looking. Blonde hair is usually my type. They have to be into the gym because it's such a big part of my life, so it's important that it's a big part of their life as well," he elaborated as his preferred mate.
Watch: The introduction video of Anton Danyluk
Anton is a funny guy, but he isn't exactly a saint when it comes to ladies. Anton was in a relationship with his previous girlfriend Denise Wilkie back in 2016. The relationship which started in Ibiza didn't last very long as he was branded as a cheat in a very public bust-up with Denise on the sets of 'Glow', a defunct show based in Glasgow. Even though he cheated on her, Denise said she harbors no ill will towards the dreamy-eyed gym owner.
Anton talked about his tendency to cheat in his relationships. He said;
That's a medical condition that I have… a wandering eye! I've never really been loyal in any of my relationships. My last relationship, I actually got caught cheating for the first time in my life, and it changed everything for me. I saw how much it hurt her and what it did to her. So, for me going to into Love Island, it's going to be the biggest test of my life.
Love Island tends to bring in exes of cast members in the villa, and Anton said he is not a fan of that ever happening for him this season.
Anton also talked about how his exes will feel when they see him inside the villa;
I've got three ex-girlfriends. Number one, she'll watch it and be riddled with jealousy. Number two will probably be happy for me. Number three, I think she'd cry actually, so there's mixed emotions between all three of my exes.
Getting back together with your ex is not a good idea, whatever anyone tells you, and that is the exact sentiment that Anton lives by. He said he dated his ex once and he will never do that again in his life.
One of the favorite characters in this year's Love Island, Anton has his eyes set on the prize. With his chiseled body and those dreamy eyes, it seems as though nothing can stop the hunk from Scotland.
-->