Who is Meek Mill's Rumored Girlfriend, Milan Harris? Complete Intel of His Relationship Status
Published Tue Dec 24 2019 By Sea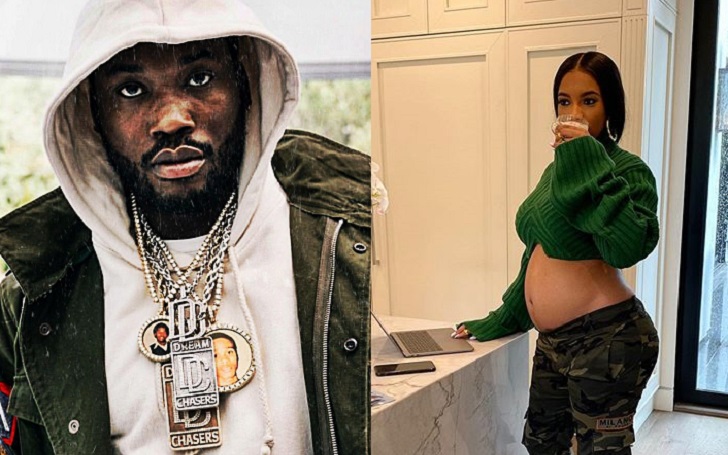 Robert Rihmeek Williams, aka Meek Mill, is all set to be a father for the second time. But is he really? The rapper hasn't explicitly talked about his relationship, or rather just denied it completely, before, but if he is the dad to this new kid on the verge of arrival, here's an early congratulation.
The rapper/songwriter rose through the ranks as a battle rapper and his short-lived rap group, 'The Bloodhoundz'. It wasn't until Charlie Mack and T.I. took notice of him and were quite impressed with him that he really hit it off.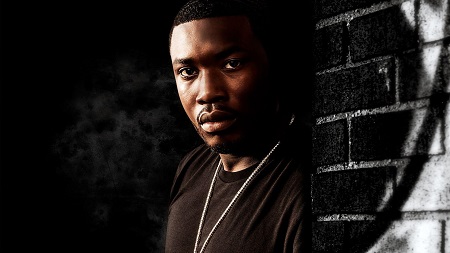 Meek Mill is not ready to be accepting of his new relationship to the public at all.
Source: Fresh-Grind
There are bound to be connections after the fame propelled him to the bigger stage. While the stint with Nicki Minaj may have been an open book, he's keeping his lips tight about this one.
Meek Mill Is Rumored to Be Dating Fashion Designer, Milan Harris, But She's Previously Denied It All
Before the big news this week, the rumor mill was full of talk about the nature of the relationship of Meek Mill with a possible girlfriend, Johnika "Milan" Harris. Neither of them has come out to say anything about it, but fans and netizens wouldn't be satisfied with the silence.
Thanks to social media and the curiosity of the fans, a little (or thorough) investigation were enough for them to deduce that they were supposedly dating. The signs there were obvious — they were seen so cozy together and posting photos of each other on their social media pages together. There was no way people were going to believe any denial of the fact.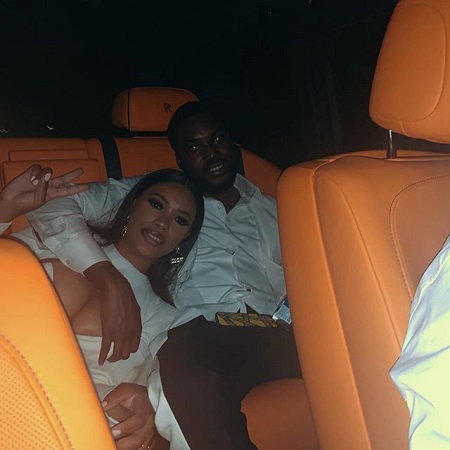 Despite it all, both of them denied the allegations that they were together.
Source: Milano Di Rouge, Instagram
That didn't stop her from denying it completely though. Back in late October, Harris broke the silence on the rumors and claimed they're just great friends. She stated he was just a good promoter of his brand as he was the first celebrity to ever wear her stuff. On the dating stuff, she said, "No. Meek supports Milano and I support Meek. That's my friend."
Milan also talked about the photo of them in a jet together, waking up to food. For that, she said there were many people who traveled in jets with her and referred to him as her 'Homie'.
Harris' Pregnancy Announcement Changes It All
On 21 December, Saturday, night, Harris came out on the ramp to close the Milano di Rouge fashion show with her bulging belly to officially announce she is pregnant. There were loud cheers for her from the audience. She shared the clip with her fans on social media.
Once the clip was uploaded and others also live-tweeted the scene at the show, it went viral. It immediately sparked rumors that Meek Mill is, in fact, her baby daddy. With the media taken by storm with the news, Mill himself has locked himself out of Instagram. He just deleted his Instagram account, or just deactivated it for a while. But he is active on Twitter.
Does this action from Mill suggest he really is the father or that he just couldn't take the social media chatter about his reputation?
So, Who Is Milan Harris?
Milan Harris is a Fashion Designer of her signature unisex brand, 'Milano Di Rouge'. First adorned by Meek Mill himself, in order to get her traction rolling, the brand's designs have been worn by Cardi B and Chris Brown, among others.
Before there was her brand, Harris was a home health aide as well as a hairstylist. But she wanted more and went on to kick off in the business in quite an unconventional way - blogging, after losing the home health aide job. She gave women advice on love, dating, and motivation while interviewing various entrepreneurs in the city of Philadelphia.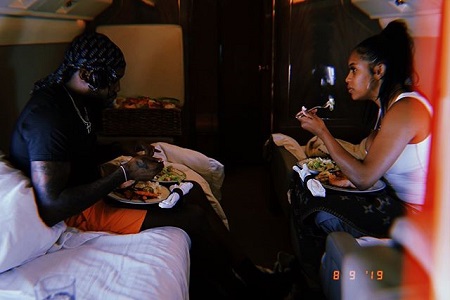 Meek Mill's wardrobe was the first celebrity wardrobe Harris' designs started with.
Source: Milano Di Rouge, Instagram
One of her hairstyling client called her a 'hairapist' and suggested the blogging idea. "I fell in love with it because that's what I love to do. I love to give motivational advice. Within the first three months of my blogging, I had captured an audience of 100,000 views. So I realized, if I can capture this audience, I should sell them something. I originally wanted to make T-shirts with cool slogans on them. Then, I came up with the name Milano di Rouge and designed the shirts and began selling them right out of my trunk."
And that she did in 2012. It especially helped when Mill wore that $80 hoodie from her, and his fans asked where they could also find them.
To be honest, Meek was the first celebrity to ever wear my stuff. In 2012 he wore one of my hoodies. And it was an $80 hoodie at the time. And that's literally when I started… people think I shouldn't have an $80 hoodie either.
On how she met Mill, she said that a mutual friend asked her to introduce herself to him when the friend was in the studio with her.
Watch: Milan Harris Tells the Story with Meek Mill
Since the first launch, she's been selling her products at a boutique in downtown Philadelphia. It is also available online. She's also been showcasing her brand at various fashion shows, with the most recent one being in the Milano Di Rouge Fashion Show in Philadelphia.
Mill's Pursuit of Nicki Minaj
It was clear in the late 00s that Meek Mill always wanted to take Nicki Minaj away 'B4 Somebody Else Do' in 2010. He declared his love openly in the lyrics of one of his songs, 'Miss Me'.
The two connected socially and were seen together on several Instagram photos before she appeared on two of his tracks. Following Minaj's split from decade-long boyfriend, Safaree Samuels, the rumors between the two started swirling around. Mill was also out of prison by the time.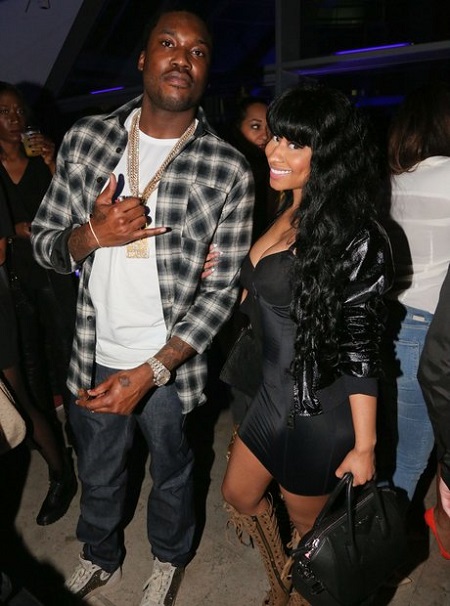 They dated but never explicitly said they did.
Source: Getty Images
The singer denied the rumors stating she is single, but her dedication to him in his song, 'Buy a Heart', said otherwise. (She referenced him by his middle name, Rahmeek. They continued to deny the relationship being more than just friends, but no one was buying it — their photos and actions for each other told a different story.
By April 2015, Mill had declared he bagged Nicki Minaj and professed a lovey-dovey thing for her. She took him to the North American leg of her 'The Pinkprint Tour', and it was all but confirmed that they were dating.
However, as it is apparent, two lasted only until January 2017. Now, the 'Barbie Dreams' singer is married to Kenneth Petty, who is still kind of unpopular with her fans.
Stay tuned and connected to GlamourFame for more Entertainment content.
-->