Who Is PewDiePie's Newly Married Wife Marzia Bisognin? Check Out Top 5 Facts About Her!
Published Fri Aug 23 2019 By Sea
Ah... Finally. PewDiePie is married. YouTube superstar Felix Kjellberg married his longtime girlfriend, Marzia Bisognin, on 19th of August — the eighth anniversary of their meeting. Its no surprise that Marzia is also a YouTube personality, but she is much more than just that.
The couple got engaged last year after Felix proposed her in April of 2018, while they were vacationing in Japan. They got married in Kew Garden of London, but in a QnA video on YouTube, Marzia had expressed her desire to elope. She thought it would be impossible, and they already booked a venue at the time but kept it a secret until the wedding.
The couple has stuck together for as long as we can remember Pewdiepie and there is a lot of history people need to know about. Here are the top 5 facts about Marzia Kjellberg (well it's official) or CutiePieMarzia or MarziaPie.
5. Marzia is Italian and Always Wanted to Be a Part of the Fashion Industry
The 24-year-old is fully Italian and was born on 21 October 1992 in Arzignano in the Italian Province of Vicenza. The 7 million subscribers on YouTube couldn't stop the star from moving on to the fashion industry. But it was all almost planned anyway.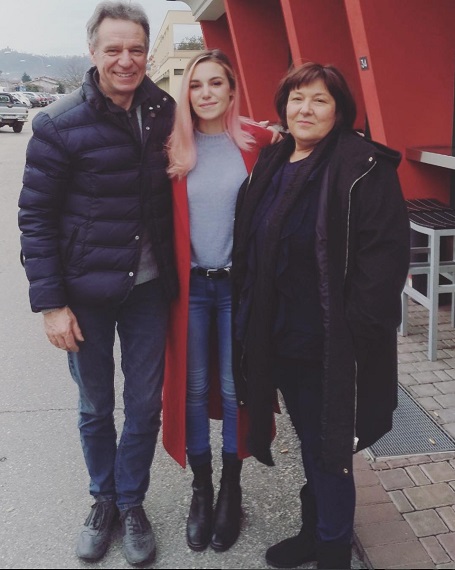 Source: Marzia's Life
Marzia spent most of her young years in her mother's closet. She often tried her mother's shoes and clothes, even if they were too big for her. She stated that the closet was like a magical world for her and every piece in there fascinated her.
In 2016, Marzia told LinkedIn that she finished creating her dream dress, which she was working on since almost three years ago. Salute to the dedication!
A fashion pro like Marzia is expected to be lavish in choosing her own clothes, but she never buys them herself. Companies send her clothes all the time, or she gets them from vintage and charity stores. To reciprocate, she also gives out her old clothes for charity. She's just fascinated by all of it.
4. Marzia's Career - Vlogger, Blogger, Fashion Designer, Writer, etc.
Marzia is many things besides just the wife of Pewdiepie. She is a successful Vlogger and Fashion Designer. She started her YouTube channel registered as CutiePieMarzia in January 2012. The videos mostly focused on fashion, beauty, makeup, DIY, books, vlogs and even video gaming. To increase the audience, she used English language, and she is pretty fluent at it.
CutiePieMarzia was one of the most successful channels in Beauty and Makeup Genre. It is also the most subscribed Italian YouTube channel. The fans are called 'Marzipans'. There were over half a billion views on her videos. But it is all going to change now. She announced in October last year that she was leaving YouTube for good in order to focus on one sole career, her fashion course. She deleted many of the videos, and only a few selected ones remain, which of course will be deleted in the future.
The YouTube success allowed her to start launching several lines of fashion and design merchandise. It started in March 2015 with nail polish shades, home decor products and clothing line. She co-owns a Unisex clothing and accessories brand, 'Tsuki', with Felix and also founded the company 'Mai Accents' that sells fine jewelry, pottery and decor.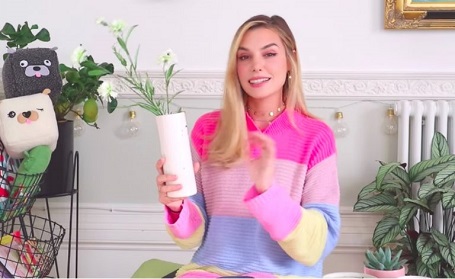 Source: Marzia, YouTube
In 2016, Marzia designed 'Daisy' shoes via Project Shoe, and in 2017, she launched 'Lemon'; a clothing line with a fragrance.
Marzia also has her own blog titled "Marzia's Life", which she states is like a diary for her. She is constantly opening up about various things in life on the blog.
Furthermore, Marzia published a young-adult fantasy, horror novel titled 'La Casa Dei Sogni' in January 2015. The English version of the Italian book was published as 'Dream House: A Novel by CutiePieMarzia'.
Source: Marzia Kjellberg, Twitter
Marzia put her unique voice to use as well. She also voiced Carrie the Carrot in the animated web series 'Oscar's Hotel for Fantastical Creatures' and Maya in a six-episode series 'Pugatory' based on her own dog.
3. Marzia's not a Gold-digger. She Gave up her Paris Study Plans to be with Felix and Moved Around with him
Marzia and Felix met way before PewDiePie was world-famous and was challenging T-Series. Marzia's friend Dazio recommended her to watch one of Felix's goofy video gaming post on YouTube. Weirdly, she found it funny and started emailing in 2011. They bonded so well that Marzia even moved to Sweden to be with him in October that year. The long-distance relationship was quite difficult for them.
Before meeting the YouTube giant, Marzia's plan was to move to Paris and study art at a university. But none of it happened, and she has no regrets over her choice to move in with him.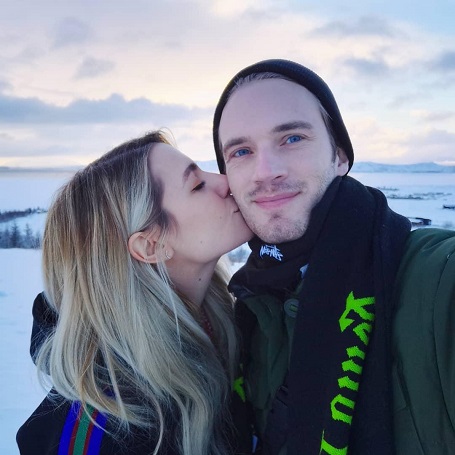 Source: Twitter
The pair later moved to Italy and settled for a while, but it didn't feel right for them. They decided a middle ground and chose to settle in Brighton, England. In the 'QnA with future Wifey' video of PewDiePie, they answered a query as to why they moved out of Sweden.
Marzia said, "We wanted a place where we could both speak and be independent, because in Italy you would have to lean on me, in Sweden I had to lean on you. So UK seemed like a pretty in between kind of place."
Watch: Felix and Marzia Kjellberg Answered Questions Before Marriage
The Kjellbergs have been through everything together, and it would be wrong to accuse Marzia of just going after the fame and money of her spouse. She worked hard for her own career and can pretty much live without him but she won't, because she is utterly in love with him. She made a point of it back in 2014 when she called out the critics with a now-deleted video.
2. The Pets That the Kjellbergs Care Together, Including a Hedgehog and a Toad
The blissful couple takes care of a number of different pets. They include three dogs and a hedgehog.
Watch: PewDiePie Crafts Outfits For His Pets
The first pet is a pug named Maya, often called as Puga-chan by Marzia. She is eight or nine years old and has a dark brown face. She even owns a song, 'Jabba the Hutt'. She is currently blind, a sign in aging dogs. She starred in the 'Puga Does Everything' series.
Ynk, a Yorkshire Terrier, was Felix's second pet which he inherited from his parents. It passed away on 27 February 2018. The two dogs Maya and Ynk appeared in the owners' videos quite often, and Maya was even given a high pitched voice.
The youngest of the dogs is another pug named Edgar. His full name is Edgar Allan Pug which Felix jokingly said was modified from poet Edgar Allan Poe to signify his breed. He is larger but younger than Maya.
In addition to the dogs, they own a hedgehog together named Dogy which they absolutely adore. In the video 'Crafting for my pets', Felix gave him a 'Sonic: The Hedgehog footwear'.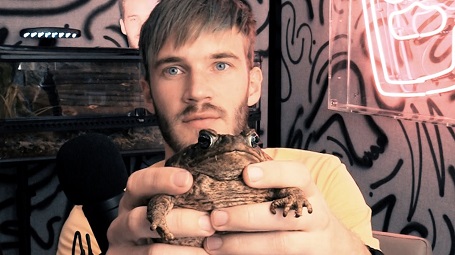 Source: PewDiePie, YouTube
The pair also previously owned a cane toad named Slippy since September 2016. He was named after the Star Fox character 'Slippy Toad'. It passed on 12 December 2017.
1. Marzia Struggle with Body Image in the Past. She is Covered with Tattoos Now
The fashionista opened up about her challenges with body image on her Marzia's Life blog stating that she was often insecure about her body. Her photo wearing a beret with "I'm Ugly" written on it was criticized and she used the opportunity to discuss it in the blog.
"It's no secret that growing up, I was very insecure about my body: all the girls in school started to develop, and I had no meat on me. All the clothes were too big, boys made fun of me for not having curves, girls teased me as well — and worst of all — teachers and grown-ups did so too."
Marzia now sees the beret as an achievement and has earned her status as a role model for her fans. She even reflected her will to overcome her shyness with a 'shy' tattoo and a 'twig' tattoo to represent herself as fragile. There are a total of 22 reported tattoos on her body, each of them of varying sizes and carrying some kind of significance.
-->