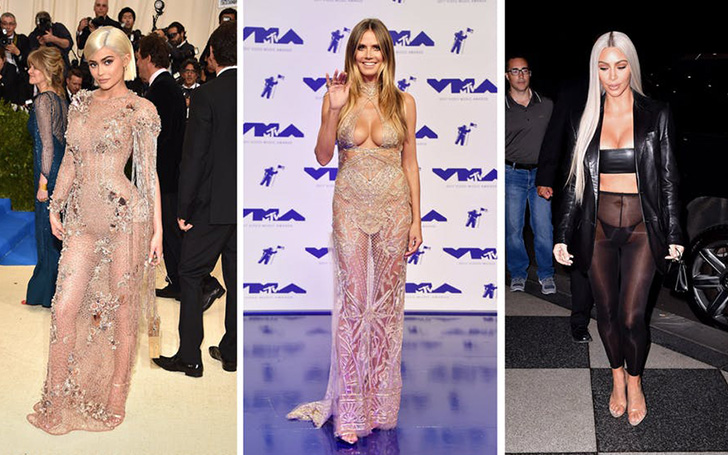 In recent years, one of the trendiest styles Fashion has perceived and witnessed is the semi-naked dress. In other words, it can be also called see-through dresses. From Hollywood to Bollywood, many celebrities have shown interests in these dresses. As a matter of fact, Celebrities can be regularly seen flaunting naked clothes in red carpets and casually in streets as well.
To name a few celebrities who presented themselves wearing naked clothes as a reference are Kendall Jenner, Bella Hadid, Jennifer Lopez, Rihanna, Blac Chyna, and Kim Kardashian.
To further begin on our today's topic, we would like to share some more information on these dresses. Because not only celebrities but regular people are also recently seen wearing these dresses to remain fashionable and to keep up with the trend.
And of course, why and who wouldn't want to wear these dresses? Such dresses that perfectly display your beautiful curves and skin. Besides that, the see-through dresses also manage to represent your body in an artsy form.
Furthermore, some of the females celebrities even reportedly revealed that these dresses make them feel elegant, confident, empowered and as well as gives them the freedom of expressions.
With no additional ado, here are some of the best-naked dresses you can also be able to wear whilst still keeping your body covered.
10. Rihanna's Swarovski crystals Fishnet Gown
Rihanna at the CFDA's 2014 Fashion Icon Award
SOURCE: Whoa Bella!
At the CFDA's 2014 Fashion Icon Award, RnB singer Rihanna attended the red carpet wearing a fishnet gown that was embellished with 200000 Swarovski crystals. The dress was designed by Adam Selman.
Just like Rihanna, You might as well wanna think about wearing these dress to attend your next event or a party. To accessorize the dress, consider using a furry shawl to add an extra glamorous look.
In case you're not confident enough to rock the dress as Rihanna did, wear matchable color undergarments underneath to coordinate the dress.
See Also: Discover Our Extensive Range For Women Knee High Boots
9. Paris Hilton's Elie Madi's Black Fishnet Dress
Paris Hilton attending the Golden Globe Award 2018.

SOURCE: Hawt Celebs
We couldn't miss the black fishnet dress which Paris Hilton wore earlier this year at the 2018 Golden Globe Award. The stunning black dress was designed by Elie Madi. With no doubt, we guarantee you that the dress is absolutely perfect for attending any party.
Other than that, with this see-through dress, your body somehow will still remain covered.
8. Jennifer Lawrence's see-through Ball Gown
Actress Jennifer Lawrence at the 2017 Venice Film Festival
SOURCE: Ca Style
We know that you guys already love this see-through ball gown by looking at the picture. This gown was worn by actress Jennifer Lawrence wore at the 2017 Venice Film Festival. But unlike Jennifer, you can lay your hair to get that stunning look. Do consider of getting such dresses to look like a modern princess.
FYI, The half-naked princess ball gown was designed by Christian Dior.
7. La La Anthony Magical Black Gown by Thai Nguyen
La La Anthony at the 2017 Met Gala
SOURCE: People
The long black gown worn by La La Anthony is just so magical and fabulous. And for a fact, we just know that you guys wouldn't miss a chance to flaunt this beautiful black gown designed by Thai Nguyen.
Also Read: Kim Kardashian Flashes Cleavage in Low-Cut Versace Minidress in New York Heads at the Italian Fashion House's Runway Show in New York
6. Chrissy Teigen's Black Long Slit Dress at the AMA 2016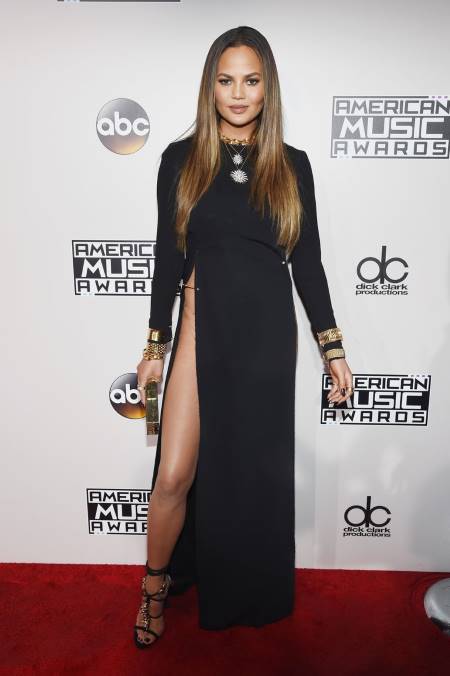 Model Chrissy Teigen at the AMA 2016
SOURCE: Cosmopolitan
We can not miss Chrissy Teigen's highest and the longest long slit black dress that she wore at the American Music Award 2016. You can def wear this dress that covers the whole area at the front but is revealing at the leg side with a very long slit. Go get it and look sexy as heck in it.
5. Jada Pinkett Smith White Skirt at 2015 Latin Grammy Award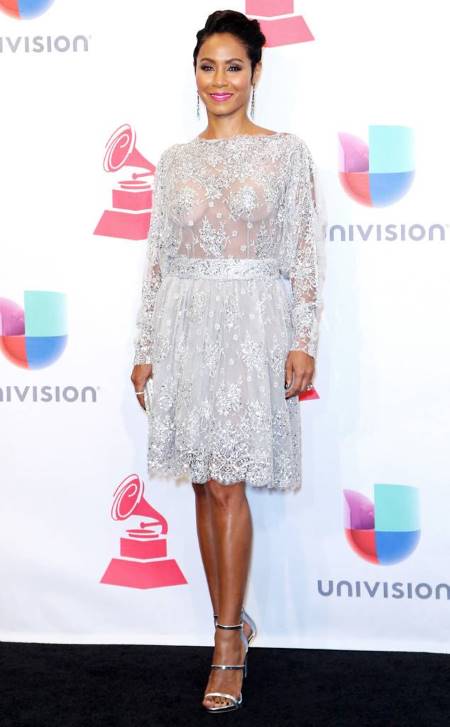 Jada Pinkett Smith at the Latin Grammy Award 2015
SOURCE: E-News!
A throwback to the time when Jada Pinkett Smith wore this white sparkling naked skirt dress at the Latin Grammy Award in 2015. And to this day still, we are madly in love with the alluring dress. Absolutely anyone can rock this white embellished skirt.
But, if you fear a nipple slip, then put on a white bra underneath.
4. Jennifer Lopez's Embroidered Red Gown at the Met Gala 2015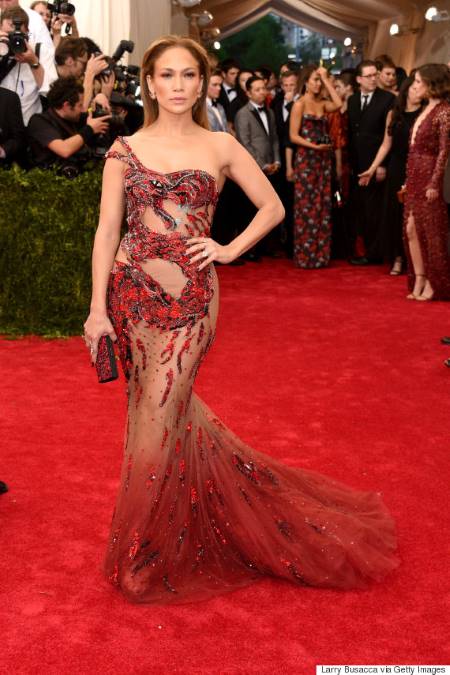 Jennifer striking a pose at the camera at the Met Gala 2015
SOURCE: Huff Post
The stylish and amazing red embroidered gown by Jennifer Lopez at the Met Gala 2015 still amuses us. The daring gown as described by Lopez with the feature of fishtail at the end is suitable for attending any event.
Can you dare enough like Jennifer did to wear it?
3. Kendall Jenner's Black See-Through Dress at the Longchamp 70th Anniversary Party.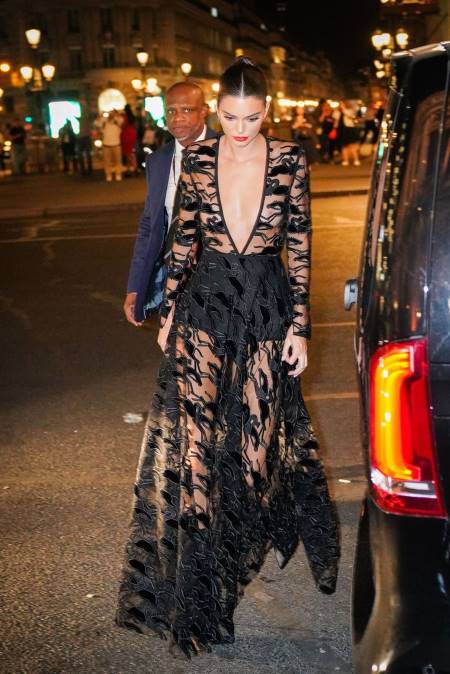 Kendall Jenner in Paris
SOURCE: Harpers Bazaar
Kendall Jenner who also can be regarded as one of the top celebrities who enhanced the trend of wearing a see-through naked dress formally at any events. Although Jenner has been seen wearing naked dresses at multi-events and shows, this one is still among our favorites.
And surely, as Jenner has also inspired many women in wearing naked dresses. We believe you belong to one of them too. Earlier she proudly showed her underwear At British Fashion Awards.
2. Kourtney Kardashian's Sheer Shiny Black Bodysuit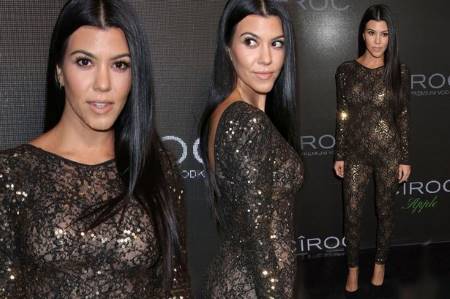 Kourtney Kardashian at an event
SOURCE: Mirror
Naked dresses don't always have to be a dress or a gown, as you see this one's Kourtney bodysuit. The better looking Kourtney Kardashian's sheer black naked bodysuit is something that is so endearingly beautiful.
You can also easily flaunt your body in this suit whilst it still remains covered.
You May Also Like: Candice Swanepoel Flaunts her Incredible Figure in Sexy Swimwear After Welcoming her Second Child
1. Beyonce's 2017 Met Gala Gown
Queen Bey at the Met Gala 2015
SOURCE: Vanity Fair
Plainly, the most stunning naked dress that has been ever created is the one Beyonce wore at the Met Gala 2017. This Givenchy dress will as well give you a dazzling look the same way it gave Beyonce.
So that's it, guys. Thank us later when you get one.
-->