Meet the 2020 Presidential Candidate and Author Marianne Williamson
Published Wed Dec 18 2019 By Sea
Marianne Williamson is actually an author before entering into politics. In fact, she's authored over a dozen books as she enters the 2020 Presidential Candidacy. Although she's been a matter of several controversies over the years, her measure of success is not hampered by those situations.
Born on July 8, 1952, Williamson's career started like no other. At one point of her early years, she'd lost $10,000 and failed to rent out a space for an event to cover the costs. Now, her net worth status has peaked into the millionaire bracket.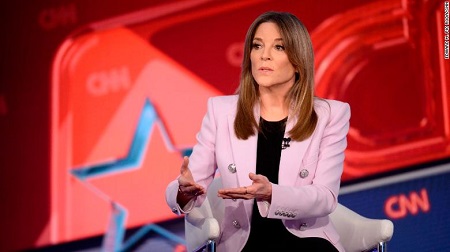 This is her second run for a public office.
Source: Edward M., CNN
Williamson is not going to quit the presidential run and has had help aplenty from supporters and donors. She's been traveling across the state of Iowa, gathering supporters for her 'Marianne Williamson for President' campaign. Her main agenda seems to be providing compensation to the black leaders for selected "economic and education projects". Plus, she wants to "harness love for political purposes" against Donald Trump, which was a hot topic for internet memes at the time.
Hollywood A-Listers Are By Williamson's Side
This presidential candidacy would be a second for the 67-year-old. She ran independently by representing California's 33rd congressional district in 2014. She self-funded a massive amount of $2 million for the campaign, supported by singer Alanis Morissette and politician Dennis Kucinich.
Williamson's always been somehow connected to Hollywood. In fact, Oprah Winfrey was one of her very first celebrity acquaintances. Her first book was the result of the connection. She was Winfrey's spiritual advisor.
Alanis Morissette is singing up Williamson in the 2020 Presidential Candidacy too.
Source: Justin Higuchi, WikiCommons
She's officiated the late Elizabeth Taylor's eighth, and last, wedding in 1991, with the speculation of her involvement in earlier weddings too. Kim and Kourtney Kardashian found her speech very inspiring during her first campaign.
Hollywood was shocked when she opened up about once being the roommate of two-time Oscar nominee and 'Big Little Liars' star, Laura Dern, when she was 31 and Laura, 18. Along with Morissette, Eva Longoria, and Jane Lynch also recorded endorsements videos for her first campaign.
Williamson Is Critical of Vaccines
Marianne Williamson is a subject of controversy in health ever since she shared her views against vaccination and on antidepressants back in June. She was polling at less than 1% at the time, but the conflict with the health department and many other significant individuals did not lead to the declination of her Democratic nomination.
After many pro-vaccine people called her out for not considering the importance of numerous advantageous vaccines saving lives, she took to Twitter to apologize for misspeaking things that indicated she questioned the validity of life-saving vaccines. Many still were not convinced of her non-skepticism, pointing out her previous criticisms of vaccinations as well.
13 Books Written; The First Inspiration Was from 'A Course In Miracles'
Williamson defines herself as a self-help guru, among many other things. She's big on spirituality. That's how she started out on Oprah's show, as a spiritual guide.
The presidential candidate was giving lectures on the book, 'A Course in Miracle' by clinical psychologist Helen Shucman, for many years before she released her own first book, 'A Return to Love' on the topic in 1992. Marianne was particularly interested in the fact that Shucman declared she'd been instructed by Jesus to write it.
Williamson's book somehow reached the hands of Winfrey, and she actually loved it. Oprah then invited Marianne to her show and gave away 1000 copies of the book on air. That year, she became a bestselling author.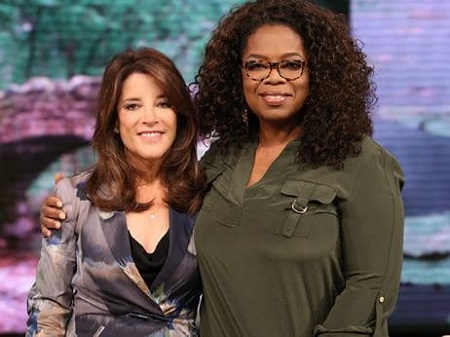 Oprah Winfrey brought Williamson into the spotlight.
Source: Supplied
Since then, she's written 12 more books — 'Imagine What America Could Be in the 21st Century: Visions of a Better Future from Leading American Thinkers', 'Emma & Mommy Talk to God', 'Healing the Soul of America: Reclaiming Our Voices as Spiritual Citizens', 'A Woman's Worth', 'Enchanted Love: The Mystical Power of Intimate Relationships', 'Everyday Grace: Having Hope', 'Finding Forgiveness', 'And Making Miracles', 'Illuminate: A Return to Prayer', 'The Gift of Change', 'The Law of Divine Compensation: On Work, Money and Miracles', 'A Course in Weight Loss: 21 Spiritual Lessons for Surrendering Your Weight Forever', 'Tears to Triumph: The Spiritual Journey from Suffering to Enlightenment', and 'A Politics of Love: A Handbook for a New American Revolution'.
Marianne Williamson's Net Worth Lies Between $700,000 and $2.5 Million
Wealth has never been a problem for her after getting out of her initial financial crisis. Money comes from many sides for her. While she made millions with her work, it doesn't all sit in the bank. She's kept it in mutual funds, money market & cash accounts and a handful of publicly traded stocks like Apple, Home Depot & VF Corp.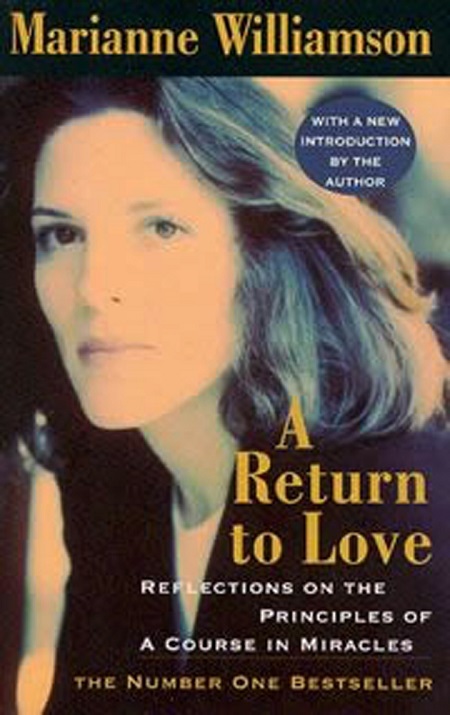 'A Return to Love' still keeps getting her a decent amount of royalties.
Source: Amazon
Williamson's books keep balancing her budget all year round. 'A Return To Love' brought in a minimum $100,000 in royalties in 2018 and early 2019. Including earnings from other books, she's earned $650,000 in 2018 and early 2019. Lectures and event ticket sales also fuel her wealth. From 2013 to 2017, she made $7.5 million in revenue by writing and speaking only.
The transparency of her financial reports provided a glimpse of her wealth. Forbes has the full details, including the ticket prices charged during her tour. Of course, taxes have a big influence on deducting the wealth to a not-so-insane value.
Stay tuned and connected to GlamourFame for more Entertainment content.
-->