59-Year-Old British Billionaire, Hamish Harding in Missing Submarine! Know About Harding Net Worth
Hamish Harding is an adventurer, pilot, and entrepreneur known for his passion for exploration and aviation. As the CEO of Action Aviation, he has a deep-rooted connection with the aviation industry and has been involved in numerous aviation-related ventures.
Harding has a strong desire to push boundaries and set new records, evident from his involvement in circumnavigating the world in a helicopter, breaking the previous record. With a spirit of adventure and a love for aviation, Hamish continues to inspire others through his daring expeditions and unwavering pursuit of new challenges in the skies.
Know About Hamish Harding's Wife and Kids
The tragic incident involving the Titan submersible marked the end of a distinguished explorer's life, Hamish Harding. In 1995, he married Linda Harding, and the couple decided to begin their life together in Dubai.
They have two children, Rory and Giles. While Hamish pursued his passion for record-breaking adventures, Linda chose to maintain a private life away from the public eye. Giles, following in his father's footsteps, shares a similar interest in exploration.
He showcases his adventures, including those with his father on the DSSV Pressure Drop, on his Instagram account @giles.explore. Together, the Harding family shares a love for discovery and adventure.
Billionaire, Bill Gates is in Love Again. Find Out Who is Bill Dating After Divorce From Melinda Gates
Wife, Linda Harding is a Divorced Woman
Prior to marrying Hamish Harding, Linda had already been married once before. Due to Linda's preference for maintaining her privacy, the details of her previous marriage and the identity of her former partner have not been disclosed in the media.
However, Linda has two children from her previous relationship named Lauren and Brian Szasz. When Linda and Hamish got married, he warmly embraced her children and welcomed them into their blended family.
Despite the secrecy surrounding Linda's past, her commitment to her children and their integration into her life with Hamish is evident.
Hamis Harding Was One of The Missing Passengers in the Titan Submarine
On June 18, 2023, Hamish Harding found himself on board the Titan, a submarine owned by OceanGate, Inc., with the purpose of observing the wreckage of the Titanic.
Tragically, during the expedition, the Titan lost contact with the surface ship MV Polar Prince. In response, search-and-rescue efforts were launched, involving water and air support from the United States, Canada, and France.
The mission aimed to locate and assist the stranded submarine and its crew. This incident brought about a sense of urgency and collaboration among multiple nations to ensure the safety and recovery of those on board the Titan.
Died in Titan Submarine Implosion
On June 22, just two days before Hamish Harding's 59th birthday, a debris field was found approximately 490 meters (1,600 ft) from the bow of the Titanic.
During a press conference held by the United States Coast Guard, it was confirmed that the debris was indicative of a catastrophic failure of the pressure hull, leading to an implosion and the immediate loss of all lives on board the vessel.
This tragic discovery marked the end of any hopes for the survival of those aboard the Titan. The news sent shockwaves through the maritime and exploration communities, leaving a somber reminder of the risks involved in deep-sea expeditions.
Hamish Harding's Past Ocean Experience
Hamish Harding, the renowned billionaire explorer, has a history of underwater exploration and has achieved two Guinness World Records in the process.
Alongside ocean explorer Victor Vescovo, Harding holds the record for the Longest duration at full ocean depth by a crewed vessel and the Longest distance traveled along the deepest part of the ocean. This feat was accomplished during their dive into the Mariana Trench, the lowest point on Earth.
In March 2021, Harding and Vescovo covered a distance of 4.634 kilometers (2.33 miles) during their remarkable 4-hour and 15-minute journey, setting the record for the longest duration at a full ocean depth. Their underwater endeavors showcase their passion for exploration and pushing the boundaries of human achievement.
Hamish Hardings Incredible Works and Achievements
Hamish Harding, a former managing director in the information technology industry, is a prominent figure in exploration and aviation. In 1999, he founded the private investment company Action Group, followed by the establishment of Action Aviation in 2002.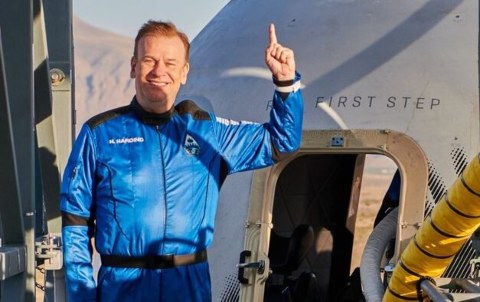 Harding's achievements include introducing the first regular business jet service to the Antarctic with the White Desert, multiple visits to the South Pole, and leading a record-breaking circumnavigation of the Earth via the North and South Poles in 2019.
He holds Guinness World Records for diving to the deepest point of the Mariana Trench in 2021 and flying to space aboard Blue Origin's New Shepard rocket in 2022. Harding is also involved in conservation efforts, notably transporting cheetahs from Namibia to India for a reintroduction project.
How Rich Was Hamish Harding?
Hamish Harding, a British businessman, pilot, and explorer, is recognized for his significant contributions to the fields of aviation and exploration. With a net worth of $1 billion, Harding has made a name for himself internationally.
His notable achievements include his involvement as the chairman of Action Aviation, a renowned private jet company, and his previous space travel experience with Blue Origin, founded by Jeff Bezos. Harding has also held a Guinness World Record for spending the longest duration navigating the deepest part of the ocean during a single dive.
While he gained widespread attention after going missing during the exploration of the Titanic wreckage in June 2023, his legacy as an accomplished figure in aviation and exploration remains intact.
How Does Hamish Harding Make His Money?
From a young age, Hamish Harding showcased an entrepreneurial spirit and a natural talent for spotting opportunities. He ventured into his first business endeavor while still in school, establishing a company that offered computer services.
This initial taste of triumph ignited his determination to delve deeper into the realms of the business world. As estimated, Hamish's overall involvement is more than $10 Million annually. Throughout his career, Harding has been engaged in numerous ventures spanning real estate, technology, and finance.
Through calculated investments and shrewd decision-making, he has accumulated considerable wealth, solidifying his position as a billionaire. His business savvy and willingness to take calculated risks have played pivotal roles in his journey to success.
For More Info On Different Celebrity Visit Glamour Fame
-->