Who is A J Buckley's Wife? Learn About His Married Life Here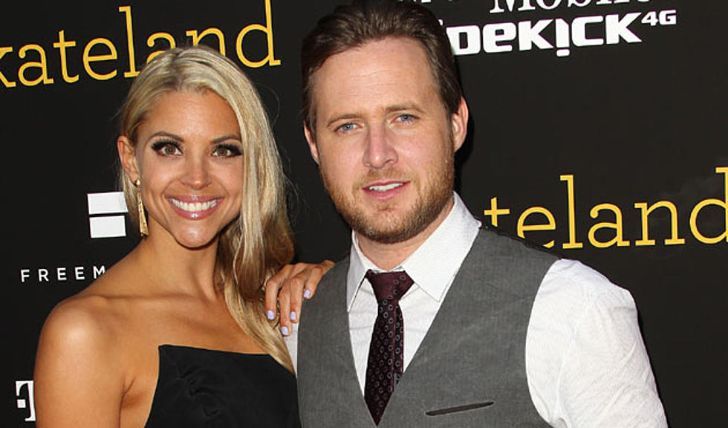 A J Buckley and Abigail Ochse Have been Together for over 20 Years: All Details Here!
The Irish-Canadian actor currently stars in the CBS military drama Seal Team- the fifth season of the series was recently released. A J Buckley started acting in his teens, and some of his earliest credits are The Odyssey, The X-Files, and Millennium. But Buckley scored his first starring role in the 1998 sci-fi thriller Disturbing Behavior, where he starred alongside Katie Holmes.
Alan John "A. J." Buckley was born on February 9, 1977, in Dublin, Ireland. Buckley's career took off when he was offered the role of Adam Rose in the hit crime drama CSI: NY. Offscreen, Buckley is engaged to stunning dermatology RN and lives a regular life with his fiance and three kids. All details ahead.
Inside AJ Buckley's Blissful Love-Life!
The Seal Team actor was in a long-term relationship with Abigail Ochse, a dermatology RN and blogger, before proposing to her during their vacation to Hawaii in December 2012. It is unknown whether the pair tied the knots as there were no official announcements, but Ochse refers to her family of five as the Buckleys.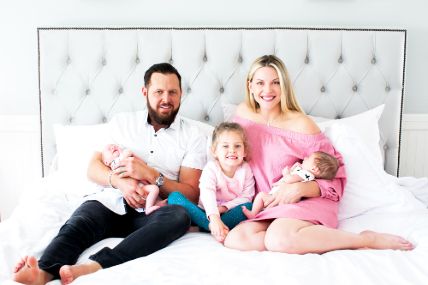 Buckley and Abigail got engaged in 2012.
Photo Source: US Magazine
On September 3, 2013, Buckley and Abigail revealed they were expecting a baby girl. Willow Phoenix arrived on January 19, 2014, in Los Angeles. The first time father tweeted, "Greatest moment in my life happened at 136am when my fiance gave birth to our daughter".
Don't Miss: Who is David Boreanaz's Wife? Learn About His Married Life Here.
Buckley and Abigail said they were over the top when they got pregnant again, and this time with a twin. The couple revealed they struggled with infertility for over a year. They were a few steps away from giving into Vitro fertilization when Ochse somehow got pregnant in October 2018. Their fraternal twins, Ranger Joseph and Bodhi Roberts, were born on March 5, 2018.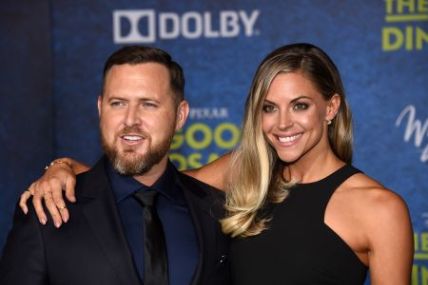 The couple welcomed a fraternal twin in 2018.
Photo source: ET Canada
Earlier this year, Abigail revealed, in her popular Instagram account @thechicmamas, that she and Buckley have bought a house together and are moving across the country. "We have been dreaming of owning a house together for such a long time, I'm proud of us and how hard we've worked to get here," wrote the mother of three.
Get to Know Abigail Ochse!
Abigail "Abby" Ochse, an oncology nurse and social media influencer is best known for being the founder of the popular blog, the Chic Mamas. Ochse moved from her hometown Kentucky to La La Land to pursue her career as an oncology nurse. As per sources, Aside from being a mother of three, and an influencer, Abigail still works as a nurse.
Ochse runs a successful blog called Chicmamas.
Source: The Paparazzi Gamer
She is also a Dermatology and Aesthetic RN and has released many supplements and skin boosters. In a recent interview with The Model Mama show, Abigail reveals how she juggles those various roles. "It takes a village and that's a completely valid statement," said the mother of three.
Recommended: Who is Will Poulter's Girlfriend in 2021? Learn His Dating History Here!
"Find your niche, finding your authenticity is so important and maintaining your own realness," says Abigail. She further adds, "you have to mourn your old life. No one can really prepare you until you're in it. It was a big transition that I don't think I was prepared for."
For more information and news on your favorite stars, stay connected to Glamour Fame.
-->