Actor and Producer Matt Damon Enjoys A Lavish Lifestyle with Wife and Kids; What Is The Figure of Matt Damon Net Worth?
Published Thu Jun 13 2019 By Andrew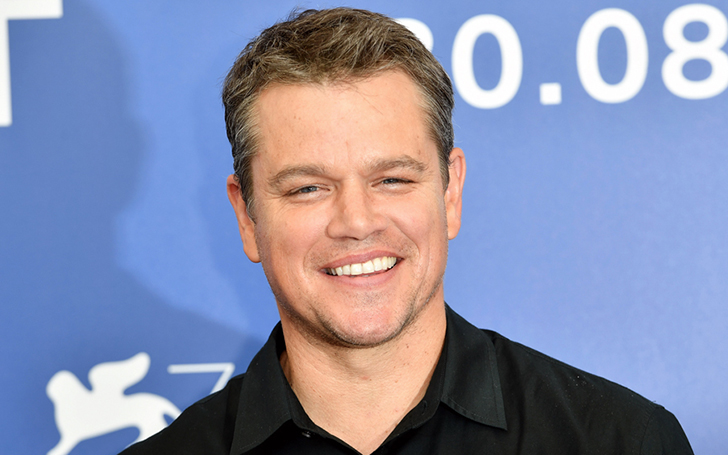 Many celebrities enjoy the taste of fame and glamour but only a few manage to capture the hearts of millions globally as Matt Demon has. Through his longstanding career, Damon holds a special place in the hearts of his fans through his charismatic roles in widely acclaimed movies.
With the help of his astounding career as actor, producer, and screenwriter, Matt garnered a lot of fame and popularity. Those aspects of stardom sure didn't leave out the money aspect as the star accumulated a massive fortune for himself. Through a hard-earned pile of dollar bills, Matt Damon enjoys a lavish lifestyle with his family.
The actor boasts an impressive net worth of $160 million. Let's dive deep into the elaborate comprehension of Matt Damon's wealth and its perks.
The 'Jason Bourne' Star is One of the Highest Grossing Actors of All Time
Matt Damon enjoys a successful career as an American actor, film producer, and screenwriter. Needless to say, this wide array of expertise helped him stack up a huge pile of greens.

Matt Damon is a prolific actor.
SOURCE: Variety
Damon boasts his name among Forbes magazine's most bankable stars. With massive hits like the 'Jason Bourne' series, 'Martian', and 'Oceans' series to his name the actor is undoubtedly one of the wealthiest celebrities out there. The movies went on to make it big on the box office earning of $ 1.636 billion, $630.2 million and $1.416 billion respectively.
Check Out: Top 10 Matt Damon movies
Matt got along with his friend Ben Affleck and co-wrote his movie 'Good Will Hunting' in the year 1996. The movie released in the year 1997 and did wonders at the box office department by making a worldwide collection of $225 million against $10 million budget.
Matt Damon's Real Estate and Cars
With the immense wealth, Matt is able to buy a lavish lifestyle for his family. The actor and his family of six currently live in a lavish estate located in a posh neighborhood of Los Angeles California. In fact, Damon purchased the property back in 2000 for a whopping $15 million.
Check out: The inside look into Matt Damon's house.
The 'Saving Private Rayn' star recently broke a record after purchasing the most expensive penthouse in Brooklyn, NY. The lavish triplex extended over the area of 6,218 square feet set back his bank account by a hefty $16.745 million.
Who Is Susan Pourfar? Everything You Need To Know About This Beautiful American Actress! >>>>
Apart from having a varied option on his abode, the prolific star also holds an astounding collection of rides. His car collection boasts sweet machines like Tesla Roadster which costs around $250 thousand, a Toyota Sequoia which is priced at $50 thousand, a 2019 Cadillac Escalade with the price tag of $75 thousand and the collection is completed by a Tesla Model S which costs around $150 thousand.

Matt Damon and his family.
SOURCE: Highlight
Apart from being a busy and invested actor, producer and screenwriter, Damon is also a family man who loves to spend time with his loved ones and indulges in various international vacations from time to time which is extravagantly lavish in nature.
-->