Who is Alaina Marie Mathers? How is she related to Eminem?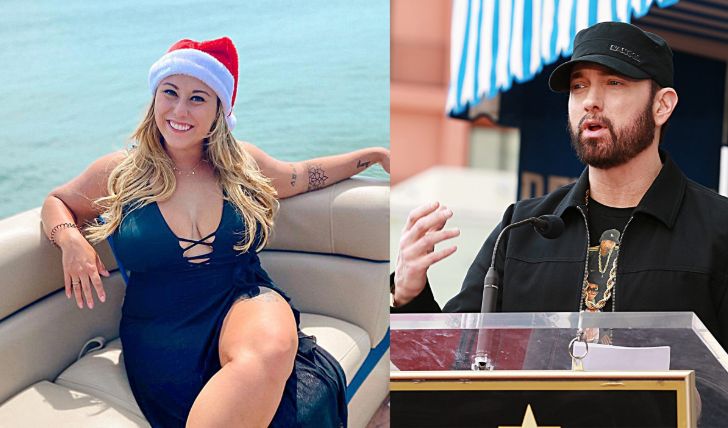 Get to know Eminem's adopted daughter, Alaina Marie Mathers: Complete story here!
Often dubbed the hip-hop god, Eminem's turbulent early life, further aggravated by the dysfunctional society, is often reflected in his best-selling music. The rapper often narrates how he has fought the countless odds to reach where he is today. Another aspect that Eminem continues to unveil in his music is his family. The rap god is a father of three daughters, one biological and two adopted.
Alaina Marie Mathers, 28, is Eminem's oldest and first adopted daughter. The Slim Shady singer is also a father to Stevie Lain Mathers, 19, his youngest adoptive daughter and a biological daughter, and the best known of all three, Hailie Jade Scott Mathers, 25. All three girls are intrinsically connected to Kim Scott, Eminem's ex-wife.
Alaina Marie Mathers is Eminem's Adopted Daughter!
Alaina is the least publicized daughter of Eminem. Unlike her two younger sisters, who've developed a striking fanbase as social media influencers, Alaina has kept her life low-key. Despite being an adoptive child to the rapper, Alaina was practically raised by Eminem and Scott. Eminem's venture into fatherhood began with his ill-fated relationship with Scott, who he met during high school and married in 1999.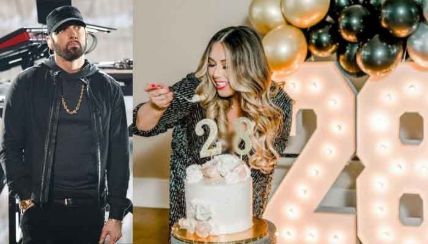 Alaina is Eminem's niece in relation.
Photo Source: The News
Eminem and Scott welcomed Hailie in December 1995, and Alaina ended in his lap amid his on and off and toxic relationship with Scott. The Lose Yourself singer decided to adopt Alaina, his niece by relation, when her mother, Dawn Scott, Kim's twin sister, passed away due to substance addiction in 2016. "Me and Kim pretty much had her; she'd live with us wherever we were at," the rapper once confessed.
Don't Miss: Who is Bethenny Frankel's Daughter? Inside Her Years-Long Custody Battle For Her Daughter.
The Oscar-winning singer once revealed that Alaina still calls him uncle. Eminem even referenced his relationship with Elaina in his big-hit, Mockingbird, the lyrics to which reads, "Lainey, (Elaina's pet name) uncle's crazy ain't he, yeah but he loves you girl, and you better know it." The song further revealed Alaina's good bond with Hailie.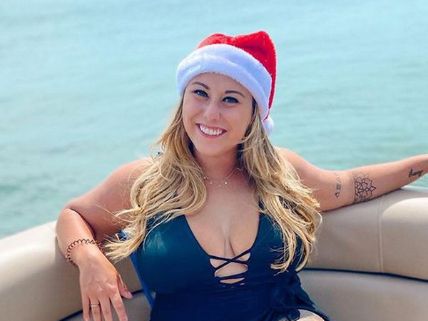 Eminem adopted Alaina after her mother passed away.
Photo Source: Daily Star
Alaina was born Amanda Marie Scott on May 3, 1993. Alaina graduated with a degree in communication from the University of Oakland. She is reported to have a twin sibling, Adam, who was born handicapped and is now raised by their biological father. Alaina recently got engaged.
Alaina Marie Mathers is engaged!
The 15-time Grammy-winning rapper will soon be walking Alaina down the aisle. She recently shared a significant milestone with her followers. Alaina took to her Instagram and posted a picture of her long-term boyfriend, Matt Moeller, getting down on his knees at a rooftop overlooking a city.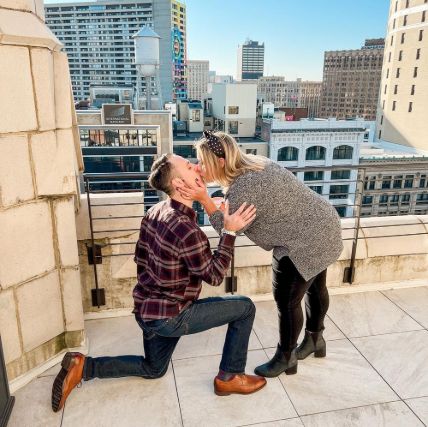 Alaine Marie Mathers is engaged to her partner Matt Moeller.
Alaine Marie's Instagram (@alainamariescott)
"This moment. this life, yes, a hundred times over. I LOVE YOU," Alaina wrote in the caption. The couple has been reportedly dating for seven years. In July this year, Alaina commemorated their 7th anniversary by posting a sweet picture with a heartwarming caption. "While my love for you has somehow grown over these last 7 years, one thing has remained the same – you are my favorite person," Eminem's daughter wrote.
Check Out: How Many Kids Does Nick Cannon Have? The Actor was Once Married to Mariah Carey.
For more information and news on your favorite stars, stay connected to Glamour fame.
-->