Alex Morgan's Tea Sipping World Cup Celebration Is Just Brilliant!
Published Wed Jul 03 2019 By Travis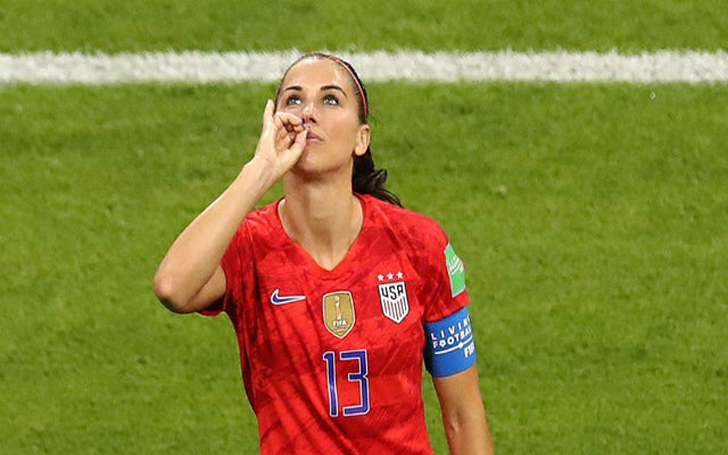 Alex Morgan seems to be having a lot of fun this World Cup.
USWNT has more talks about their on-field celebrations than their performances. The women's team is out making statements, but they are being overshadowed by weeks after weeks of outlandish and elaborate celebrations.
Everyone was up in arms when the American team was rubbing it in against Thailand, winning a match 13-0 and still celebrating like crazy way after the game was over on the field. That was not a good look for an accomplished team to humiliate a fellow nation like that.
But it seems they are not stopping, in the semifinals against their perennial rivals England, Alex Morgan, scored in the 31st minute. Then, she made her way to the sideline and appeared to put her fingers up to her mouth, in a gesture that suggested she was drinking a cup of tea.
It was a boss move by the striker, but still, the gesture didn't go down well with some. Tea, as you know, is the beverage that is synonymous with Britain and Alex sipping an imaginary tea was considered distasteful by British nationals.
The timing, though couldn't be ignored here, as the match came two days before the American Independence Day. On July 4, 1776, the British left America and independence were declared, so now America is sending England back home again from the world cup, and people can't stop drawing parallels.
Also Read: Is Real Madrid The Undisputed Most Glamorous Football Club In The World?
People were all over Twitter drawing comparisons to the Independence Day, check out some of the tweets below;
This is not the only controversial celebration as before this match, in the quarterfinals against France, Megan Rapinoe raised her arms to the sides as if taunting the president of the US, Donald Trump. Rapinoe had a war of words with Trump after she said that she would not go "to the fucking White House" if the national team wins the world cup. Donald Trump responded in a flurry of tweets (like he always does) saying they should finish the job and bring home the trophy before opening her mouth.
Also Read: MLB Pitcher Tyler Skaggs Found Dead in his Hotel Room; He was 27
Alex did respond after the game regarding her celebration, she said, "[Megan Rapinoe] has so many celebrations – no one asks her, but I have one, and everyone wants to know," she joked. "I felt like England had a great game," she continued "They were unlucky. It came up huge for us with the penalty save."
Watch: The highlight of game between England and USA
This has been a controversial world cup for the Women's national team, and they seem to be continuing on their provocative way as they prepare for the finals. It will be an exciting battle for the team as they try to shut up all the naysayers and doubters and make a statement against the soccer federation of America regarding the pay gap between men and women's team.
America will meet either Netherlands or Sweden in the finals.
-->