WWE Diva Alexa Bliss Announced The Pregnancy With Husband, Ryan Cabrera! Know All The Exclusive Details
WWE Diva Alexa Bliss Joyfully Reveals Pregnancy with Husband Ryan Cabrera: Get the Inside Scoop.
Alexa Bliss, born on August 9, 1991, is an accomplished professional wrestler and actress from the United States. She has made a name for herself in the world of sports entertainment with her exceptional skills, captivating persona, and undeniable talent. Bliss began her wrestling career in 2013.
Quickly she rose to prominence, becoming one of the most recognizable and successful female competitors in WWE (World Wrestling Entertainment). With her combination of athleticism, charisma, and in-ring prowess, she has held multiple championships and has been a key figure in the women's wrestling revolution. Alexa continues to be a beloved and influential figure in the world of professional wrestling.
Alexa Bliss and Ryan Cabrera Are Expecting Their First Child
Alexa Bliss, the WWE star, and Ryan Cabrera, the "True" singer, have recently shared the exciting news that they are expecting their first child. The couple, who got married just over a year ago, revealed the surprise pregnancy earlier this year.
Alexa, 31, expressed that they were completely taken aback by the news, as they hadn't been actively trying to conceive. However, despite the unexpected nature of the pregnancy, the couple is overjoyed and couldn't be more excited about becoming parents.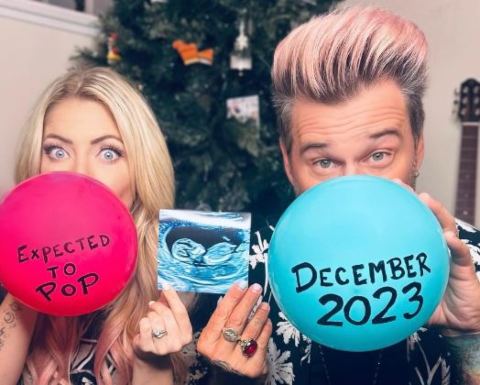 When they discovered the news, Alexa and Ryan, 40, were quick to share it with their families. They immediately FaceTimed Alexa's mother to let her in on the surprise and then informed Ryan's family as well.
Also see: Becky Lynch Reveals She is Expecting, Who is WWE Superstar's Husband? Find Out About Her Married Life!
The couple's announcement has undoubtedly brought about a wave of happiness and anticipation as they prepare to welcome their little one. Alexa and Cabrera are now eagerly looking forward to this new chapter in their lives, embracing the joy and excitement that comes with expecting a baby. The pair further added that they will host the reveal party in L.A. and in Orlando.
Exchanged Wedding Vows With Husband, Ryan Cabrera
Ryan Cabrera and Alexa Bliss finally accepted one another as lifelong partners. On April 9, 2022, they accepted one another as husband and wife. Ryan's representative confirmed the news to through various medias.
The wedding took place at the Kempa Villa in Palm Desert, California, in the presence of their loved ones. Ryan humorously described the event as a "self-deemed s--show."
The couple exchanged their vows in a ceremony that brought together their friends and family, creating a special and memorable moment to mark the beginning of their married life.
Wedding Details
In addition to their wedding ceremony, Ryan Cabrera, the musician, showcased his talents by composing a song titled "Worth It." This heartfelt composition played a significant role in both their engagement and wedding.
When Ryan proposed to Alexa Bliss at Walt Disney World in November 2020, he chose this song as the backdrop for the special moment. Furthermore, "Worth It" was also played as Alexa walked down the aisle during their wedding ceremony.
The song added an extra layer of sentiment and personal meaning to these significant milestones in their relationship, highlighting their deep connection and love for each other. Ryan's musical contribution further enriched the overall ambiance and emotions of these cherished events.
Guest List and
Following their enchanting ceremony, the wedding reception took on the atmosphere of a captivating rock concert. Some of Alexa Bliss's favorite bands, including Yellowcard, Bowling For Soup, Hot Chelle Rae, We The Kings, and NSYNC, performed live to entertain the guests.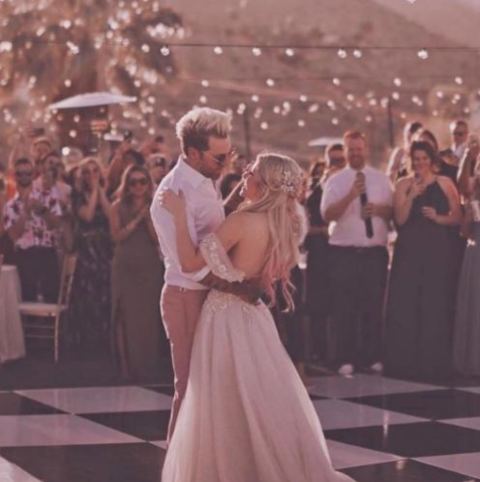 Alexa, whose real name is Alexis Kaufman, shared a clip on her Instagram Story featuring Chris Kirkpatrick, Lance Bass, and Joey Fatone from NSYNC singing their hit song "Bye Bye Bye." In the post, she expressed her excitement, confirming that NSYNC indeed performed at their wedding.
Another video showed Alexa joyfully dancing along with the group, embracing the opportunity to groove to the iconic choreography. The reception turned into a lively and memorable celebration as the talented bands took the stage, creating an electrifying atmosphere for the newlyweds and their guests to enjoy.
Who is Alexa Bliss's Husband, Ryan Cabrera?
Ryan Cabrera is an American musician and singer-songwriter known for his catchy pop-rock sound. Born on July 18, 1982, in Dallas, Texas, Cabrera gained recognition in the early 2000s with his hit singles such as "On the Way Down" and "True."
With his distinctive voice and melodic guitar-driven songs, he captivated audiences worldwide. Cabrera's music combines elements of pop, rock, and acoustic styles, showcasing his heartfelt lyrics and memorable hooks.
Beyond his musical talents, he has also made appearances on reality television shows, further expanding his reach. Ryan Cabrera continues to create and perform music, leaving a lasting impact on the music industry.
Previously Engaged To WWE Star, Buddy Murphy
Alexa Bliss was previously engaged to fellow professional wrestler Matthew Adams, known as Buddy Murphy or Buddy Matthews.
However, their engagement ended in 2018, but they maintained a friendship afterward. During their time together, they shared a pet pig named Larry-Steve. Tragically, the pig passed away on May 25, 2021.
The details surrounding their engagement and the subsequent end of their relationship were not provided, but it appears that Alexa Bliss and Buddy Murphy have moved on amicably while cherishing the memories they shared.
Visit Glamour Fame For More Content.
-->