Amanda Holden Vows She Would 'Never Leave The House In My Pyjamas' And Always Tries To Look Good
Published Mon Jun 17 2019 By Andrew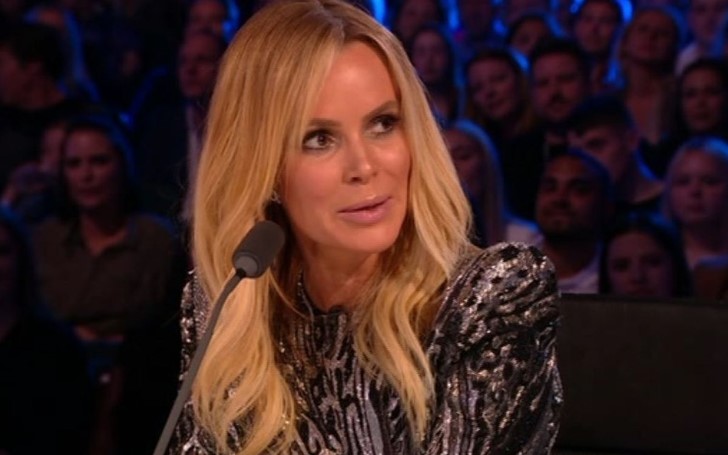 Amanda Holden maintains that she always tries to look good and would never leave the house in pajamas.
Although daring outfits of Amanda Holden often catches the eye of the critics who are waiting on a chance to jump on her with the bashing, she recently maintained that she will always try to look good to preserve her dignity. As a matter of fact, her outfits on multiple occasions have even provoked complaints to Ofcom.
The blonde Britain's Got Talent judge garnered a phenomenal level of controversy as she rocked a bold ensemble on the show. Nonetheless, Holden remains insistent on the claim that she always remains "mindful" of how she presents herself to the world and would never even consider stepping out her front door in her pajamas or the like.
Amand is known for rocking daring outfits to the show
Source: The Telegraph
In an exclusive interview and photoshoot with HELLO! magazine, Amanda gushed,
"There's no way I'd step out in my pyjamas or rock up without a lash. To preserve my own sense of dignity, I always try to look good. My nan Ethel used to tell me 'never let your husband see you without lipstick'."
The television presenter went on to add that she is really mindful in the looks department while she goes out and also credited that to be the reason for how well she is photographed every day.
One episode of the ITV show this year saw her giving utter justice to a spider's web-inspired dress which undoubtedly became the talk of the town with a few complaints to broadcasting watchdog Ofcom.

Amanda's recent gown that garnered a lot of controversies.
SOURCE: Amanda Holden's Twitter
Going back to 2016, a plunging gown she wore on the show also garnered a lot of complaints back then.
The 48-year-old television personality also let the publication in on the secret to her decade long marriage. The secret ingredient that glues her to partner Chris Hughes - Laughter.
-->