Are Bryan Cranston And Aaron Paul Dropping Clues About The Breaking Bad Movie?
Published Thu Jul 04 2019 By Travis
The teasing game, it seems, is not over!
The teasing game is in full swing for the Breaking Bad movie; it seems like the two leads of the series are posting cryptic tweets again. Bryan Cranston and Aaron Paul have sent out another co-ordinated tweet plus Instagram post that is making everyone scratch their heads.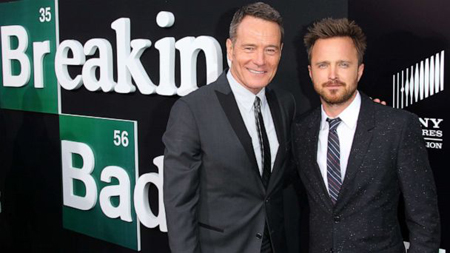 The teasers are following a trend, and this leads us to believe that something from AMC is on the way. The series ended in 2013, and the rumbling for a movie has been going on ever since. The series has been an open secret for so long that everything at this point feels like a teaser to the new movie.
This week it was a post that showed Bryan and Aaron crossing a river with both of them holding their shoes as the scenery looks like a Mexico town. The post reads a simple caption on Instagram and Twitter, "Even Sooner."
This one follows another post, the two lead actors who play Walter White and Jesse Pinkman in the show, made on social media platforms which showed two donkeys with the caption "Soon." This is all very cryptic, and the directors and writers and the marketing departments are doing an outstanding job of keeping everything close to the chest.
We heard rumors that the show started production in New Mexico back in November 2018 and ever since then we are chomping at the bits for any little information. The Albuquerque Journal uncovered a logline for the Breaking Bad movie that will "track the escape of a kidnapped man and his quest for freedom."
If you haven't seen Breaking Bad season five by now then there will be some spoilers now, but do you know what, it has been six years since the series went off the air. If you haven't seen it by now, then we have no qualms about spoiling the series. At the end of season five, Jesse gets in Uncle Jack's car and makes a run for it as Walter returns to the yard in a bid to save Jesse.
Watch: The final moments of Breaking Bad season 5
Jesse escapes the cops, and as he is hysterically banging the dashboard of the car, we see Walter lying on the floor with a bullet wound as he slowly dies. The problem with this photo is Bryan Cranston is back in the picture, whether he is in the movie is to be seen, but this picture is confusing.
Bryan has said that he is interested in returning to the show, but that was up to the writers to decide how they want to bring him back. He may come back in a flashback, but the photos in the posts show he is in a very different getup and how will the flashback even work is a question that we need some answers to.
We here are not very big fans of flashbacks in brilliant shows, (see Game of Thrones season 5 episode 1) but we are ok for Bryan to return, but these cryptic tweets are just getting on our nerves a little. If it turns out they are doing some kind of advertisement together; then there are going to be a lot of angry people around.
There is some hope that the posts are related to the movie; first, the two posts came in within precisely a week of each other. Mark the calendar for July 9 as we have a sneaky feeling something will be coming then, but it feels like they are setting up breadcrumbs because if they release another photo on July 9, it will be about a week before the San Diego comic-con. And what better place to premiere the first look of the movie, then in front of adoring fans inside a packed hall at the comic-con.
All roads are leading to comic-con, so maybe we won't be seeing anything before that, but just in case, set a reminder for July 9.
-->