Who is ASAP Rocky's Girlfriend in 2020? Find Out About His Relationship
Here's what you should know about ASAP Rocky's relationship and girlfriend in 2020.
ASAP Rocky (stylized as A$AP Rocky) (born Rakim Athelaston Nakache Mayers) is an American rapper, singer/songwriter, record producer, model, and actor. ASAP is known for being a member of A$AP Mob, a hip-hop collective formed in 2006 in Harlem.
Asap, moreover, came into prominence through his 2011 mixtape, 'Live. Love. A$AP' which was a massive success leading him to bag a record deal with Polo Grounds Music, RCA Records, and Sony Music Entertainment.
Following his record deals, ASAP released his first studio album 'Long. Live. A$AP." came out in 2014, which became certified double platinum by the Recording Industry Association of America.
One of the songs from Asap's first album, "F**kin' Problems," was nominated for 'Best Rap Songs' at the 2014 Grammy Awards. Well, that was the start of the reign of Rocky, after which he never looked back. Since we all know about his career, how well do you know about ASAP Rocky's personal life? Do you know whom he is dating in 2020? Let's find out.
ASAP Rocky GIrlfriend in 2020; Who is He dating?
Certainly, there's a long list of celebrities ASAP Rocky has dated in the past. But what about the present, does he have a girlfriend right now? Well, the answer is yes. ASAP is currently in a relationship with Rihanna. Of course, one needs no introduction as to who Rihanna is, do you?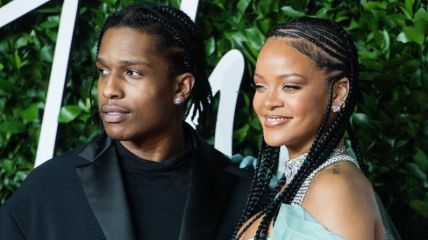 Asap Rocky and Rihanna have been dating since 2013.
Photo Source: BBC
It is not that the couple has been in a romance for a few years. In fact, they first began dating in 2013. So it's been almost a decade since their love journey!
Also Read: Who is Luka Doncic Girlfriend in 2020? Find Out About His Relationship!
One can imagine how strong their bond has been over the years. Not many in the music industry can boast when it comes their love life!
What Do The People Close to the Alleged Couple Claim About Their Relationship?
The alleged couple, however, denied the two are dating, during the time sources close to the couple said, "She just got out of a long intense relationship with Hassan. She wants to be single and isn't going to jump into something."
Watch: Rihanna MOVING ON WIth A$AP Rocky As the Relationship HEATS UP Quickly!
The sources further added, "She's hanging out with ASAP Rocky, but she is not dating him. They have a long history and she's just having fun."
Well, indeed, Rihanna was in a relationship with billionaire Hassan Jameel since 2017 but called it off in January of 2020. The same month she was spotted with ASAP Rocky, so at this, we can't really claim if the two are dating, but from what we saw, they could be having a fling or something.
You May Also Like: Who is Jared Goff's Girlfriend? Find Out About His Relationship in 2020
For more information on your favorite celebrities' lifestyles and other news, stay tuned to Glamour Fame, and don't forget to sign up for the newsletter.
-->