Rakim Mayers, famously known as A$AP Rocky, comes under widely-known artists in the music industry. ASAP Rocky is renowned for his experimental approach to music, his flair for fashion, his penchant for psychedelic drugs and his prolific love life.
The American rapper burst on the music scene in 2011 soon after released his chart-topping albums' Long.Live.A$AP' and 'At.Long.Last.A$AP.'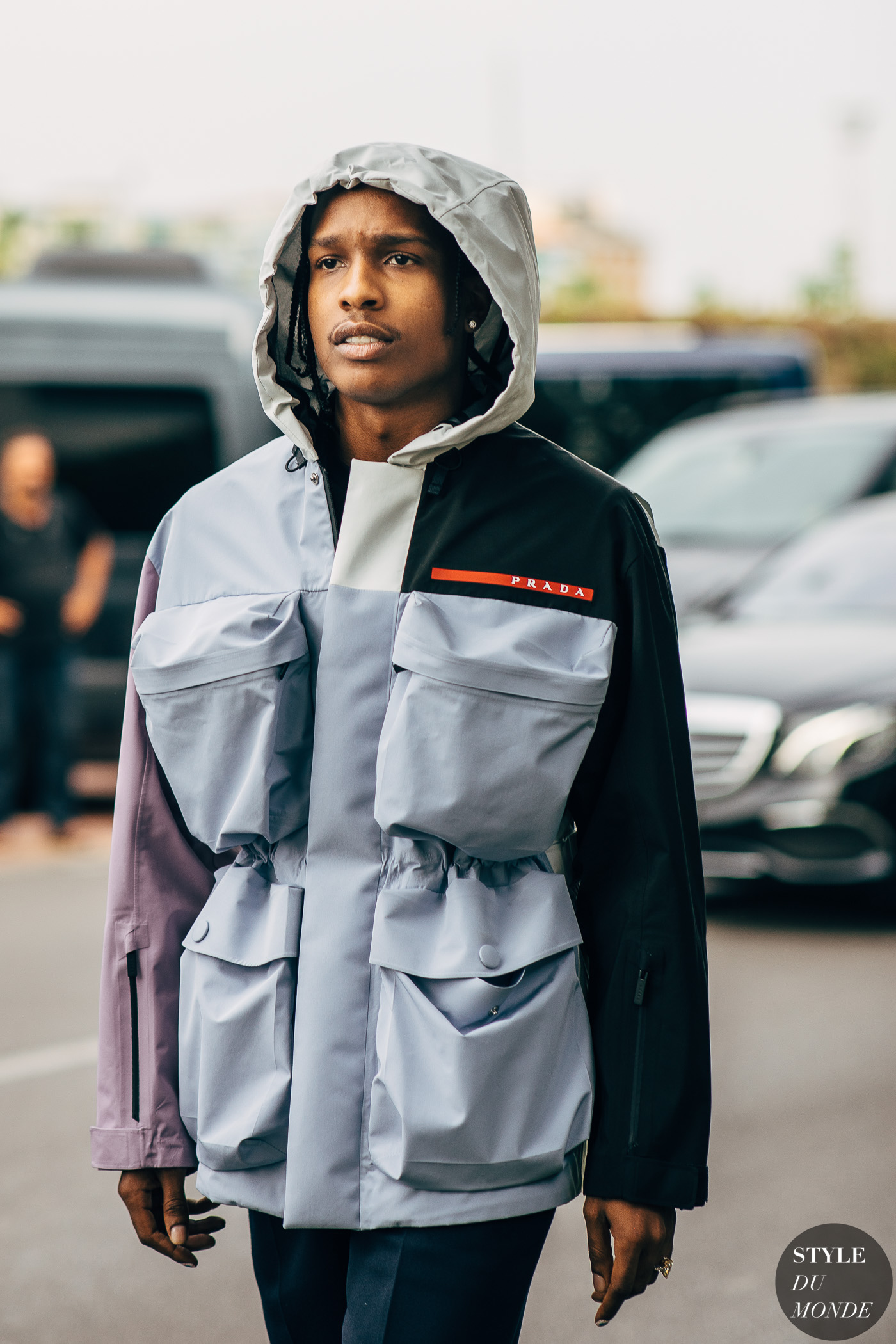 A$AP Rocky Milan SS 2020 Street style.
Source: Style du Monde
Artists in the rap game are known to have tattoos sometimes just for the 'look' or being expressive about their art and creativity. A$AP is no different, he's got prominent tattoos on his body, which symbolizes certain things he believes in.
ASAP Rocky Tattoos
ASAP Rocky is the most successful member of A$AP Mob who has always been in the limelight because of his unique style of music, his great sense of fashion (which helped him to gain high profile brand collaborations)
Watch: A$AP Rocky's Live. Love. ASAP
According to Body, Art Guru, the rapper all together has nine different tattoos.
1. Cross Tattoo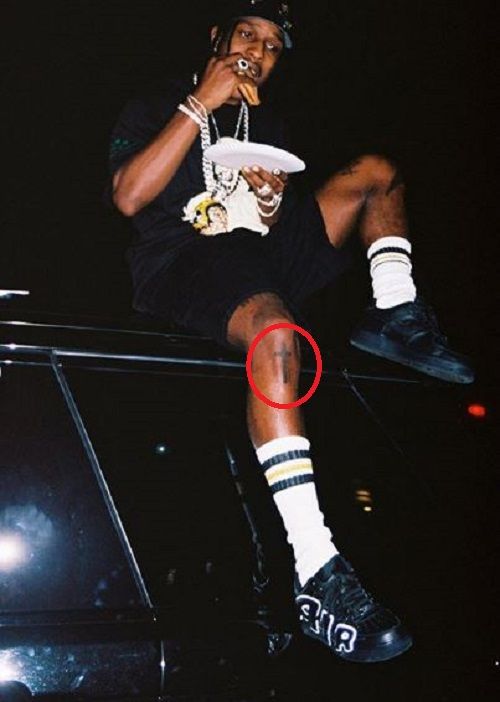 ASAP Rocky cross tattoo.
Soucre: Bodyartguru
There is a tattoo of a 'Cross' on his right knee, which represent the spirituality and religion beliefs. It refers to the crucifixion of Jesus and faith in him. The rapper also made a song 'On God' along with Asap Ferg, YG, and Tyga expressing his spirituality and trust on the divine power.
2. 'Vlone' Tattoo
Asap's Vlone tattoo.
Source: LA Times
The rapper's got 'V' tatted behind his left ear. 'VLONE' is a streetwear clothing label founded by ASAP K, a fellow member of A$AP Mob, in 2011. ASAP Rocky is also a member of A$AP Mob.
Rocky shows immense love and support towards his gang, and the Tattoo is just another way of showing appreciation.
3. Anarchy Symbol Tattoo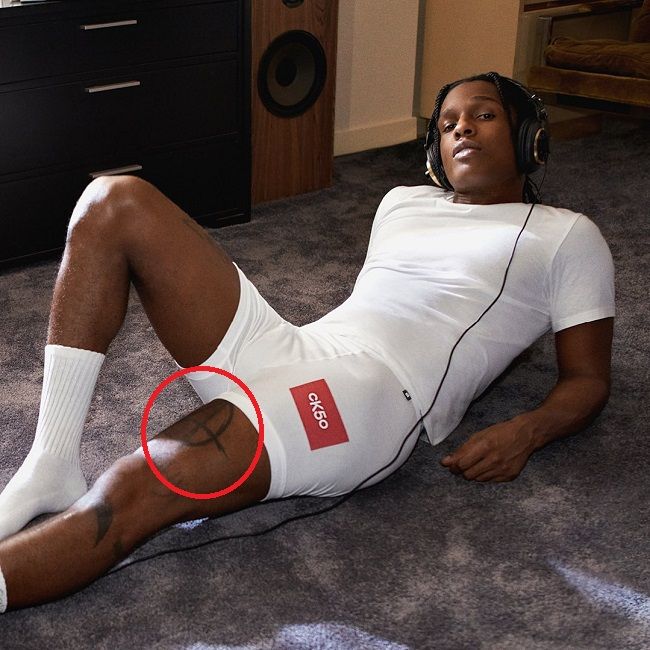 Asap Rocky Shoot.
Source: Pinterest
There is the Anarchy symbol tattoo on his left thigh. Anarchy refers to a group of people without any governing bodies who reject hierarchy. The rapper's merch also has an anarchy symbol.
4. ANARCHY Tattoo
ASAP's anarchy thigh tattoo.
Source: Bodyartguru
The rapper's got another 'ANARCHY' tattoo near his left knee. In an interview with Vice Asap, said, "I'm an anarchist man, I'm all about the people who don't give a fuck about colors and all of that dumb shit. You know it sounds good, especially me in my position saying it, but even if I were poor, I would still be saying it."
5. 'if not now then when' Tattoo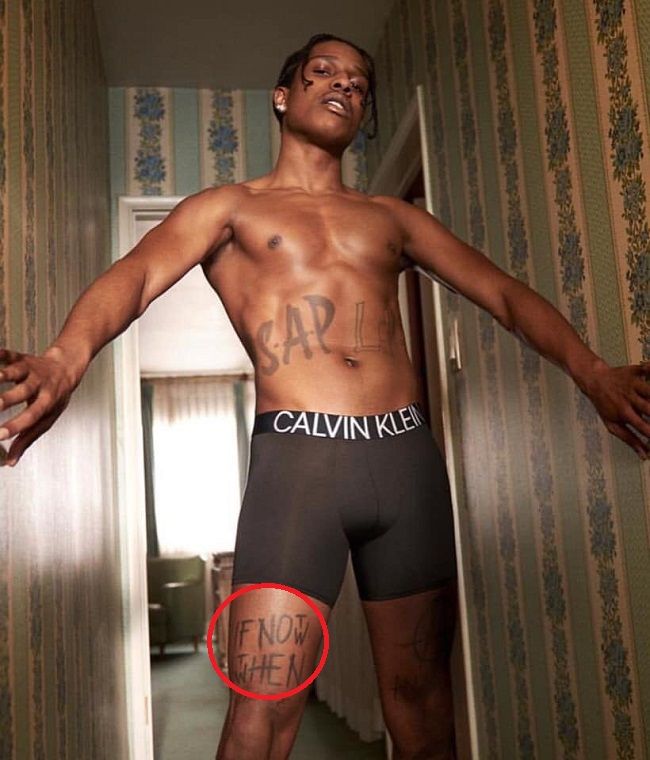 ASAP Rocky for Calvin Kelin.
Source: pinterest
If not now then when is tatted on the rappers right thigh. Generally, "If Not Now Then When" is used as a motivational quote which prompts a person to take immediate action on any task or job that they know that they inevitably will have to complete or take action on at some point in time.
6. ASAP Rocky Stomach Tattoo
Asap Rocky stomach tattoo.
Source: bodyartguru
'ASAP life' is tatted across his stomach. A$AP mob is an American hip hop collective formed in 2006. Although ASAP Rocky was not one of the founding members of the group, the rapper is one of the most famous members of ASAP mob.
7. 'Dare' Tattoo
Dare Tattoo.
Source: Bodyartguru
The word 'Dare' is tattooed just above Rocky's right knee, right below the 'if not now then when' Tattoo. Generally dare refers to having courage to do something, rocky is known to have rebellious ideas and dare is just something that's adds up to it.
8. Pirate Tattoo
Rocky's knee tattoo.
Source: Pinterest
The 31-year-old has a Pirate tattoo near his left knee. Pirates is considered to be hardened by nature; the Tattoo can also be used to show the unshakable attitude of the person wearing it. The tattoo can also symbolize courage and determination.
9. Unidentified Tattoo
Asap rocky's hand tattoo
Source: Bodyartguru
The rapper's got an unknown tattoo on top of his left hand, which is unidentified.
ASAP Rocky Hand Tattoo
A$AP Rocky released his mixtape 'Live. Love. A$AP' in the year 2011. The mixtape's music incorporates stylistic and production elements of hip hop scenes distinct from ASAP Rocky's hometown New York scene, mainly Southern hip hop. 'Live. Love. A$AP' was also nominated for the best mixtape in the BET awards.
Rocky's ex Iggy got tattoos to honor him for the album.
For the success of the album, the rapper's former girlfriend, Aussie rapper Iggy Azalea got Tattoo on her fingers, which had 'Live. Love. A$AP'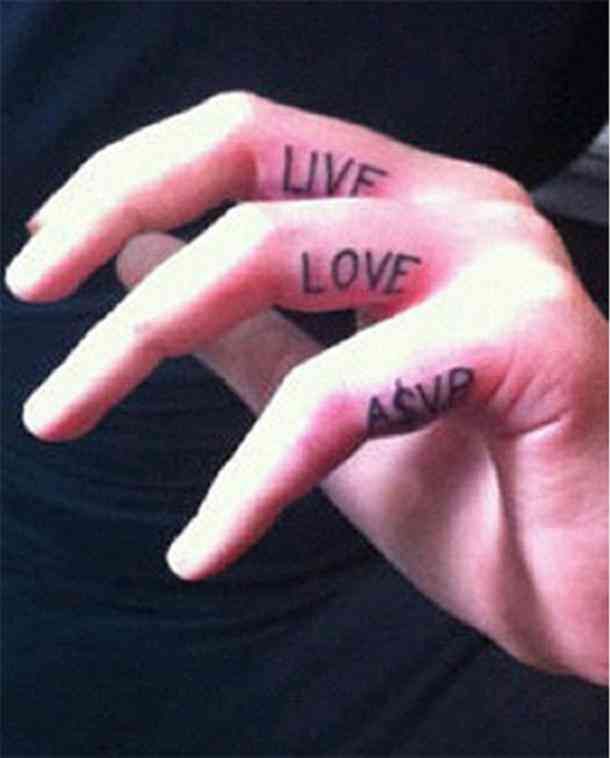 Iggy Azalea's finger tattoo for A$AP.
Source: Pinterest
Back in the year 2012 rapstress revealed in an interview that Iggy and A$AP have taken their relationship to the next level and have gotten matching tattoos.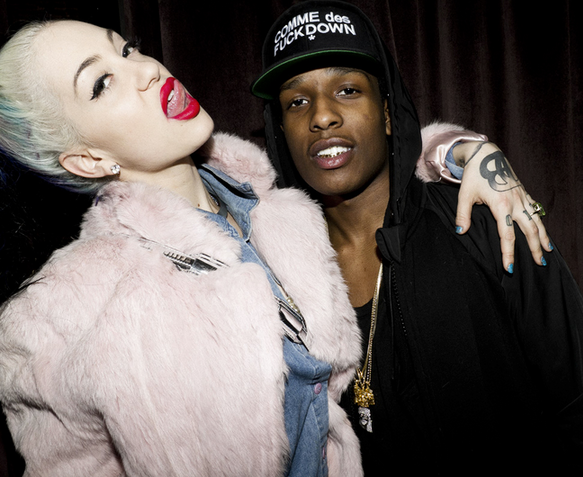 Asap Rocky with Iggy Azalea.
Source: channelone
The Australian rapper was in a high-profile relationship with A$AP Rocky, and she wanted to honor their commitment by getting "Live" "Love" and "A$AP" tattooed across her fingers.
Azaela is now engaged to NBA player Nick Young and began the tattoo-removal process back in 2014. Though her reps have not confirmed the tattoos are completely removed, the photos are leading many people to believe they're finally gone.
Find out: A$AP Rocky Has Officially Been Charged With Assault In Connection To An Incident In Stockholm
Asap Rocky is one of the prolific artists in the music industry today. Many fans has gotten his face tattooed. Also, people are fond of the kind of tattoos he has on him, rappers like Post Malone, Lil Yachty, Lil Peep are famous for their extravagant tattoos.
Rocky isn't there on the tattoo spectrum yet, but there might be an Instagram post of him getting a fresh new ink.
Tune into glamourfame.com for more stories on your favorite celebrities.
-->