Is The Aussie Teen Angourie Rice The Future Of Hollywood?
Published Wed Jun 12 2019 By Jessica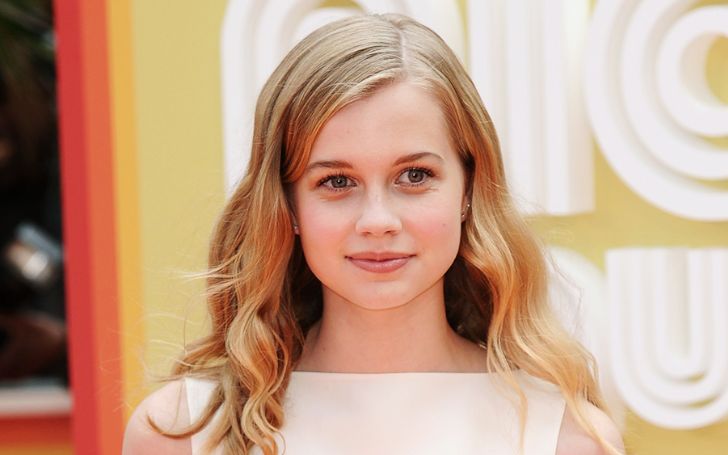 Australian Teen actress Angourie Rice who portraited Rachel in Black Mirror new season' ep 3 is the future of Hollywood.
Angourie Rice recently seen at the Black Mirror's season 5's new episode where she portrays a teenage girl and a massive fan of a pop singer 'Ashley O' portrayed by Miley Cyrus, is on the height of achieving more success in Hollywood.
Born on 1st January 2001, Rice, at only 18, already made her appearance in several hit films including 'Spider-Man: Homecoming', 'Every Day', 'The Beguiled', and 'Nowhere Boys: The Book of Shadows' since her debut in the 2003's thriller film, 'These Final Hours'.
Black Mirror, a Netflix original series, showcases Angourie Rice as Rachel Goggins, an anti-social student whose escapism to the reality is her idol, Ashley O's, her music and a virtual assistant device version of Ashley, 'Ashley Too', a similar device to Alexa, who can communicate with her anytime she wants.
Angourie Rice (in the middle) alongside Miley Cyrus and Madison Davenport on the set of Black Mirror.

SOURCE: Netflix
With the passing away of her mother and an ordinary life with her father and a totally opposite sister, 'Jack', portrait by Madison Davenport, life starts to get much better for Rachel after her dad gifts her Ashley Too on her birthday until one day she learns the disastrous news that her idol fell into a coma.
The respective episode not only gained popularity, hype, and attention because former Disney alum Miley Cyrus is in it but the equal contribution of the rest of the casts including Marc Menchaca, father of Rachel and Jack, and Susan Pourfar, the abusive aunt of Ashley O and the main villain of the story.
As for Angourie Rice, to achieve such success in just a short period of time in Hollywood is no joke. Not only she gained the attention of film director and producer, but she also managed to attract thousands of fans.
In fact, Rice already collected a fan of more than a hundred of thousands on Instagram where she constantly updates her fans with her whereabouts.
Surely, being born into parents who work as a director and writer parents made it easier for Angourie to get her to where she is today, but one can't turn their eyes blind to the talent of this young girl.
Like we said, with such talents and charming personality, we can't wait to see more from Angourie Rice in the near future.
Angourie Rice is next up for 'Spider-Man: Far from Home' which releases later this June. Fans can see her as 'Betty' in the film where she appears alongside Tom Holland, Zendaya and Jake Gyllenhaal.
-->