Australian Actor Geoffrey Rush Wins Record $2.9m Defamation Payout
Published Fri May 24 2019 By Jessica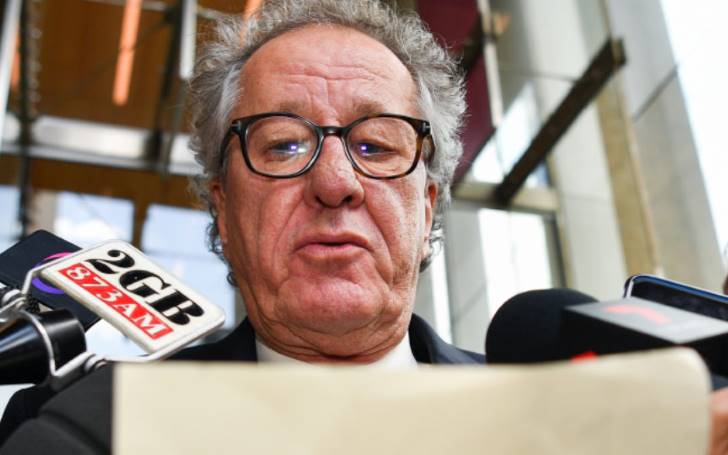 Geoffrey Rush awarded with the biggest defamation price in Australian history.
Australian actor Geoffrey Rush who faced an accusation of sexual abuse by a news outlet a couple of years ago becomes the first person to win the biggest payout in Australia.
The Oscar-winning actor filed a lawsuit to Jonathon Moran, a journalist who works at The Daily Telegraph in 2017, for publishing a poster and two articles that accused Rush of inappropriately behaving to a fellow former female co-actress, Eryn Jean Norvill.
The poster and the stories included content that described Rush as a sexual predator and pervert but the stories included no evidence.
Norvill and Rush worked together as a father-daughter duo for theatrical production by King Lear in 2015 and 2016.
Recommended: Top 10 Most High-Profile Sexual Misconduct Allegations Against Harvey Weinstein
Australian actor Geoffrey Rush wins record $2.9 Defamation payout.

SOURCE: Washington Post
The 67 years old artist won a whopping amount of $2.9 million (£1.57m; US$1.99m) in damages for his career and his past and future economic loss.
Declaring the workpieces by the Telegraph as "in all the circumstances, a recklessly irresponsible piece of sensationalist journalism of the worst kind - the very worst kind", the court agreed to award the 'Final Portrait' actor $850,000 for his damage in general, $919,678 for the future economic damage, $1m for the past economic damage, with $42,000 in interest, totaling a sum on $2.0 million.
The actor, however, intentionally solicited over $25 million for his earning loss over the last years.
Related: Michael Jackson Estate Claims New Evidence Proves 'Leaving Neverland' is a Complete Hoax
According to Sue Chrysanthou, attorney of Mr. Rush, the publication reacted to the story with a 'complete lack of impartiality and lack of commercial sense.
As a matter of fact, Rush initially made an offer to the Telegraph to compensate the case with an apology and AU$50,000 but received no response.
On the contrary, as for the Telegraph's attorney, Tom Blackburn, he said the actor who portrayed Captain Hector Barbossa in the 'Pirates of the Caribbean' was only trying to suspend the 'criticism of the judgment'.
In addition to Rush's sexual abuse allegation, 'Orange Is the New Black' actress Yael Stone previously came forward to accuse the actor that he behaved sexually inappropriately in 2010 when they worked together for The Diary of a Madman.
Stone told The New York Times that Geoffrey Rush would often send her sensual messages, used a mirror to watch the actress naked and even danced naked in front of her in their dressing room.
Don't miss: Jeannie Mai Reveals Sexual Abuse By A Family Member
Rush, however, declined all the accusations.
Geoffrey Rush broke the defamation payout record of actress Rebel Wilson who was handed over $3.1 million that was later reduced to $416,000 for claims that she lied about her age and identity.
-->