Bella Thorne Has A Tearful Message For Whoopi Goldberg
Published Thu Jun 20 2019 By Jessica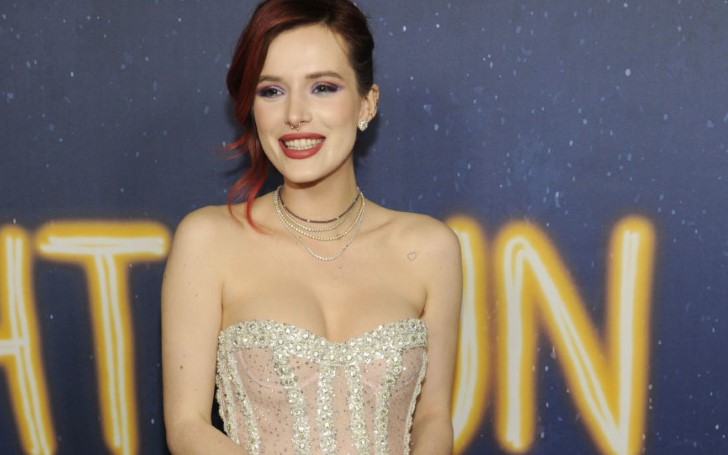 Bella Thorne gets teary as she replies to Whoopi Goldberg in regards to her response to Thorne' controversial nude leak.
'Shame on U' Bella Thorne tells Whoopi Goldberg.
Over the last week, former Disney star Bella Thorne herself shared her own nudes on Twitter after a hacker threatened to leak her nudes.
Thorne shared the whole thread of the message between her and the hacker with writing: "Fuck u and the power u think you have over me. I'm gonna write about this in my next book,"
The nude incident became controversial over the internet and was also recently taken as a matter of topic Whoopi's show, 'The View'.
Apparently, Goldberg blamed the victim (Thorne) of taking the naked pictures at first place.
Bella Thorne tearfully slams Whoopi Goldberg for her stance on Thorne nude scandal.

SOURCE: Bella Thorne IG
In her words, Whoopi Goldberg said: "If you're famous, I don't care how old you are. You don't take nude pictures of yourself. Once you take that picture it goes into the cloud and it's available to any hacker who wants it, and if you don't know that in 2019 that this is an issue, I'm sorry. You don't get to do that."
Not long after Goldberg's stance went public, Thorne shared a series of pictures and videos on her Instagram to respond to her disgusting comments.
The 'Midnight Sun' actress even broke down in tears in the videos and tearfully said: "I'm not going to lie, I feel pretty disgusting knowing everybody has seen my shit, and that interview made me feel pretty bad about myself. I hope you're happy, I really do. I hope you're so fucking happy because I can only imagine all the kids who have their shit released and then they commit suicide,"
Bella Thorne message for Whoopi Goldberg for her stance on Thorne nude scandal.

SOURCE: Bella Thorne IG
Thorne continued: "You're so crazy for thinking such terrible things in such an awful situation. You know I don't really want to go on The View anymore because I don't really want to be beaten down by a bunch of older women for my body and my sexuality,"
"I don't really feel like that. So I'm going to cancel my interview because I don't really want you guys talking about your views to young girls, because I would not want my daughter to learn that,"
In defense of Thorne, many of the users on the internet has since then slammed Goldberg as one of them wrote: "You should apologize to @bellathorne & to all the young women out there who look up to you for empowering women, because what you did...it's hypocritical. @WhoopiGoldberg you are what's wrong in this world."
Whilst another said: "Shame on @WhoopiGoldberg for shaming @bellathorne bc someone threatened her and making an already terrible situation, even more disgusting. Women should never tear another woman down and blame them for being attacked, physically or mentally."
Likewise, a third person added: "Someone stole @bellathorne's nudes and the stupid witches at the View blamed her for it. Revenge porn happens to so many women and girls... they're shaming all of them. God that show is awful."
Bella Thorne is not the first person to go through such cases. In fact, hackers previously leaked nude pictures of celebrities such as Vanessa Hudgens, Jennifer Lawrence, Hayley Atwell, and Rihanna.
-->