What Is Bella Thorne's Net Worth? All Details Here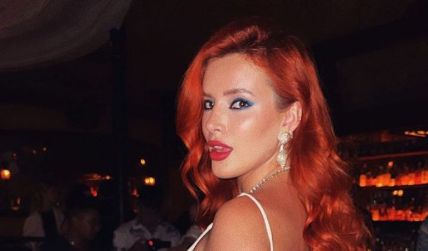 Bella Thorne's net worth revealed: The complete breakdown here!
Known for her roles in Dirty Sexy Money, My Own Worst Enemy, Famous in Love, and her earliest claim to fame, Disney's Shake it Up, Bella Thorne is an actress, model, singer, and writer. Before breaking into the entertainment industry playing the street-smart girl Cece Jones in Disney's Shake It Up, alongside Zendaya, Thorne had a few uncredited gigs on her resume.
Annabella Avery Thorne was born on October 8, 1997, in Pembroke Pines, Florida. Raised by the widower along with her three siblings, Bella recalls having a childhood filled with poverty and hardships. Bella took up acting to support her poverty-stricken family, never imagining that she'll be raking millions and building an opulent lifestyle along the path. Ahead is a look at Bella's thriving career and her amassed net worth.
What is Bella Thorne's net worth?
As per Celebrity Net Worth, Thorne has an estimated net worth of $12 million. The rapidly soaring fortune is all thanks to Bella's multi-faceted career and some unconventional sources the actress adapted on the way. Thorne was six when she first made her onscreen appearance in an uncredited role in the 2003 comedy film Stuck On You.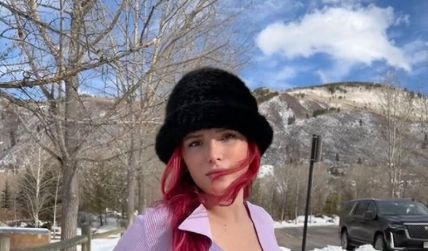 Thorne rose to fame as a Disney child star.
Photo Source: Instagram
A few more roles in Dirty Sexy Money, My Own Worst Enemy, Little Monk, and Forget Me Not later, she found her long-overdue recognition from Shake It Up. While displaying her acting chops in starring in a variety of genres, Thorne was also gracing the covers of various magazines like Shape, Seventeen, Teen Vogue, CosmoGirl. During the onset of her acting career, young Bella modeled for brands like Guess Jeans, Tommy Hilfiger, Candie's Gap, Diesel, etc.
Recommended: What is Big Sean's Net Worth? All Details on Rapper's Earnings.
As her career started to take off from the Disney sitcom, Thorne cemented her singing career with the release of her first single, Watch Me, with her co-star Zendaya, who also starred in the MV. The actress now runs her own record label called Filthy Fangs. Bella's role as Adam Sandler's daughter in the 2014 hit Blended marked her entry into mainstream films. The Disney alum has since starred in the blockbuster movie Alexander and the Terrible, Horrible, No Good, Very Bad Day, The Duff, Mostly Ghostly and the slasher series Scream.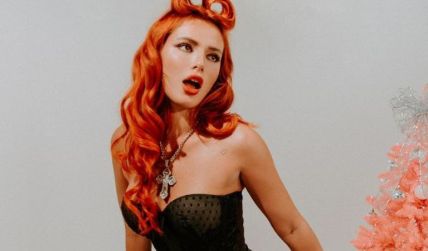 Thorne joined Onlyfans in 2020 and raked $1million in a day.
Photo Source: Instagram
Thorne made quite the headline when she joined the adult website OnlyFans in 2020. The actress's new venture was met with criticism, especially from the sex work community, who accused Bella of disrupting the market. Thorne bragged about making $1million in a day, $2 million in a week and even crashed the site temporarily. Fans were left baffled as to why an actress of her caliber needed to resort to the derogatory site anyway, a decision which Thorne later justified as research for her upcoming project.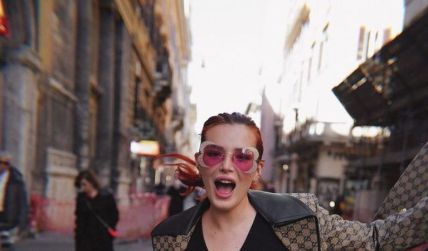 Bella made her directorial debut on Pornhub in 2019.
Photo Source: Instagram
Before her Onlyfans controversy hit the headlines, Bella was already rising as a controversial figure. She launched her directing career in 2019 on the pornography website Pornhub. Thorne's directorial debut Her & Him, was screened at Oldenburg Film Festival in September 2019 and earned her the vision award at Pornhub Awards. Bella bought a $3.3 million mansion in Topanga, California. The actress also owns a $2 million house in Sherman Oaks, California, which she claims to have bought with her Instagram sponsored posts alone.
Bella Thorne gets candid about her "controversial" reputation!
Thorne is done with getting slut-shamed and labeled controversial, and the actress made her sentiments pretty clear in her latest interview with The Daily Beast's Marlowe Stern. Bella talks about the industry's double standard and intrinsic sexism playing a factor in her perceived persona. "I haven't been arrested. I'm not doing bad things. Of course, I am a woman, which definitely plays a part in it," Bella argues.
Thorne's 'Measure of Clip' premiered on March 18.
Source: Movieclips Indie
Thorne, 24, currently engaged to musician/actor Benjamin Mascolo, also touches upon being labeled controversial because of her past expansive dating history. "If a man posts with a different girl every other day, it's "F*** yeah, bro, but if I'm in a three-year relationship, and then break up, and then get into another three-year relationship, it's "Wow. Bella Thorne, she's a ho. Look at her," Bella says.
Check Out: Is Steven Seagal Rich? What is his Net Worth? All Details Here!
Thorne recently starred in the romantic drama film Midnight Sun, in which she released five soundtracks. She also participated in the third season of Masked Singer as Swan and had a starring role alongside Jake Manley in the crime thriller Infamous. Bella's latest movie was Measure of Revenge, alongside Oscar winner Melissa Leo and the Disney alum's fans have picked up an online campaign to have her cast in the upcoming superhero film Deadpool 3, which Thorne previously said she so wants to be a part of.
Stay connected to glamour fame for more.
-->