Big Bang Theory Star, Kaley Cuoco Gave Birth To Her First Child! Know About Kaley's Husband, Tom Pelphrey
The gorgeous star, Kaley Cuoco, is well known among The Big Bang Theory fans. Kaley played the fan-favorite Penny on the sitcom loved by everyone. The California native joined the acting world with the breakthrough role of Bridget Hennessy on the 8 Simple Rules. And now, apart from her career, Cuoco created a buzz after welcoming her first child.
Aside from being a success in her personal life, Kaley is rocking her as an actress! Currently, she is serving as a Cassie Bowden lead role in The Flight Attendant. Again, she is the executive producer of the show. After her success in showbiz, Cuoco leads a blissful life with her partner. Dig into the details of the personal life of the American actress below.
Kaley Cuoco Welcomes Her First Child
The American actress Kaley Cuoco recently gave the world pleasant news. Kaley gave birth to her first child with her boyfriend, Tom Pelphrey. She surprised her fans with a pregnancy announcement back in October out of nowhere.
The fans saw Cuoco everywhere with her baby bump. Also, she updates her viewers about the condition of the pregnancy. On March 30, 2023, Kaley and Tom welcomed their first child.
Kaley and her boyfriend, Tom, named their daughter Matilda Carmine Richie Pelphrey. Right after her birth, Matilda is already loved by millions of people around the world.
The Wedding Ringer actress announced the arrival of her baby through her official Instagram account. Cuoco even shared a beautiful picture of the kid and captioned it.
"We are overjoyed and grateful for this little miracle Thank you to the doctors, nurses, family, and friends who have helped us immensely over the last few days. We are blessed beyond belief.
Celebs Flocked to Cuoco's Comment Section To Congratulate The New Mom
Many celebrities rushed into the comment section and congratulated the pair. The new mom, Kaley Cuoco, is delighted with the addition to her family.
Like every parent, Kely and Tom take good care of their child. They never miss uploading cute pictures and videos of their daughter on their social media accounts.
Kaley Cuoco Dating Life With Her Partner, Tom Pelphrey
The gorgeous actress Kaley Cuoco is often part of media attraction. Like her extraordinary career, Kaley's relationship is part of the limelight.
Currently, the American celebrity is dating her new boyfriend, Tom Pelphrey. He is also an American actor best known for appearing in As the World Turns and Guiding Light.
Cuoco and the father of her child, Pelphrey, confirmed their romance with a beautiful smooch. Tom and Kaley made it official about their dating in May 2022 through their respective grams.
Soon the celeb couple started appearing in several public places together. During the 2022 Emmy Awards, they made their red carpet debut as a couple.
Interestingly both of them were nominated in that ceremony. From the start, their love has blossomed into a fairy tale. They have moved together and are enjoying their romance to the fullest.
As of now, the Cuoco and Pelphrey are together for a year. And in 2023, Kaley and her boyfriend, Tom, became parents. Suffice it to say the new mom and her partner share a great connection.
Who is Kaley Cuoco's Boyfriend, Tom Pelphrey?
Like Kaley Cuoco, Tom Pelphrey is also part of the entertainment world. In 2004, he joined the film industry and impressed the world with his skills. From Guiding Light as a Jonathan Randall, Pephrey started his acting journey.
For five seasons, Tom's impact on the show is loved by everyone. From his role in Guiding Light, Pelphry even won two Daytime Emmy Awards and four nominations. With his epic performances, he is now part of more than thirty movies and series combined.
Regarding his love life, before sharing delightful moments with Cuoco, the Iron Fist actor dated Stephanie Gatschet. He also has one child from his previous relationship.
Kaley Cuoco is Divorced Twice
The Wedding Ringer star Kaley Cuoco has a long history of failed romances. Before sharing a great bonding with Tom Pelphrey, Kaley is divorced two times.
Cuoco's first husband, Ryan Sweeting, is an American former tennis player. They got engaged in March 2012 after dating for only a few months. Within four months, the two accepted one another as husband and wife in Santa Susana, California.
Things for Kaley and her first spouse weren't meant to be. And after two years of their marriage, the pair parted ways. Their divorce was later finalized on May 9, 2016. Neither of the parties has spoken regarding the split.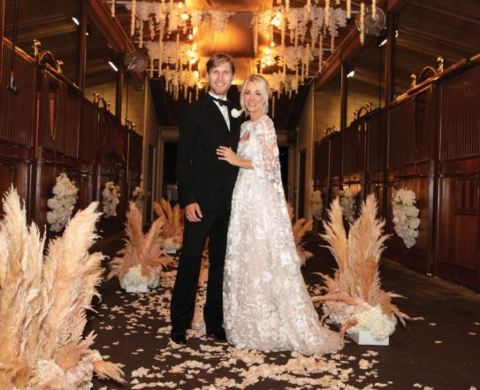 The voice of Harley in the Harley Quinn animated series' second husband is Karl Cook, an equestrian. They began their sweet romance in late 2016, and immediately the duo shared a great connection.
On Kaley's 32nd birthday, Karl popped up a proposal with a custom teardrop ring! To which the actress responded with a tearful yes. Within a year, they walk down the aisle together in San Mateo County, California.
Several known faces from the industry witnessed the beautiful ceremony. Sadly, the energy in their marriage did not last a lifetime.
Cuoco and Cook enjoyed their togetherness for four years. In 2021, they announced their separation and surprised their fans with the news. Later, Kaley and Karl's divorce got finalized in June of 2022 due to a hectic work schedule.
What is Kaley Cuoco's Net Worth? Know About Kaley's Salary Per Episode
The Penthouse star Kaley Cuoco is one of the most successful female actresses in the United States. With over fifty movies and series appearances, she stands tall on the list as an experienced actress.
Kaley has secured a tremendous amount of wealth from her remarkable career. As of 2023, her net worth is a whopping $100 Million. Currently, she makes over $1 Million per episode from her appearances.
It all started through her epic role as Penny in the Big Bang Theory. During the first season, Cuoco used to make $45,000 per episode. That particular series had twelve impressive seasons, which are still watched by the fans.
By the end of the season, the main cast each made over $1 Million per episode. This sums up Kaley's total earnings and the award-winning actress made almost $150 Million from Big Bang Theory.
Well, this is not the end. The beloved show generated more than $1 Billion in the first year of syndication sales. All actors in the franchise will make over $10 Million per year for almost ten years.
For More Details on Different Personality
Stay Connected To Glamour Fame
-->