Kaley Cuoco Cries At Final 'Big Bang Theory' Table Read
Published Thu Apr 25 2019 By Eden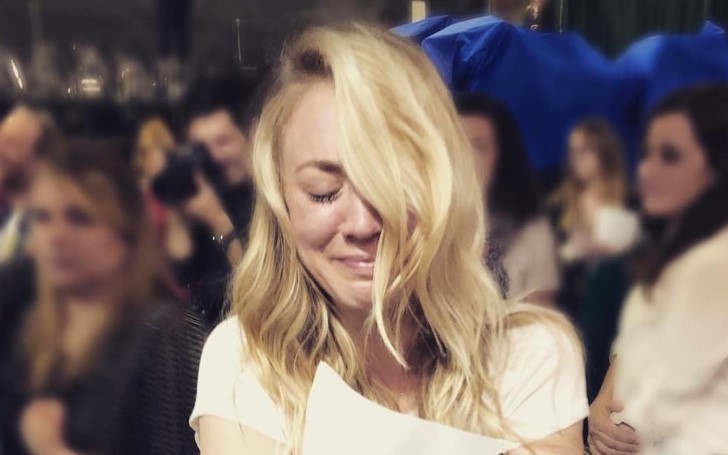 Kaley Cuoco cries at the final 'Big Bang Theory' table read: 'Prepare Yourselves'.
The on-screen Penny, Kaley Cuoco is bidding a tear-filled goodbye to The Big Bang Theory.
Marking the CBS sitcom's very last table read before it wraps up for good in May, the actress shared an emotional set of posts to Instagram on Wednesday.
The final script reads "End of series" as she shared a photo captioning it, "Yea, didn't sleep".
Cuoco, 33, followed that up with a photo of her holding the script in her arms as she couldn't contain the tears. She wrote, "Post table read for @bigbangtheory_cbs finale episode."
A third picture showed off the many tissues she needed to make it through the read. Kaley captioned, "Prepare yourselves … for a finale that has truly given me a loss for words ❤️ Our whole universe …..."
Co-star Kunal Nayyar (Rajesh Koothrappali) also shared the final script on Instagram, writing, "Just read the final episode… Gnite #tbbt." Johnny Galecki, who plays Leonard, commented, "Roughest page ever read. XO."
You Might Like: The Big Bang Theory Cast Gets Emotional as the Series' End Nears
The Emmy-winning series premiered in 2007 when Cuoco was just 20 years old. This delightful show that has brought so much laughter and fun over the years is set to end in May with the concluding 12th season.
-->