The Big Bang Theory Cast Gets Emotional as the Series' End Nears
Published Sun Feb 03 2019 By Tess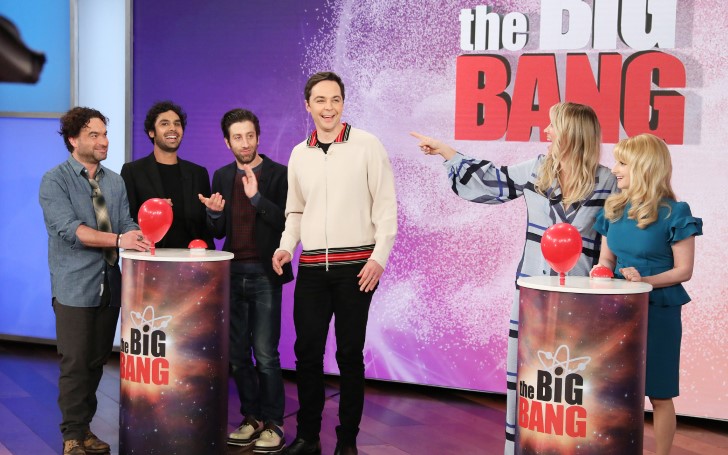 The cast gets emotional while appearing on the Ellen show as the series The Big Bang Theory comes near to its end.
As the sitcom series of 2007, The Big Bang Theory is nearing its end, the cast members of the series dropped by the Ellen show where they opened up about how emotional it's getting with just a few episodes left to film.
The Big Bang Theory is currently in its 12th and final season, and some of the show's stars revealed they only have a few episodes left to tape.
On Thursday's episode of The Ellen DeGeneres Show, Kaley Cuoco who took on the role of Penny while she was just 20 years old confirmed she was "100 percent" going to cry adding the cast only has nine episodes left to film.
Following the joke of Simon Helberg who plays Howard, where he stated " he didn't know we weren't coming back" Cuoco recalled an emotional moment filming with Johnny Galecki who plays Leonard, before the holiday break.
The 33-year-old actress began:
"We've been getting super emotional. We were just blocking, and we're the only two in it, just kind of rehearsing the scene, and out of nowhere, I just started bawling."
Further, she continued:
"The crew, the camera guys, they come out and they're like, 'We're so glad you cried because we've been waiting to cry,' and they all gave us this huge group hug, and we just all cried for like 10 minutes."
However, in response, Jim Parsons, who plays Sheldon, shared he is yet to be emotional regarding the end of the show.
"I have a very deep fear, seriously, that the most unexpected thing is going to happen and I'm going to absolutely lose my s— because it really is profound, the amount of time in your life. It's like more than any of us, I think, can get a grip on, and I'm worried it's going to trigger something deep down like, 'Oh, I didn't know that was there! Oh, that hurts,' you know?."
Coco quipped in response she would immediately start crying "if anyone hugs her about it".
Don't miss: Dr. Phil's TV Company Accused of Backing out on Promise to Treat Cancer Patient
In addition, Johnny Galecki also revealed it still "feels very hypothetical " and they "would be meant to come back " before Kunal Nayyar, who plays Raj Koothrappali intruded with a joke:
"When we'll be unemployed, we'll really be crying."
Furthermore, Mayim Bialik, who previously starred in the NBC sitcom Blossom recalled herself being involved in the series as Sheldon's love interest, Amy, in its fourth season.
"I had never seen The Big Bang Theory, I thought it was a game show. Someone had told me that in some season … they mentioned the girl from Blossom is a scientist, so when someone told me that, I thought it must be a game show, like a trivia thing."
Bialik added she "had no idea that it was a very popular sitcom" and was confused when her manager said "they're looking for a female 'Sheldon Cooper' " unknown about the character she further questioned, "who's Sheldon Cooper?"
See more: 'The Rock' Teases There's Still Chance For Presidential Run in Future
Then emotional Cuoco revealed one big thing about the cast which never changed, no matter how popular the show became was they lived in that very moment.
"When we started, you don't ever think anything like this is going to happen. What's so sweet is even after all these years, and really up until recently … we come in, we're like, 'Did the show do well last night? Really? They watch? That person?' And we kept that for so long, we never just kind of said, 'We're all good now."
The show primarily debuted in 2007, received 52 Emmy nominations and 10 wins to date is about to conclude with 279 episodes.
Also see: Clint Eastwood, 88, Spotted Driving Around With Mick Jagger's Former Fling Noor Alfallah, 23
In August 2018, Warner Bros. Television and CBS and Chuck Lorre Productions announced the beloved comedy sitcom will end in May 2019, through a joint statement, making it the longest-running multi-camera series in TV history.
"We are forever grateful to our fans for their support of The Big Bang Theory during the past twelve seasons. We, along with the cast, writers and crew, are extremely appreciative of the show's success and aim to deliver a final season, and series finale, that will bring The Big Bang Theory to an epic creative close."
Following their statement, the cast members admitted it would really be difficult to bid farewell to the show as it was always a part of them.
-->