Billie Eilish Recording New Music in Quarantine
Published Mon May 11 2020 By Eden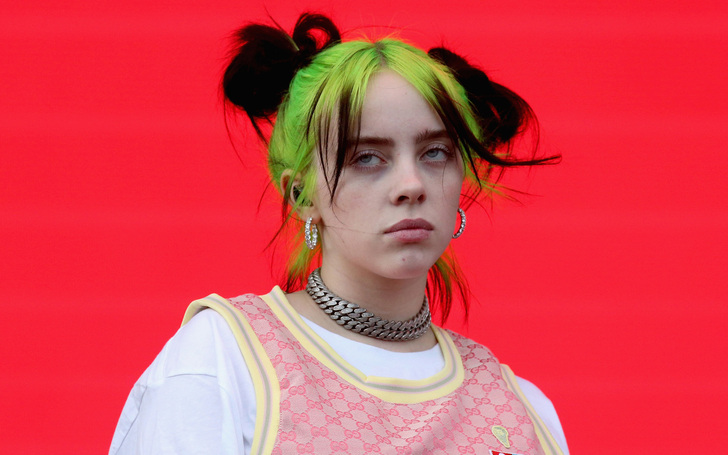 Billie Eilish is writing a new song amid the COVID-19 pandemic.
Billie Eilish is utilizing her time in home quarantine the best way she could by nurturing puppies and working on new music.
The singer struck up a conversation with Beats 1's Zane Lowe about introducing her father-daughter Apple Music show in a video posted to YouTube at the weekend, but they predominantly spoke about how she is feeling in quarantine.
Watch: Billie Eilish: 'me & dad radio' and Recording Music at Home | Apple Music
Eilish said, "I know that everybody, like the beginning of this really got to people. I didn't really have that experience because I cheated. I rescued two puppies, or fostered two puppies. I was completely distracted."
And when Billie isn't hanging about with the pups in the backyard, she's been channeling her inner creativity.
The 'bad guy' hitmaker revealed, "We've been in the 'stu,' which just means Finneas' basement, basically. We actually, we wrote a whole song in its entirety — an entire song, which is kind of rare for us. I really love it. It was like exactly what I needed to say when we wrote it."
You Might Like: Billie Eilish Reveals She Used To Be 'Terrified Of Eminem' Growing Up
The singer clearly misses traveling and getting on stage - "That feeling doesn't exist anywhere else." However, while she sits at home due to the coronavirus pandemic, she is trying to remain optimistic.
"Honestly, I feel great. The song I was talking about earlier that we wrote a couple weeks ago that felt so right was … I wish I could sing it for you, but I can't. It was just about, there was this part in it — I needed to say this — which was I know I'm supposed to feel unhappy right now because of this break and because I'm not seeing anybody … I feel like there's this kind of thing that I feel like is floating around of like you're supposed to be missing people," said Eilish.
Check Out: Billie Eilish - bad guy
The 18-year-old star added, "You're supposed to be missing this person and be missing people in general. I kind of have this feeling of like, I miss my really close friends, I miss people, of course I do, but I also at the same time am liking the space. I'm liking that everybody can kind of grow right now. I hope that people are letting themselves grow instead of just reminiscing and wishing they were with other people."
Visit Glamour Fame for more interesting news of your favorite celebs.
-->