Bride Gets Shocked After Groom's Ex Gatecrashes The Wedding In Bridal Dress
Published Tue Apr 09 2019 By Jessica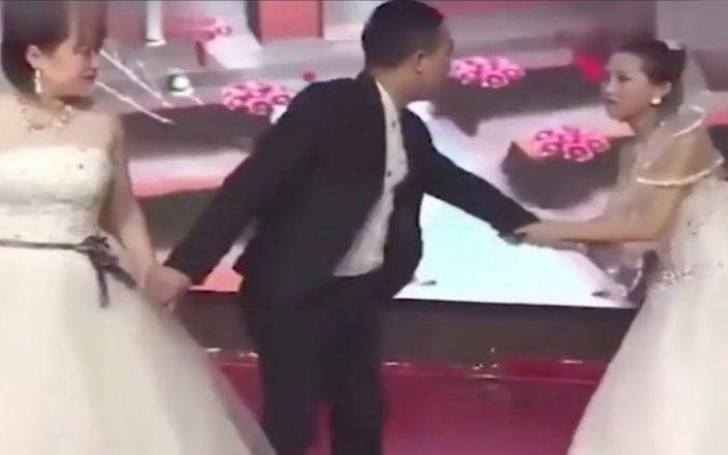 See how this woman dressed in a bridalwear crashed her ex-boyfriend wedding.
One thing the internet is buzzing about at the moment is definitely the viral video that showcases how a woman dressed in a bridalwear decided to crash her former boyfriend's marriage to another woman.
As seen in the video which went viral on social media including Twitter, Instagram, and Facebook, the woman in full white dress is seen apologizing to the groom as she begs on her knees to the groom to accept her back.
Recommended: Irish Village Residents Complain Men and Dogs Have Been Walking Around With 'Hard-ons' Thanks To Viagra Plant Fumes
The emotional looking woman even cries with her hand covering her face as she pulls the groom's suit.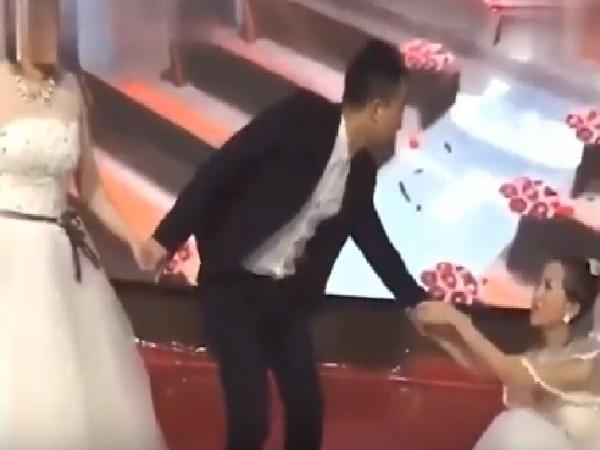 A Chinese woman crashes her ex-boyfriend wedding.
SOURCE: The AIO Entertainment
However, clearly irked and not affected by his ex-girlfriend action, the groom keeps pulling her away.
As a matter of fact, at one point, she even gets dragged on the floor.
"It was my fault," the ex-girlfriend cries.
On the other side of the scenario, the bride who is clearly unpleased by the embarrassing drama leaves the stage although the groom tries his best to console her as he follows her.
See the video below.
As the whole incident shocks the entire guests at the wedding venue, the wedding MC is heard in the background saying: "We have an unexpected situation here' before adding 'perhaps this is the reality of love."
The MC then continues a few moments later again in an attempt to soothe the whole situation. This time he quotes a famous Chinese proverb: "If you ask life what love is, it is to devote your life to someone else."
Don't miss: This is Not a Drill - It Turns Out Heinz's Creme Egg Mayonnaise Is Real!
Upon the footage, many people on the internet have shared their thoughts regarding the ex-girlfriend.
One person wrote: "Girls, have some dignity please...."
Whilst another one jokingly added: "Marry Both"
Meanwhile, the viral video was shared by an entertainment blogger and the incident recently took place in China.
It's also reported by many outlets that the ex-girlfriend tried to kiss the groom on stage but failed after several attempts.
Apparently, the groom split from his ex-girlfriend because he wasn't favorable of how his personality didn't match with her, as per Star Video.
Also see: Polish Authorities On Hunt For Suspected Brits Terrorising Krakow In Lime Green Mankinis
As for the bride and her family, they were appalled by the sudden burst and the disturbing scene of the ex-girlfriend.
-->