Brighton Sharbino — Know the 17-Year-Old Better
Published Tue Jan 28 2020 By Sea
Know intriguing things about The Walking Dead star!
Only 19 years of age and almost 30 acting credits already. For Brighton Sharbino, a child's dream became a reality when she quit everything to become an actress. To start you off, you should know she was a competitive cheerleader before she quit it when she was just six years old.
Born on August 19, 2002, in Flower Mound, Texas, Brighton Rose Sharbino landed TV roles and started appearing in commercials at the age of six (yes, the same year she left cheerleading). She's since been picking up fans from a host of high-rated shows and films.
5-year-old Brighton Sharbino was an ecstatic cheerleader.
Source: Brighton Rose Sharbino, Instagram
Ask the fans of the shows she's been in; the one episode in which she appeared has made them fall in love with her. Of course, for someone with such ambition, she would give everything she has to entertain people.
First Thing's First — She Absolutely Smashed 'The Walking Dead' Role
There's a lot to talk about this young not-so-up-and-coming actress. While there are many appearances that Brighton's spark as a true actress could be seen in, nothing will keep viewers on their feet as her two-season role as Lizzie Samuels is one of TV's highest-rated series 'The Walking Dead.'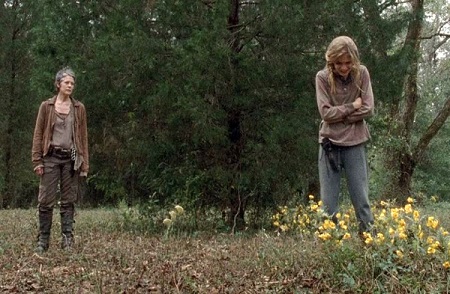 The moment everyone knew Lizzie was not coming back in the next episode.
Source: The Walking Dead, AMC
In fact, it was the season during her appearance that the show broke the record in 2014. It is to note that every show she's been in has been smashing in the ratings.
Playing Lizzie Samuels in the series and interacting with fans at conventions has shaped my view on my role and my responsibility as an actress.
When the hardcore 'Walking Dead' fans see her in new projects, they still see her as the young & somewhat confused child. When 'Carol' shoots 'Lizzie' down, Brighton's stint on the show comes to an end in that 2015 episode.
Siblings of Actors Saxon Sharbino and Sawyer Sharbino Had a Knack for Acting As a Toddler
Daughter to Angela Sharbino and Ron Sharbino, Brighton has two sisters, an older sister Saxon Sharbino and a younger brother Sawyer Sharbino. Both of them love acting. Saxon appeared in a 'Friday Night Lights' episode, the one which was Saxon as well as Brighton's first on-screen role. They also worked together on a 'Law & Order: Special Victims Unit' episode in 2017.
Brighton (center) with her sister Saxon and brother Sawyer.
Source: Sawyer Sharbino, Instagram
Meanwhile, Sawyer is also not that shabby in his acting credits. Despite being only 13 years old, he's appeared in many shows already.
Brighton's got other acting connections as well. Her 'The Walking Dead' co-star, Kyla Kenedy, is her best friend since meeting in acting class when she was seven. The ones that she would like to work for one day are John Goodman and Leonardo DiCaprio because of their respective works in '10 Cloverfield Lane' and 'Catch Me If You Can.' And she's also met the late Stan Lee.
Another: 'We Love Weather's Very Own Miss Georgia America, Liana Brackett — Get to Know Her Better!
Young Sharbino's parents were really perceptive of her interest in acting. In fact, she actually went to the acting industry after her mother asked her what else she wanted to do besides cheerleading back in the day. Her parents also figure it out when she used to pretend to be sick just for "fun" when she was a small child.
Yeah, acting was a child's dream.
Source: Brighton Rose Sharbino, Instagram
After immediately replying, "I want to be on TV!" she quite cheered and started taking acting classes. Immediately after, she went on to the 'Friday Night Lights' set with her sister.
Sharbino Was in a 'Hannah Montana' Episode and Got Princess-y in 'Once Upon a Time'
At the beginning of her career, Brighton Sharbino was an uncredited dancer/drummer 'Barney & Friends' and was in a 2010 'Hannah Montana' episode as 'Cammi'. The one where Miley Cyrus' 'Miley Stewart' comes upon writer's block, and she later creates a different kind of music than from her genre. Iyaz appears at the end of the episode as the only one who likes her music.
After a few other acting runs like the two-episode role on 'True Detective' in 2011, the 2013 'NCIS' episode, 'Hit and Run', got her recognized enough to be called for 'The Walking Dead'. In between, she also got the chance to feature in the fantasy series, 'Once Upon a Time', starring Jennifer Morrison.
The role was a much different kind than the ones she used to do, particularly a drastic change in her role in 'The Walking Dead'. She played the young version of the later-converted 'Snow Queen' (or 'Ice Witch'), 'Ingrid'.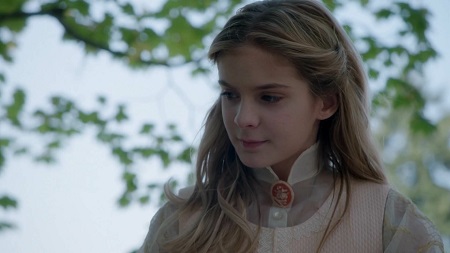 The whole episode was about how 'Ingrid' discovered her powers.
Source: Once Upon a Time, ABC Studios
"It was very different from shooting 'The Walking Dead' and I loved it cause I got to be a princess. In The Walking Dead they would put dirt on me," she spoke of the experience. "They put extensions on me, were fixing my hair, and let me wear a princess dress, it was really fun to do. It was a dream."
After 'The Walking Dead', Brighton Sharbino went for a supporting role of 'Amy Brunner' in 'Growing Up Smith' and star as Jennifer Garner's on-screen daughter in Sony's 'Miracles from Heaven'. The latter movie won the won a Teen Choice Award. Then, in 2017, she starred in 'Bitch', opposite Jason Ritter and Jaime King.
Curious to see more of her? Don't worry; there will be many more from her.
Source: Brighton Sharbino Fanpop
After 'Law & Order: Special Victims Unit' and 'Criminal Minds' one-episode roles, she took a recurring role in 'Zoe Valentine' and starred in 'Radioflash' in 2019. As of now, she's in the middle of production of a Snap original, 'Players'. She's gotta be a millionaire with such credits. And oh, she gets tired of playing the same character multiple times. That explains the few appearances in each show.
Some other things you need to know about Brighton Sharbino are that she was nominated at the 39th Annual Young Artist Awards, and she's really scared of horror movies, despite being in 'The Walking Dead'. As for her education, despite many thinking she went to some kind of high school in 2013, she's revealed she was actually homeschooled back in 2014.a
There are not many kids that can achieve what Brighton has at such a young age. And with such a budding future ahead, it is unlikely that she will ever stop. Of course, believe her words against ours, "I think I just want to keep on growing, that's the main goal. I don't exactly know exactly what I am doing with college yet. I do want to continue pursuing my acting career though. I'm very happy that I started in acting the time I did; now I have more experience coming into it."
Stay tuned and connected to GlamourFame for more Entertainment content.
-->