Bronny James Net Worth: Unraveling the Financial Impact of LeBron James' Son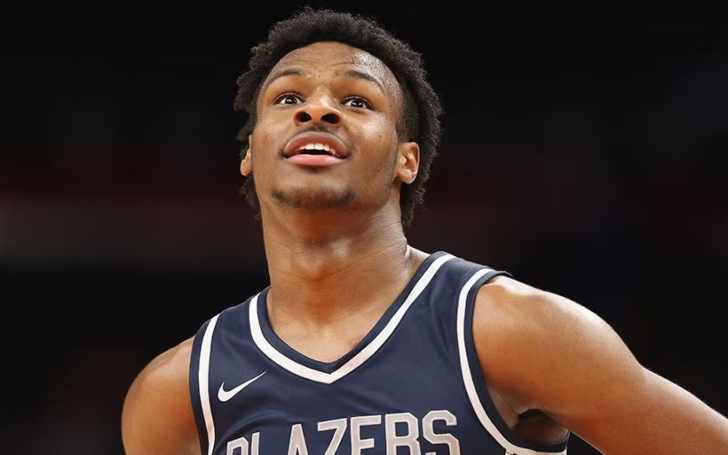 Bronny James, born on October 6, 2004, is the eldest son of NBA icon LeBron James and Savannah James. As a burgeoning basketball prodigy, Bronny has garnered attention for his skills on the court, following in the formidable footsteps of his legendary father.
Raised in a basketball-centric environment, Bronny began making waves in youth basketball leagues, showcasing a versatile playing style. His impressive athleticism, court vision, and scoring ability have drawn comparisons to his father's early years. Beyond his athletic pursuits, Bronny has also become a social media sensation, providing fans with glimpses into his life and basketball journey.
Bronny James' Net Worth in 2023
Bronny James, an American basketball player, currently holds a net worth of $7 million. Recognized primarily as the eldest son of basketball legend LeBron James.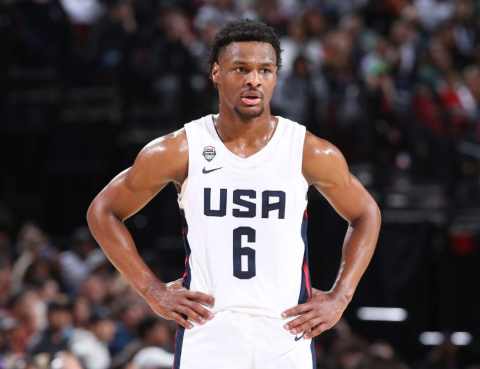 Bronny achieved acclaim as a consensus four-star recruit and secured a spot in the prestigious McDonald's All-American team during his senior year of high school in 2023.
With his youth and undeniable talent, it's anticipated that Bronny will continue to elevate his net worth and earnings in the coming years as he progresses in his basketball career.
Lebron James' Eldest Son, Bronny James is One Of the Earning Young Players
Bronny James, LeBron James's eldest son, secures a prominent spot as On3's NIL 100 top earner, amassing an estimated $7.2 million through multiple NIL deals.
The list evaluates athletes based on performance, influence, and exposure, projecting potential earnings for up to a year. Despite the absence of specific deal details, the On3 NIL Valuation optimally calculates each player's NIL opportunities within the market.
Notable figures on the top 10 list include Mikey Williams, Caleb Williams, Travis Hunter, Shedeur Sanders, and Hansel Emmanuel, reflecting the growing influence of NIL agreements in the sports world. Bronny's off-court success solidifies his financial standing.
Brand Endorsements
On October 10, 2022, Bronny James, following his father LeBron's iconic legacy with Nike, inked a significant NIL endorsement deal with the sportswear giant, becoming one of only five amateur basketball players to secure such a deal.
The move aligns with LeBron's longstanding affiliation with Nike, marked by a lifetime contract worth $1 billion since 2015. Utilizing the newfound opportunities under Name, Image, and Likeness (NIL) regulations, Bronny strategically garnered endorsements prior to college selection.
A month later, he expanded his portfolio, signing another NIL deal with Beats by Dre, accompanied by a social media campaign titled 'The Chosen One vs. The Chosen Son.'
Father, Lebron James is Highest Paid NBA Player in History
LeBron James, a basketball icon, boasts a remarkable career with four championships, four MVP titles, and 19 All-Star appearances. As the highest-paid NBA player in history, he recently signed a lucrative two-year, $97 million contract with the Lakers, earning $50 million in 2024-25.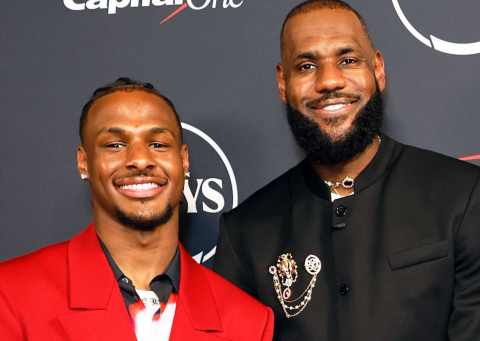 Accumulating a staggering $479.5 million in his 21-year NBA journey, James extends his wealth through endorsements and business ventures.
Despite his billion-dollar athlete status, he maintains a surprisingly ordinary family life. A two-year, $97 million extension with the Lakers solidifies his financial standing, with $47.6 million in 2023-2024 and $51.4 million in the subsequent season.
Is Bronny James Single or Dating?
As of now, Bronny James is single, dedicating his focus to his burgeoning basketball career. Known for his privacy, he has not disclosed any relationships on his social media platforms.
Rumors circulate about a potential connection with Peyton Sama, a member of The Vault House, but neither Bronny nor Peyton has officially confirmed these speculations.
The young basketball sensation appears to keep his personal life under wraps, allowing room for conjecture while maintaining a low profile regarding his romantic affairs.
Bronny James College Years and Stats
Bronny James, son of NBA superstar LeBron James, began his high school basketball journey at Sierra Canyon School in 2019. Despite early success, his sophomore season was marred by a meniscus injury.
Returning for his junior year, Bronny's team faced setbacks, including a loss in the CIF Southern Section Open Division semifinals. In his senior season, Bronny emerged as a leader, averaging 14.2 points per game.
His team moved from the CIF Open Division to Division I. The highly-recruited player committed to USC over Ohio State and Oregon in May 2023, concluding his high school career on a promising note.
Bronny James Faced Cardiac Arrest
On July 24, 2023, around 9:26 a.m. PDT, Bronny James collapsed at USC's Galen Center, experiencing cardiac arrest due to a congenital heart defect.
This alarming incident drew parallels to Buffalo Bills safety Damar Hamlin's earlier cardiac arrest. The sports community, including Hamlin, expressed concern and solidarity. Fortunately, James was discharged from the hospital on July 27, marking a swift recovery from the health scare.
The episode shed light on the unpredictable nature of health issues and prompted discussions about athletes' well-being in high-intensity settings.
How Tall is Bronny James? Know About Bronny's Height and Weight
Bronny James is approximately 6 feet 2 inches tall, weighing around 80 kg. He possesses black hair and has dark brown eyes.
These physical attributes contribute to his presence on and off the basketball court, where he continues to make a name for himself following in the footsteps of his legendary father, LeBron James.
Is Ruling The Social Media World
Bronny James, like many individuals globally, is an avid user of social media platforms. With over 8 million followers on Instagram, he provides glimpses into his lifestyle and works in progress through 35 posts.
On Twitter, he engages with a substantial audience of over 2 million followers. Additionally, Bronny actively shares content on his YouTube channel, amassing a substantial fan base with over 1 million subscribers.
His online presence reflects not only his basketball journey but also his broader interests, connecting him with fans and followers worldwide.
Age, Family, and Siblings
Bronny James, born on October 6, 2004, in Cleveland, Ohio, is the eldest child of NBA superstar LeBron James and Savannah Brinson. At the age of 16 in 2020, Bronny has followed in his father's athletic footsteps, showcasing promise in basketball.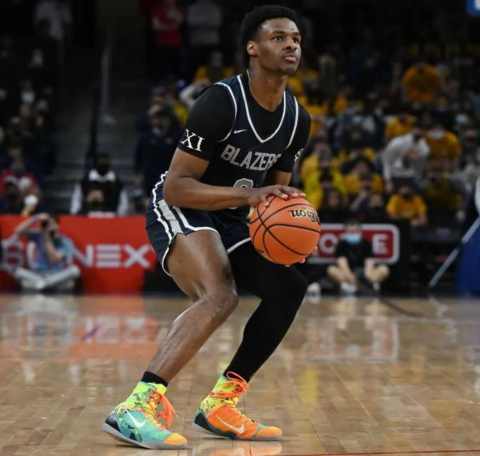 LeBron became a father at 19, and although he and Savannah were high school sweethearts, they were not married at the time of Bronny's birth.
The family expanded with two younger siblings, Bryce (born in 2007) and Zhuri (born in 2014). LeBron and Savannah eventually tied the knot on September 14, 2013, marking a significant chapter in their long-standing relationship.
Education and College
Bronny James' educational journey has seen him attend various schools. He started at Old Trail School in Bath Township, Summit County, Ohio.
On August 6, 2018, he made a significant move to Crossroads School, a private institution in Santa Monica, California. Subsequently, he transferred to Sierra Canyon School, a prominent K–12 private school in Chatsworth, Los Angeles, known for its competitive basketball program.
The transitions highlight Bronny's pursuit of academic and athletic excellence, aligning with his basketball aspirations and his family's relocation to different parts of the country.
For More Related Contents Stay Tuned To Glamour Fame
-->