Bryana Holly, the girlfriend of Nicholas Hoult, looks stunning in a strappy red bikini on the beach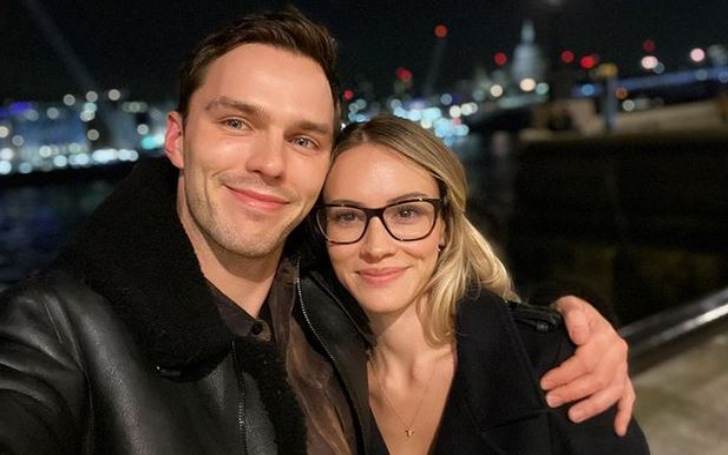 Bryana Holly and Nicholas Hoults are two big names in the entertainment world. Not only have they amassed massive attention through their impressive career, but they are equally popular with their love life. On the one hand, Nicolas is a popular British actor known for appearing in movies like Mad Max: Fury Road and Warm Bodies.
From his incredible acting deeds, he has gathered wholesome awards and recognition. On the other hand, Briana is an American model who has signed for Wilhelmina Models Los Angeles/Miami and No Ties Management San Diego. Also, the model has been featured in the popular magazine Playboy.
Bryana Holly, the girlfriend of Nicholas Hoult, looks stunning in a strappy red bikini on the beach.
The beauty queen, Bryana Holly, never surprises her fans and well-wishers. She often gathers massive attention through her deeds and incredible looks. This time she grabbed the massive attention as she posed in a strappy red bikini on the beach. Her glamorous look caught huge attention in the entertainment world.
While her boyfriend, Nicholas Hoult, premieres his new film The Menu, she is attracted to her with her stunning look. The photoshoot was for Perfect Peach's swimwear collection, and she stole the show. On the other side, she was nowhere in the UK screening her boyfriend.
Instead, the British actor came alongside his co-star Anya Taylor-Joy on the red carpet. During the event, the pair wowed the crowd with their incredible looks. The Queen's Gambit actress posed in his incredible blue gown paired with long gloves. In comparison, the actor dashed in his pink tuxedo.
A Look on Nicholas Hoult and his girlfriend, Bryana Holly's Love Life
Mad Max Fury actor Nicholas Hoult and Playboy model Bryana Holly's relationship came to life in March 2017. However, they successfully manage to keep their love life very private from the world. Soon the duo started appearing in several public places and even featured on one another's social media accounts.
Everything went crazy after the duo was seen together in public with their dog. The model revealed her prominent bump and grabbed massive attention. They announced the child's arrival within a month and were very happy. In one interview, the British actor even states, "I'm loving it. And it evolves all the time. They change so much, every day is different. It fills you up as a human completely." after being new parents.
In February 2020, the California-based model confirmed the son's arrival through her Instagram account by holding their son, captioning it Forever Valentine. The duo has been together for five years and share a great understanding of their relationship. They often share pictures of one another on their social media accounts and spend quality time together.
Despite being together for so long, the duo has yet to plan to walk down the aisle together. In the future, we can accept one another as lifelong partners.
Past Affairs and Relationships
Before having a wonderful love life, Nicholas and Bryana had harsh breakups. Dark Phoenix star previously dated popular actress Jennifer Lawerence. They began their sweet love story in 2011 and surprised the whole world. With their relationship, they made headline after headline.
Despite that, they faced a split in January 2013, but in July, they rekindled their love story on the X-Men: Days of Future Past set. However, after on and off for three years, they finally parted ways. According to the former, their reason for the separation is their hectic work schedule.
Regarding their split, the British actor stated,
" When we're busy, we agree to mutually ignore each other," she confessed. "Not completely, but neither of us gets mad when the other doesn't text back or call. Life's super-busy."
Further, the former acting duo was spotted for the last time in May 2014 in Cologne, Germany, while Lawrence was visiting Hoult during his Autobahn filming.
For certain months, Nicholas dated American singer and actress Dianna Agron in April 2015. On the other hand, American model Holly previously dated reality star Brody Jenner, who appeared in Keeping Up with the Kardashians and The Hills. However, their relationship ended without any trace in 2014. Further, she dated Five Seconds of Summer star Aston Irwin for several months.
How Rich are Nicholas Hoult and Bryana Holly? Know About Their Net Worth and Earnings
Nicholas Hoult is one of the successful British actors who has appeared in several blockbuster movies and series. His mesmerizing appearance has helped him to gather both name and fame. As of 2023, he enjoys a net worth of $8 Million which he earned through his impressive career as an actor.
Hoult's 2011 movie, X-Men First Class, earned a total of $353.6 Million under a budget of $160 Million. In 2013, his main role movie, Warm Bodies, gathered a total of $117 Million under a budget of $35 Million. Similarly, his film Mad Max Fury secured $415.2 Million worldwide with a budget of $185.1 Million.
Being one of the top-rated actors in Hollywood, he is usually paid a huge amount of remuneration. As estimated, he makes over $500,000 per annul through his participation. On the other hand, his girlfriend, Bryana Molly, is a successful American model. As such, currently, Molly holds an estimated net worth of $1.5 Million.
The model has signed with several agencies, including Wilhelmina Models Los Angeles/Miami, No Ties Management, San Diego, Playboy, and many more. Her estimated annual income is over $100,000, which includes endorsement deals and ads. As of now, the pair are living a lavish lifestyle alongside their four years old son.
Stay Tuned To Glamour Fame For More Relevant Contents
-->