Get The First Glimpse of Jennifer Lawrence's Engagement Ring
Published Sun Feb 24 2019 By Jessica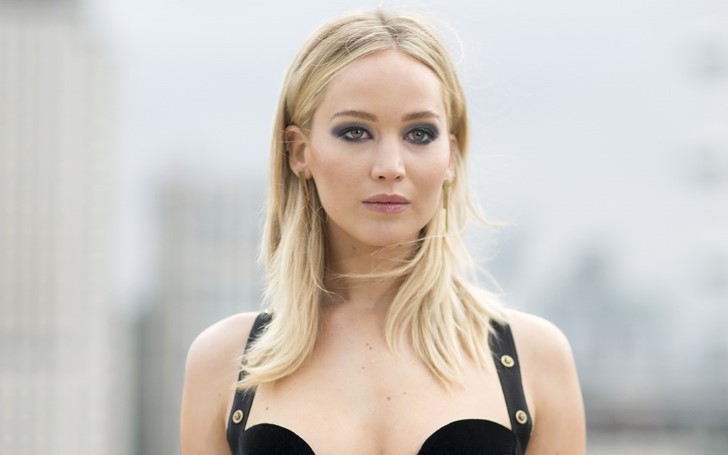 You can now finally get the first glimpse of Jennifer Lawrence's engagement ring.
Oscars winning actress Jennifer Lawrence and her art gallery director boyfriend Cooke Maroney got engaged at the beginning of this month. And nearly after three weeks, we are finally able to witness what her multi-thousand dollars engagement ring looks like.
Whilst the actress and some of her close friends were out and about at a New York City restaurant on Thursday night, paparazzi shot some pictures of her stunning diamond ring.
Since the engagement news broke, Lawrence kept a very low profile from the public. However, at her recent outing with her friends, 'The Hunger Game' star finally decided to display her massive diamond engagement ring.
Jennifer Lawrence's shows off her engagement ring

SOURCE: Elle
It's reported the actress previously wore a thin band ring on her wedding finger at one of her date nights with fiance Maroney in New York City, just a day before the engagement news of the couple broke.
You may also like: 'Barry' Season 2 Trailer Sees Bill Hader Trying Keep Murders and Theater Separate
Later in the same week, the 28 years old actress was found wearing the same ring but with a small diamond attached to it on the center whilst grabbing dinner with Maroney again.
The small diamond designed in round shape placed on the gold thin band is speculated to be the same ring, just that the diamond is now revealed on the center as it was previously turned inside.
HuffPost states, Alicia Davis of ShaneCo.com told the news site that the center diamond piece appears to cost an amount of nearly $85000 since it's of four carats.
Don't miss: Kim Kardashian West Springs To The Defence of Her Sister Khloe Kardashian For Going Out
The news of the pair dating was confirmed in June after the two met through a mutual friend, Laura Simpson. Only after a short span on their first meet, the two were found enjoying a romantic candlelit dinner in New York.
As a matter of fact, Lawrence and Maroney were even snapped together on their Europian holiday in August last year.
The newly engaged couple also attended the New York Film Festival premiere of 'The Favourite' that includes Jennifer's ex Nicholas Hoult and close friend Emma Stone as some of the movie casts.
In addition, her other former boyfriend, 'Mother!' director Darren Aronofsky who Lawrence dated for more than a year as well attended the same event.
The blonde actress previously also dated English rock band, Coldplay's lead man, Chris Martin.
See more: Selena Gomez's BFF Courtney Barry Ties the Knot in Stunning Gown
Lawrence's art gallery director fiance, Maroney works at the Gladstone Gallery's Upper East Side location in the famed Edward Durell Stone House.
-->