'Barry' Season 2 Trailer Sees Bill Hader Trying Keep Murders and Theater Separate
Published Sat Feb 23 2019 By David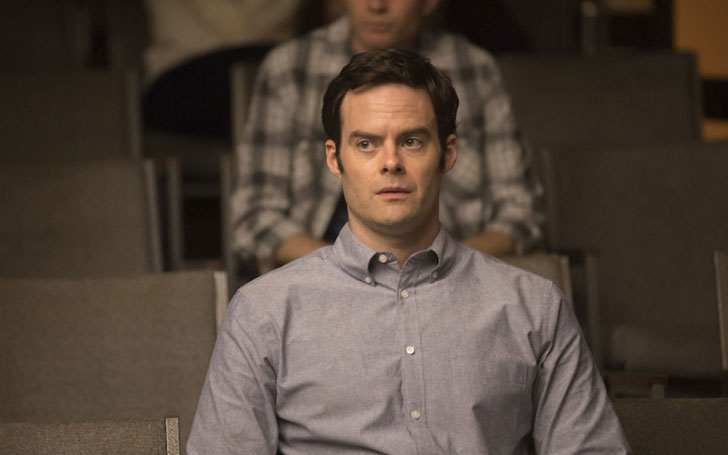 HBO releases trailer for Barry's second season.
Last Emmys we saw a whole new black comedy, Barry from the studio, HBO, taking home the statuette for Outstanding Lead Actor & Supporting Actor In a Comedy Series. The honorees including the likes of SNL, Bill Hader and Henry Winkler (Happy Days, 1974-1984), respectively.
For those who still haven't caught up on Barry, one of the best TV sensation of 2018, there's still time before Season 2 premieres. The series is created by Alec Berg and Hader, the latter who is also the show's lead character and a cold-blooded killer-for-hire who unexpectedly begins to explore his humanity thanks to an accidental acting class.
After being smitten by his out-of-the-blue affection for theater gigs, the low-rent assassin starts to question his murder-soaked life, though it's not something he can get out of that easily.
Watch the trailer of Barry Season 2
For the moment Barry seems to be on the redeeming path until we see him again being dragged into killings in order to save his friend from the Chechens, the series momentary goons. The things go beyond redemption when at the end of Season 1 Barry kills someone to protect the happiness he has created for himself by pretending as if his other life really doesn't exist.
The first official trailer for the new season of Barry again gives a sense of that dark tone—previously themed in the first season but also shows some occasional lightness (mostly from Anthony Carrigan's character of NoHo Hank). Barry takes a wild back and forth between comedy and brutality.
Also Read: The Big Bang Theory Star Mayim Bialik Says She Was 'Surprised' By One Particular Scene
But of course, the real news here is the fan favorite NoHo Hank who is not only alive and well but now also looks like the franchise's new leading baddie.
Beside the trailer, not much about the specifics of Season 2 is known as of yet, except a few or two words like the directors—whose name were revealed back in August through a statement, "For Season 2, Hader and Alec Berg will each direct two episodes, while acclaimed Atlanta helmsman Hiro Murai—who directed two Season 1 episodes—is also returning to wheel two episodes of Season 2.
Recommended: Netflix Cancels The Last of Its Marvel shows 'The Punisher' and 'Jessica Jones'
Rounding off the line-ups are two newcomers each directing one episode: Liza Johnson (Elvis & Nixon) and Minkie Spiro (Downton Abbey, Call the Midwife)." The preview footage also shows the search for Janice (Paula Newsome), who is missing, and the reaction Gene (Harry Winkler) has to the situation (mostly by using his acting class as a way to move on). Meanwhile the show's protagonist, Barry is seen working in an athletic shop, presumably still trying to keep the past far away at bay, especially from his love interest, Sally. Mid-way Gene again reappears, this time jovially noting: "Barry there is inherent darkness within you, I had the same instinct with Charlie Manson."
Don't Miss: Will There Be Another Series of the Benedict Cumberbatch Detective Drama 'Sherlock'?
The trailer also has references to Charles Manson, Ariana Grande's thank u, next, lots of laughs and violence.
Barry Season 2, episode 1 breaths of air on March 31st on HBO.
Previously on Barry,
Barry's second season to have a total of eight episodes

SOURCE: Wikipedia
Barry Berkman (Bill Hader) is sent by Fuchs(Stephen Root) to LA in order kill the Chechen Mob boss, Goran Pazar (Glenn Flesher) who wants to kill a man, Ryan Madison for having an affair with his wife. Ryan convinces Barry to perform a scene with him. Barry gets into infatuated with acting and the girl he sees on the same acting class, Sally (Sarah Goldberg). Ryan anyway gets killed by the Chechen's men.
Fuchs and Barry get abducted by Chechen's men and are tortured. Barry is forced to carry out a mission in exchange for Fuchs life. Barry instead kills the Chechen's Boss Pazar. Barry kills his old friend Chris (Chris Marquette) in the last episode. The next episode, Moss(Paula Newsome) a detective police officer, becomes aware of what Barry did, and confronts him in the woods, Barry retrieves a hidden gun and the shot is heard in the dark. It is unclear if he killed Moss or whether she survived the encounter.
-->