Will There Be Another Series of the Benedict Cumberbatch Detective Drama 'Sherlock'?
Published Wed Feb 20 2019 By David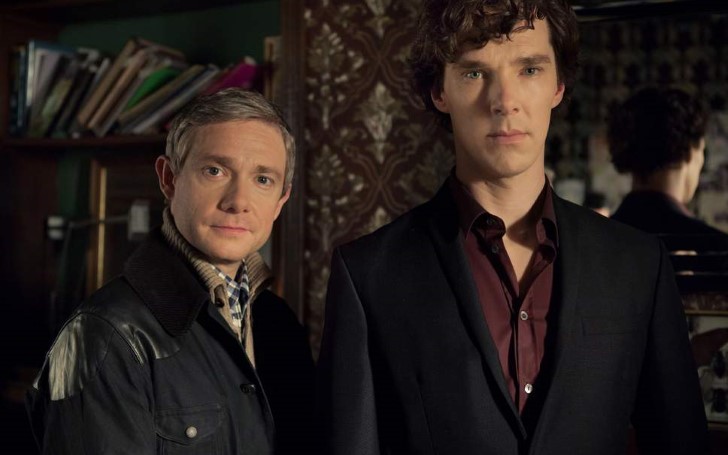 Benedict Cumberbatch starrer Sherlock might return; says the show's creator himself!!
January 15th, 2017 was the very last date BBC aired—what then seemed to be the final episode of its crime drama series, Sherlock. However, for half the show's fans and even for the project developer, it wasn't a forecasted culminating end, yet.
True, it has now been over two years since the series' fourth finale of Sherlock, and while the series' creators insist it isn't gone forever, it's looking increasingly likely we'll have an exceptionally long wait before the Peabody-honored show returns with more "consulting-detective" stories.
Sherlock creators on what's next for the series
So, will, there be a reboot or a just a pick-up from the last installment?
Well, creators Mark Gatiss and Steven Moffat said it would be a surprise if they never make any more Sherlock – but also explained they have not any on-the-table plans to make more of the smash-hit BBC drama. Moffat told Radio Times in 2018:
"Nobody has ever closed the door on Sherlock – we just say the same thing all the time and it gets quoted different ways."
Steven Moffat on Sherlock Season 5
The 57-year-old then added,
"We haven't got an immediate plan, but I would remain surprised, given the collective enthusiasm we have for it, if we didn't do it again. When? I don't know. I think maybe the time for a longer gap is upon us, I don't know. A longer gap? They're always long gaps!"
Though later some publishers came with the rumors—some look-out works for a new series had appeared at the show's regular location. But the hearsays were almost immediately canceled by Moffat's co-creator Gatiss. With that being said, it really does seem like the wait will be quite long before the show finally becomes re-available.
Don't Miss: Captain Marvel: True Identity of Jude Law's Character Confirmed
If nothing else, it is also going to be relatively difficult to reunite its previous leads, Benedict Cumberbatch and Martin Freeman since both now seem to way ahead of their buddy-detective days having rather increasingly successful career in the Hollywood's mainstream; Cumberbatch as Doctor Stephen Strange with MCU and Freeman as a CIA agent Everett K. Ross in the same movieverse.
Any other forthcoming projects?
For the time being the only confirmed upcoming project from Moffat/Gatiss is that of their on-going work which involves a new miniseries adaptation of Dracula starring Danish actor Claes Bang.
Recommended: Jennifer Connelly "Excited" To Star Opposite Tom Cruise in The 'Top Gun' Sequel
But similar to Sherlock, this collaborative series of Netflix and BBC is likely to take up a lot of time (maybe, the couple of years more), assuming the creator duo are also working on several other projects in addition to Dracula, meaning that is could be even longer before we see more Sherlock.
"We're doing Dracula, which is going to take two years at least," Gatiss confirmed.
"We're not going to do Sherlock whilst we're doing Dracula. So it's not going to happen in the immediate future. Never say never, but no – we don't have an idea [right now]."
Also Read: Netflix Cancels The Last of Its Marvel shows 'The Punisher' and 'Jessica Jones'
"I could see us making more Sherlocks," Moffat added. "I could see us making Sherlock's way in the future."
"It's not the kind of show that has to come back all the time. It can revisit. Every time Sherlock comes back it's a reunion show."
"One thing at a time. Dracula occupies a lot of headspaces," said Gatiss in last month 2019.
-->