'Captain Marvel' New Clip Reveals Extended Fight Sequence on Train
Published Mon Feb 04 2019 By David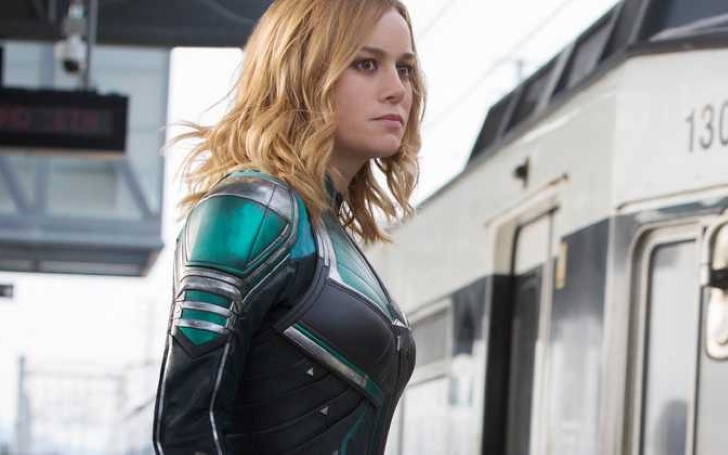 Captain Marvel drops another up-to-the-minute teaser clip during the Super Bowl LIII.
While most of the fans are agonizingly waiting for the second Avengers: Endgame trailer or better yet the movie itself, one another slate from the MCU verse is slowly soothing the hold-up at ease prior to the Endgame's release.
After Ant-Man and the Wasp, Marvel initiated the longest drought between movies in its Cinematic Universe, but we're now just five weeks away from the end of that spell with "Captain Marvel" hitting screens on March 8.
The twenty-first film from the Marvel studios is steadily luring the MCU goers with its one after another teaser and promotional clips. And so with the new update on last Saturday, the film has taken another giant step forward.
Consequently, the marketing team is ramping up the hype train now, dropping an actual scene from the movie on last weekend's morning which shows an extended look of the sequence in which Carol Danvers (Brie Larson) fights against a disguised Skrull on top of a Los Angeles Metro train.
View this post on Instagram
We've seen part of this sequence before in various trailers. However, the part of the very first trailer was the most talked about — where Captain Marvel punches an old lady who, we assume, is actually a shapeshifting alien Skrull pretending to be human. But the recent clip here focuses on the portion of the fight that takes place on the roof of the train, though it is rather a shorter version of the sequence.
Recommended: The Big Bang Theory Cast Gets Emotional as the Series' End Nears
Here Carol is seen battling with an extremely papa-look-alike guy who is in rather colonist attire wearing a sweater and khakis-an amusing detail which had not been shown before. Guess the Skrulls are going all in on being as boring looking as possible while they try to camouflage.
Samuel L. Jackson and Clark Gregg also make a brief appearance in the clip as digitally de-aged Nick Fury and Phil Coulson.
This is just the second time we've seen Coulson in the Captain Marvel's promotional and the first time we've seen him speak. Many Easters have already assumed that this takes place a bit early in the movie when Carol first arrives on Earth to hunt these Skrulls suggesting Fury and Coulson are not working with Danvers at this point, and are instead just following the fight to try to figure out what's going on.
Don't Miss: Kylie Jenner Hints She May Be Pregnant with Second Child
And as if this 48-second long clip wasn't enough to mock the fans' ever surging restlessness, the movie again came with its yet another brand new teaser during this evening's Superbowl commercial which now has almost broken that threshold of enduring sufferance.
This subsequent new teaser is this time presenting Danvers showing the boys; who's boss — including Samuel L. Jackson's Nicky Fury and Jude Law's villain, Yon-Rogg.
Watch the new trailer for Captain Marvel premiered during the Super Bowl
The trailer initially starts out with Carol Danvers in her Air Force gear, walking along with Maria Rambeau (Lashana Lynch), whilst saying her famous catchphrase. The ultimate shibboleth; "higher, further, faster, more" is repeated throughout the brief trailer, as Carol steers her jet like it is instead a trailer for rebooted Top Gun.
Eventually, the fighter pilot's battles turn into epic intergalactic ones. We also get another glimpse of Jude Law's character, as well as the famous badass Mohawk look of Catherine Donovan.
Also Read: Cardi B Reveals She Declined Super Bowl Halftime in Support of Colin Kaepernick
Similar to previous footage, the teaser which aired amidst the showdown between Los Angeles Rams and New England Patriots is also a rather fun 30-second clip. So, it is not surprising that there isn't too much new information on this one, too.
-->