Cardi B Faces Wardrobe Malfunction Onstage And Completed Her Show In A Hotel Bathrobe
Published Tue Jun 18 2019 By Jessica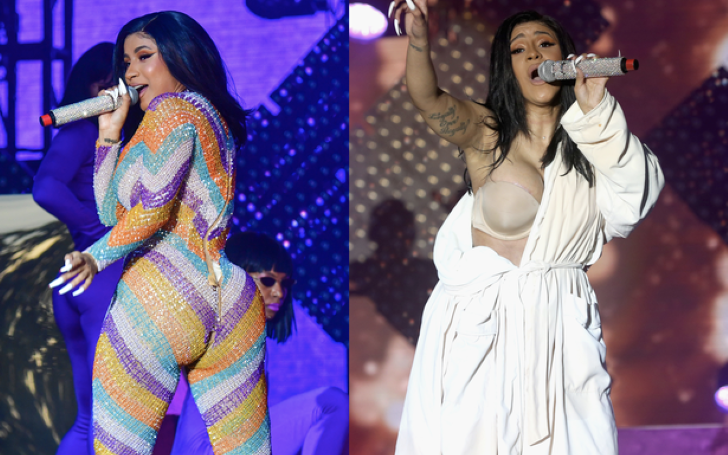 Rapper Cardi B continues her stage performance in a bathrobe after suffering wardrobe malfunction from twerking.
Nothing will ever stop the carefree American rapper Cardi B from performing for her fans, not even a wardrobe malfunction. But thanks to the bathrobe for saving Cardi after tearing up her stage costume from twerking.
Learn everything that happened in detail at the recent 2019 Bonnaroo Arts And Music Festival in Tennessee where Cardi B performed.
Not the first time the 'Bodak yellow' hitmaker suffered something similar to the recent wardrobe malfunction though. When, in fact, the 26 years old rapper previously underwent the viral dress slip that flashed her vagina, and also multiple nipple slips.
Cardi B performs in a bathrobe after tearing off her costume whilst twerking.
SOURCE: Daily Mail
Anyway, the latest wardrobe malfunction happened whilst Cardi started twerking super hardly in front of thousands of fans in a colorful shimmering jumpsuit she was wearing. Apparently, the jumpsuit couldn't handle Cardi's hotness.
Did we mention the body suit was extremely skintight?
Luckily, the bodysuit didn't tear up to a larger extent and reveal much of her skin except for a little part of her butt area. And being the Cardi B she is, instead of neglecting the whole incident she became upfront about it and informed her fans that her costume ripped off.
Cardi B suffers a wardrobe malfunction at the Bonnaroo Arts And Music Festival in Tennessee.
SOURCE: Daily Mail
The mother of Kulture Kiari Cephus then went backstage to change her outfits. However, she didn't change into another costume but got back to the stage wearing nothing but her nude bra, underwear underneath a white bathrobe.
You Might Like: Cardi B is our Instagram Queen Of The Week: Check Out Cute Videos of her Daughter as well as Snaps of her Sexy Looks
As a matter of fact, she also made sure to speak on her outfit change as she told the audience: "We gonna keep it moving, baby. We gonna keep it sexy. I don't know how in this robe, but we gonna do it!"
The star then went on to rock the night in the bathrobe whilst flaunting her cleavage, shoulder, and tattoos. And of course, her fans from the night took to social media to appreciate the rapper for her fearless reaction.
One of her fans tweeted: "@iamcardib is the only celebrity that can pull off a bathrobe while rapping" whilst another added: "One of the best moments at Bonnaroo: Cardi B really left the stage during her set because she was too hot in her jumpsuit and came back on stage in a HOTEL ROBE."
Considering how openminded Cardi B has always been especially regarding such sensitive matter such as plastic surgery including liposuction, pregnancy, and the recent wardrobe malfunction, one can deffo learn how to be a free spirit as her.
You go girl.
-->