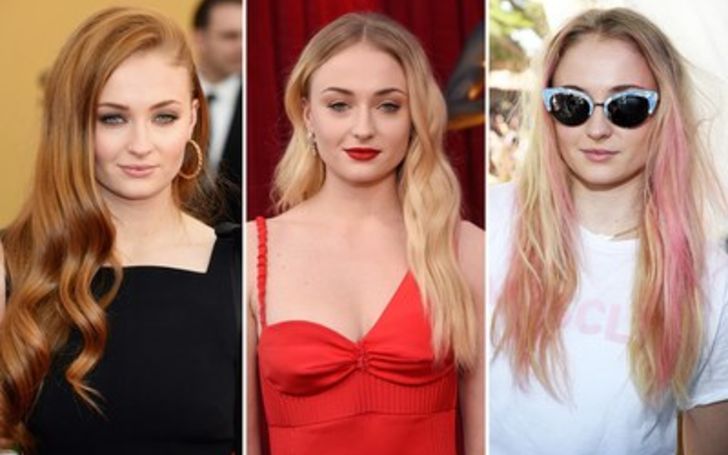 We always have been fascinated seeing the stunning Sophie Turner as the beautiful princess 'Sansa Stark' on HBO's Game of Thrones.
Turner's charming eyes, mesmerizing smiles, and captivating styles are what drives most of us crazy about her. We often have seen the tall and sexy fashion mogul flaunting her looks in different looks and makeups, so in today's episode we have come up with all the sizzling looks that Sophie Tuner has gone through.
Check Out Sophie Turner's Top 10 best looks.
10. Sophie Turner's Silvery Black Smokey Eye, 2019
One of the most enticing parts of the actress is her eyes as it's only killing. The silvery black line in those beguile looks is simply irresistible.
9. Sophie Turner's Faux Fringe and Smoky Eyeliner, 2019
With a new hairdo by Hairstylist Christian Wood, Turner is simply slaying her faux fringe looks.
8. Sophie Turner's Matte Black Eye Makeup and Waves , 2019
Sometimes there's nothing better than a matte black smoky eye and lots of lip gloss, and Sophie proves just that.
7. Sophie Turner's Matte Bronze Makeup, 2018
The luscious Sophie loves to experiment with different makeup renditions and styles. This time Sophie tried to work with Matte uniquely fusing with smoked bronze hues on her sexy lips and assassinating eyes.
6. Sophie Turner's Red Lip and Wavy Hair, 2018
Another Me star manifested the unique looks for an exclusive press meet for Dark Pheonix. She sparkled her looks wearing a red lip by Hung Vanngo and a sexy wavy hair for the standout look.
5. Sophie Turner's Copper French Plaits Looks, 2016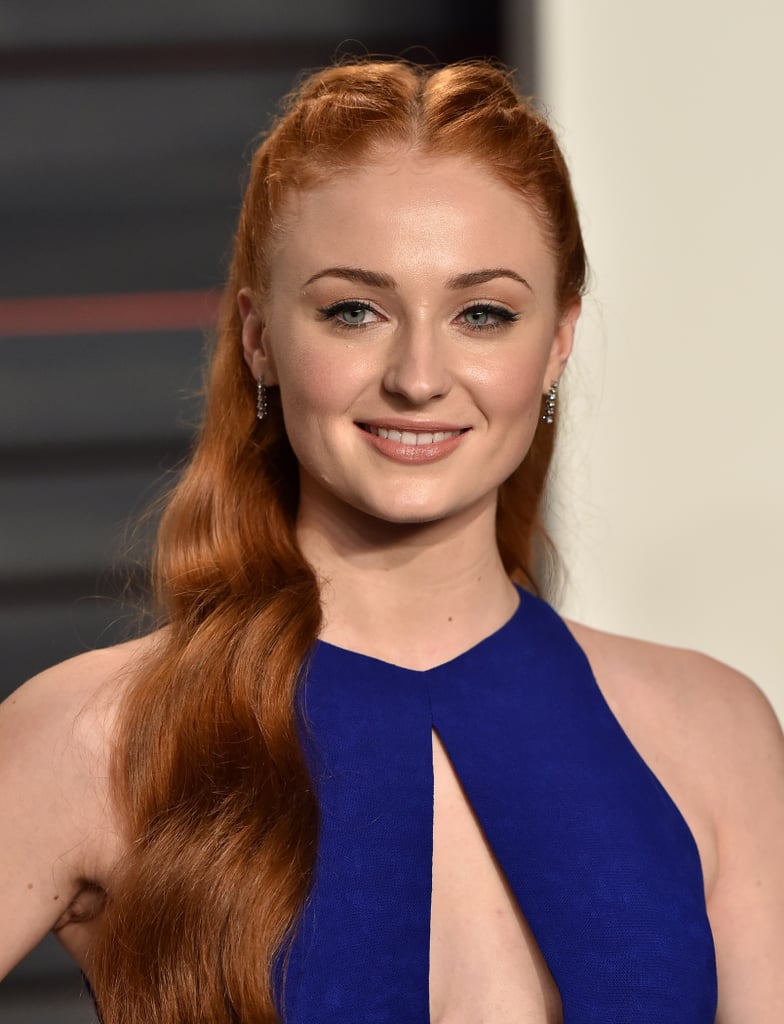 Styling French plaits flowing it down into long waves and a diamond cut body-con, Sophie was on everyone's eyes soon as she showed up in those racy looks at the Vanity Fair Oscar Party.
4. Sophie Turner's Mesmerizing Aqua Eye Shadow With Side Fringe, 2019
The newlywed bride Turner turned many with her aqua eye shadow and side fringe "60's glam".
The cosmetic seems so perfect with her alluring eyes leaving us to wonder angel made in heaven.
3. Sophie Turner's Blush Pink Lipstick and Wavy Hair, 2019
Pink on pink, the glamour queen styled a dolly during a press day in London. Blushy lips and rosy cheeks, Turner proved that sometimes you could never have enough pink.
2. Sophie Turner's Bronze Glitter With '70s-Inspired Ponytail, 2019
The glamour sensation did the unique sparkling glittery looks for the Dark Phoenix screening. She sparkled the special looks with a classic 70's inspired ponytail.
1. Sophie Turner's Mahogany Lipstick and Centre Part Waves, 2019
Sophie blossomed the distinctive blonde look with dark red lipstick and a matching eye shadow. The elegant yet sassy looks dazzled more with her parted center waves giving those bad babe looks.
Taylor Selfridge Instagram: Check Out Her Top 10 Hottest Uploads! >>>
We hope you enjoyed the astonishing looks the beautiful Sophie came up with. Stay tuned and connected to find more intriguing articles.
-->