Check Out Chris Hemsworth's Diet Plan For His Impressive Thor Body
Published Thu Jul 18 2019 By Jasmine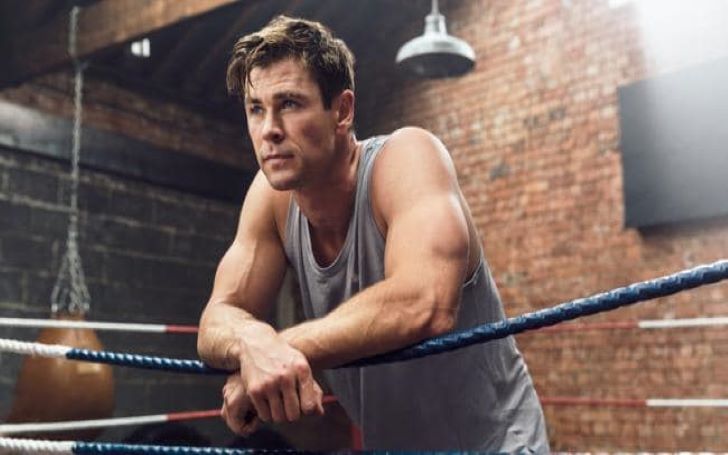 Check Out This Intense Diet Routine Followed By The Thor Actor, Chris Hemsworth!
It's never too easy to be a Nordic God! However, for our favorite Avengers actor, Chris Hemsworth, it's a simple walk in the park (or as Mr. Stark says: Shakespeare in the park).
The People's Magazine's 'Sexiest Man Alive of 2014', Chris Hemsworth definitely took the position with a hefty amount of hard work. So, without further delay, let's see what's inside the Asgardian prince's diet.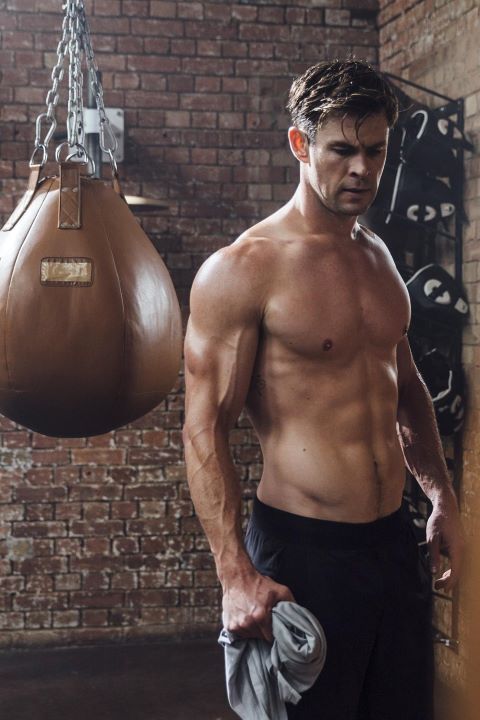 To no one's surprise, Chris' body is composed of an astounding twenty percent of muscle. To keep his bulky physique well-fed, Chris consumes an ample amount of protein. He kick-starts his day with a green protein shake which is made up of five to six different types of leafy greens, vegetables, low-sugar fruits, nuts, pulses, lipid, and small amounts of salt to maintain his electrolyte balance. It is optionally a mix of rice, hemp, and pulse protein.
Also See: Miley Cyrus Shares More Inside Photos From Her Low-Key Wedding
Chris considers himself a foodie and therefore maintains a balance between consuming healthy and tasty. To do so, he lays out different routines and recipe for each day of the week. While the recipe may differ, the composition is almost the same for each day.
Watch: Chris Hemsworth Avengers workout
At around 10 am, Chris consumes a protein-rich meal. It almost always consists around three eggs, fruits like berries, avocados or tomatoes, and carbohydrate-rich food like a slice of whole grain toast. Consequently, he never forgets to drink his post work out shake after his intense 12 pm workout. The protein shake contains vegetable protein, ice water, BCAAs and Vitamin C.
Chris' routine for lunch varies according to the day. However, it mostly consists of grilled chicken, fish, or red meat with salad and/or rice. He also prefers to eat various side snacks like crispy sweet potatoes, herbs, cucumber, leafy greens, avocado, or walnuts with his lunch.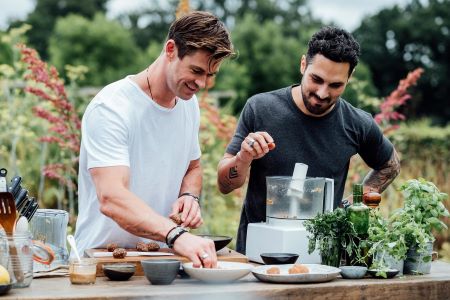 We may expect Chris to jump right into dinner after all these heavy-meals. It turns out, that is not even close to enough to fulfill the calorie requirement of the actor who portrays the God of Thunder himself! He still has three more meals left to consume to conclude his day finally!
At around 3 to 5 pm Chris eats something light like rice crackers with Vegemite and tuna, Chicken and vegetable soup with barley or a homemade frozen green bar (a blend of spinach, chia seeds, dates, spirulina, bee pollen, banana, almond flour, pumpkin seeds,cooked and frozen cauliflower, and cucumber) .
Recommended: Chris Hemsworth To Play Wrestling Icon Hulk Hogan in Biopic For Netflix Directed by Todd Phillips
Finally, for dinner, Chris consumes something delicate. He adds a sufficient amount of protein with a light supply of fiber and vitamins. Usually, it is white fish with grilled mushrooms or Grilled lamb chops with cauliflower mash.
Now that we are finally done with the dinner of the Australian Star Chris Hemsworth, we are still not at the end! Chris also follows a precise post-dinner routine to get a good sleep and relax his body. The intake of BCAAs with Magnesium/zinc supplement is mandatory. Similarly, he sometimes adds up a bowl of yogurt or light fruits to maintain a functional bowel.
You might like: Angelina Jolie Is NOT Dating 'Avengers' Star Tom Hiddleston
Now that we know the secret diet to Hemsworth's enticing body, it is essential to know his food is still but a secondary part. Chris pairs up his diet with an extreme work out routine which is almost impossible for us to follow. Furthermore, he spends thousands of dollars on diet experts and trainers to get his god-like body. Therefore, instead of trying to replicate his vigorous and even expensive lifestyle, it is best for us to relax and enjoy the on-screen presence of this handsome hunk.
-->