Chinese Actress Gong Li Tied The Knot With 70-Year-Old French Composer Jean-Michel Jarre; How Did The Couple Meet?
Published Tue May 21 2019 By David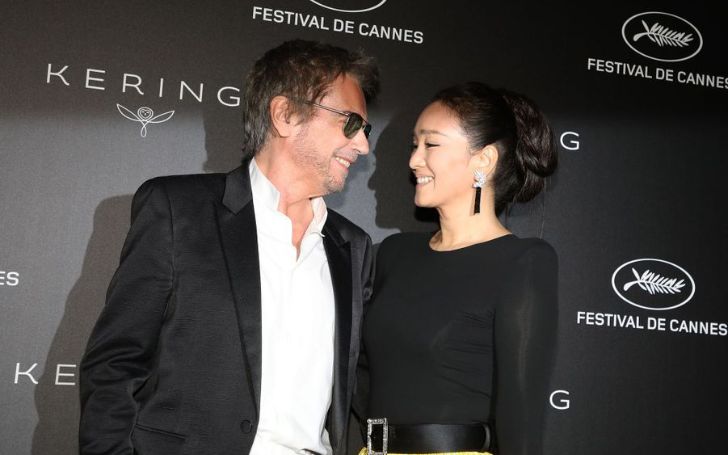 Actress Gong Li secretly marries 70-Year-Old French composer Jean-Michel Jarre
Multiple reports are confirming the 53-year-old Chinese actress, Gong Li, and 70-year-old French composer, Jean Michael Jarre held a secret wedding. Beijing News reported the couple were spotted arms in arms and looking happy as the actress welcomed Jarre at the airport for the Cannes Film Festival on the night of May 14.
Jarre attended the Cannes to receive his mistress getting Women in Motion honor. Li is the first Chinese actress to receive such a prestigious award, as the report states. Jarre, meanwhile, was summoned by the festival president Pierre Lescure, himself.
Chinese actress Gong li said to have married French composer Jean Michael Jarre.
SOURCE: Vanity Fair
Held on Sunday at the Musée de la Castre primitive art museum at the top of Cannes' historic district, the Suquet, with views overlooking the city's port, the event was rammed up with personalities including Eva Longoria, Charlotte Gainsbourg, Anthony Vaccarello, Charlotte Tilbury, Gaspar Noé and jury head, Alejandro González Iñárritu.
Also Read: Who Is Lori Loughlin's Husband? How Long Has She Been Married? Details Of Her Daughter!
The focus of the night went to Leonardo DiCaprio, who slipped into the event after midnight, staying low profile before the premiere of Quentin Tarantino's "Once Upon a Time in Hollywood" on Tuesday.
Gong, who is set to star in Disney's live-action version of "Mulan," was seen with her beau in a shopping mall during her filming of the Chinese movie "Saturday Fiction" which is set in the 1940s. The couple also recently attended a state dinner in honor of China's President Xi Jinping at Elysee Palace as a pair.
It is unclear, though, what the actual date was when they pledged their vows to each other as insiders did not divulge that piece of information.
Gong was previously in a relationship with Singaporean businessman Ooi Hoe Seong. She divorced her first husband in 2010 after 13 years of marriage.
Gong Li and Singaporean businessman Ooi Hoe Seong divorced in 2010 after 13 years of marriage.
Jarre, who also divorced in 2010, was married three times, including Academy -nominated English actress, Charlotte Rampling. He was also the husband to Flore Guillard from January 1975 to 1077; their daughter Émilie Charlotte was born in 1975 or 1976 who later went on to become a fashion model.
Jarre met his second wife Rampling at a dinner party in St Tropez in 1976. Charlotte eventually separated from Jarre and later married a New Zealander Bryan Southcombe. Jean then gained the custody of his daughter Émilie, with Rampling winning her son Barnaby's.
Jarre and Rampling split up in 1996 and officially divorced in 2002. The French musician then had a brief relationship with Isabelle Adjani and later married a French actress Anne Parillaud in May 2005. Though, that also lasted about for 5 years only as in November 2010 the couple announced their divorce.