Chris Hemsworth's Adorable Son Crashes Thor Star's Video Interview
Published Sun Apr 19 2020 By Eden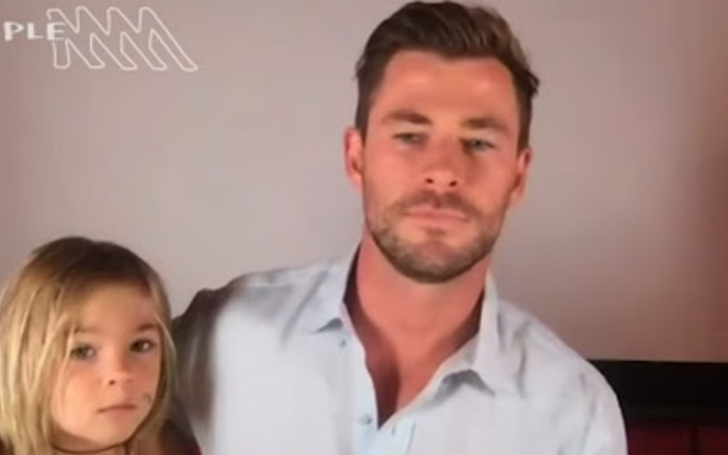 Chris Hemsworth's son crashing his father's video interview sums up working from home.
Amid the ongoing COVID-19 pandemic, almost everybody is working from home one way or the other, so there's a pretty good possibility a work meeting could get interrupted.
This is precisely what happened to the Marvel star, Chris Hemsworth, during an interview with Triple M's Hot Breakfast. One of Hemsworth's kids decided to join him while he was talking about his new Netflix movie 'Extraction.'
Before the actor could get too far into answering the question, he got interrupted and had to acknowledge the kids in the background. The Thor star told the host, "That's my kids in the background."
The 36-year-old subsequently tried telling them to be quiet as one of his sons wanted a hug from his dad and popped up on the screen.
Watch: Chris Hemsworth's Son Crashes His Interview
A couple of minutes later, the host, Luke Darcy, couldn't help admit he was enjoying watching Chris struggle to take control of the kids.
Hemsworth told Darcy, "He's looking at me, right. At the moment, I'm giving him a little, 'shh, shh, shh,' one of these ones. He's doing more and more somersaults; he's getting a little louder."
Two more minutes passed, and the distracted dad was evidently trying his best to keep one eye on the kids and the other at work.
As the screens wobbled, the actor admitted, "Sorry, my son is throwing pillows at the computer." Working from home is certainly not plain sailing!
You Might Like: Chris Hemsworth Felt 'Pregnant' Playing Fat Thor In Avengers: Endgame
Meanwhile, Hemsworth recently revealed the action scenes in his new Netflix movie was the most intense of his career.
Speaking on the physical challenges of fliming 'Extraction,' the Marvel star said, "I think if I added up every action film that I'd ever done or every piece of action I've ever done in a movie, it wouldn't even come close to what we've done in the last nine weeks on this movie."
Check Out: Extraction | Official Trailer | Netflix
The 36-year-old revealed they were limping home most of the days since it was the most complicated and real-life action he had ever done. 'Extraction' releases on Netflix on 24th April 2020.
Visit Glamour Fame for more interesting news of your favorite celebs.
-->