Chris Martin Tattoos and Their Meaning
Chris Martin (born Christopher Anthony John Martin) is an English musician, singer, record producer, and philanthropist. We love him for his work, and, simply, for being him.
While the praise never ends for this amazing lad, and we don't think we need to stress more on his work in the music industry, there is, however, something you might find interesting in our findings.
Well, apparently, it's nothing new as well, but we thought you deserve to know about his 'Tattoos.' Indeed, we are here to discuss Chris Martin's tattoos and also find their meaning. So, without further ado, let's find out.
Chris Martin's Heart Tattoo on His Inner Bicep
Chris Martin's heart-shaped tattoo on his right inner bicep.
Photo Source: Metro
The singer has a small, heart (love) shaped tattoo on his right inner bicep. The heart shape in black, and it looks just beautiful. While there don't seem to be a more profound meaning, as we know, the heart symbolizes love, so what we can assume is, he is filled with love.
Chris Martin's 'M' Tattoo on his Wrist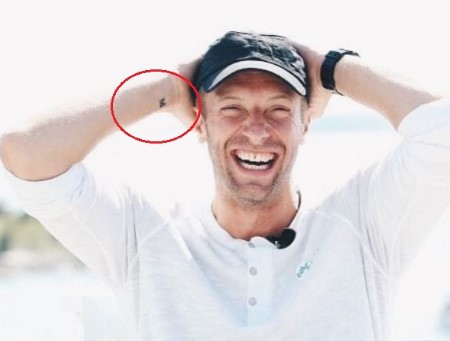 Initial M on Chris Martin's right wrist.
Photo Source: Global Citizen
The amazing English singer seems to be fond of small tattoos. Again here in his right wrist, he has the initial 'M' tattooed.
So, just in case if you are wondering, it's his name's initial. (We know we sound dumb when we explain the simplest things, but can't help, as we really hate to miss the details you know.)
Chris Martin's Infinity Tattoo
Chris Martin has a matching infinity tattoo with his love, Dakota Johnson.
Photo Source: Variety
Well, it's really hard to see on the picture but, you get the idea here. The English singer has an infinity symbol done on his right forearm.
Well, this one is to show the love to his soulmate Dakota Johnson, as they both have the same tattoo. Dakota has it on her left forearm. This matching tattoos just show how much they love each other, and that heart-shaped tattoo also makes sense now.
Chris Martin's Letter 'A' Tattoo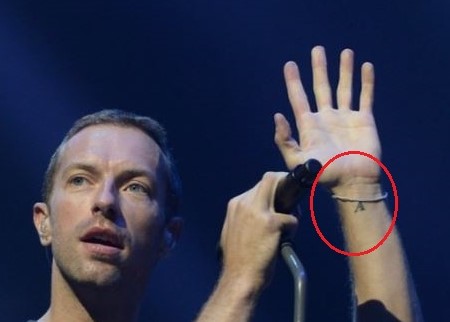 Letter A on his left wrist for his daughter Apple Martin.
Photo Source: Metro
If you are a diehard fan of Chris Martin's, then you must have noticed there's an 'A' tattooed on his left hand's wrist.
The letter 'A' tattoo on Chris Martin's wrist is for his daughter, as it is the initial of her name, which is 'Apple Martin.' Heart-melting, isn't it?
Chris Martin's Heart shape on his knuckle
Another heart shaped tattoo. An outline of heart on his left hand's knuckle.
Photo Source: UP
Well, no wonder Chris Martin is filled with love, he has two heart-shaped tattoos. While the previous one was on his inner bicep, this one is on his knuckle. This completes his knuckle tattoo.
The singer has a small outline of a heart shape tattooed on his left hand's middle finger. So, when he raises the middle finger, think that he is spreading some love!
Chris Martin's Bicep Tattoo
Chris Martin's Gods' Love on his bicep, to cover his old tattoo.
Photo Source: CBD
The next one to the line is his left bicep tattoo. Chris Martin simply tattooed "GOD's Love" in a loop on his left bicep.
This one is really brilliant, as it turns out, he did this tattoo to cover up his old tattoo, which was an initial 'G' for his ex-wife, Gwyneth Paltrow.
Also Read: Billie Eilish Tattoos - Grab All the Details; Does She Have a Neck Tattoo?
For more information on your favorite celebrities' lifestyle, stay tuned to Glamour Fame, and don't forget to sign up for the newsletter.
-->